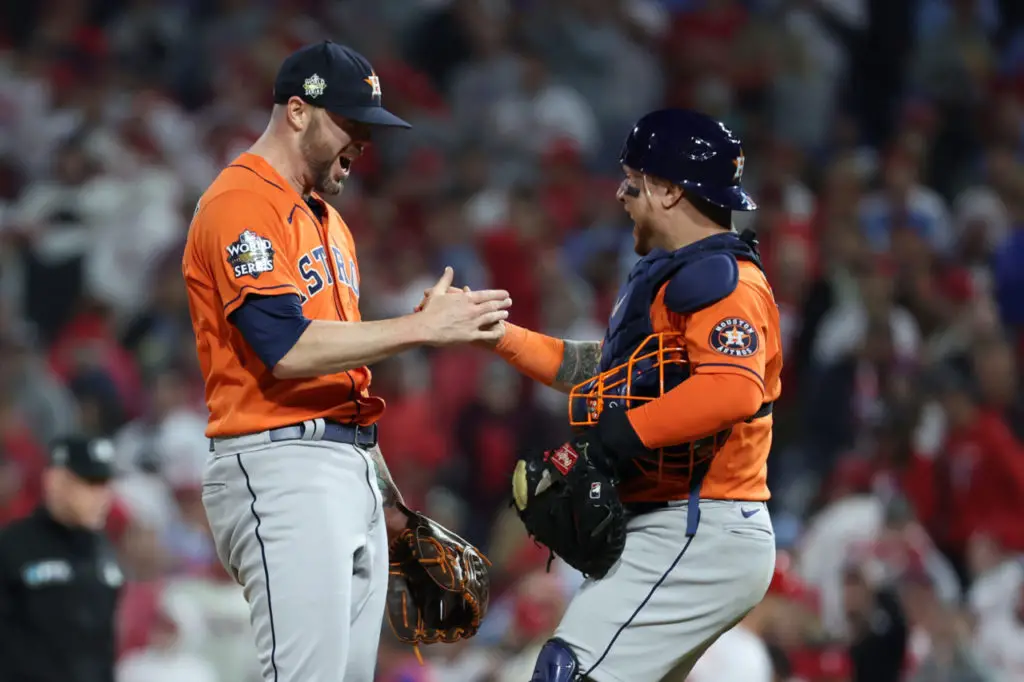 Christian Vazquez guides Astros masterpiece
Astros catcher Christian Vazquez executed the Astros' latest combined no-hitter
PHILADELPHIA – With a World Series ring already in his collection, Astros catcher Christian Vazquez tempered his emotions Wednesday night. The veteran Puerto Rican catcher knows the ultimate goal still hasn't been met.
Nonetheless, Vazquez appreciates the baseball history he and his teammates made with a combined no-hitter in Game 4 of the World Series against the Phillies. Vazquez joined the iconic Yogi Berra as the only catchers in baseball history to guide pitchers through a Fall Classic no-hitter.
Berra famously guided Don Larsen through a perfect game against the Brooklyn Dodgers in Game 5 of the 1956 World Series. Sixty six years later, the 5-foot-9, 205-pounder from Bayamon, Puerto Rico, called the Astros' combined no-hitter in a 5-0 victory over the Phillies.
A dynamic duo
Cristian Javier and Christian Vazquez have become something of a pair for Baker throughout this postseason. Martin Maldonado has started every game for the Astros, except for two. 
Both were games started by Javier with Vazquez behind the plate.
So far, the pairing has worked out well for the Astros. They helped to blank the New York Yankees in Game 3 of the American League Championship Series. Now they go down in history as the duo who helped no-hit the Phillies in the World Series.
"Well, he's caught Javy probably more than anybody on the staff," Dusty Baker said. "Like, he got a chance to watch the first few games to see how to pitch or how to change our pitching plans. 
"He's an outstanding catcher. He calls a good game. He's been in this arena before with the Red Sox."
Christian Vazquez is on a mission
Despite this tremendous accomplishment, Vazquez hasn't lost focus on the task at hand.
"We have not finished the job here," Vazquez said after the Astros tied the best-of-seven Series at two games apiece. "I think it's a special moment, obviously, it's a no-hitter. 
"There's only two catchers in history to make or call a no-hitter. So, yeah, it's a very special day for us, and we're happy to get that W for everybody."
Unlike Berra, though, Vazquez guided multiple pitchers through the combined no-hitter. He rode Cristian Javier's 93-95-mph four-seam fastball and slider through six no-hit innings with nine strikeouts and two walks.
"Christian Vazquez called a great game for (Javier)," Dusty Baker said. "I think that's the first time I've seen two guys with the same first name as a battery. So maybe that was part of it."
Déjà vu
Then Bryan Abreu struck out the Phillies in order in the seventh with an overpowering 98-99-mph fastball and a wicked slider. 
Vazquez then had righthanded reliever Rafael Montero pump 97-mph gas at the Phillies while retiring them in order in the eighth. Closer Ryan Pressly threw mostly breaking pitches and changeups while throwing a few low-90s fastballs.
Martin Maldonado guided Javier and Pressly through the combined no-hitter they threw with Hector Neris against the Yankees in June. This time Vazquez guided Javier through the no-no.
"I think I have really good communication with both guys," Javier said of Maldonado and Vazquez. "They both call really good games. Vazquez today specifically, he stayed on top of me.
"He continued to motivate me throughout the game, and called a great game, and gave me really good positive energy. I think that's one of the reasons why we got the results we did today."
Get the Our Esquina Email Newsletter
By submitting your email, you are agreeing to receive additional communications and exclusive content from Our Esquina. You can unsubscribe at any time.