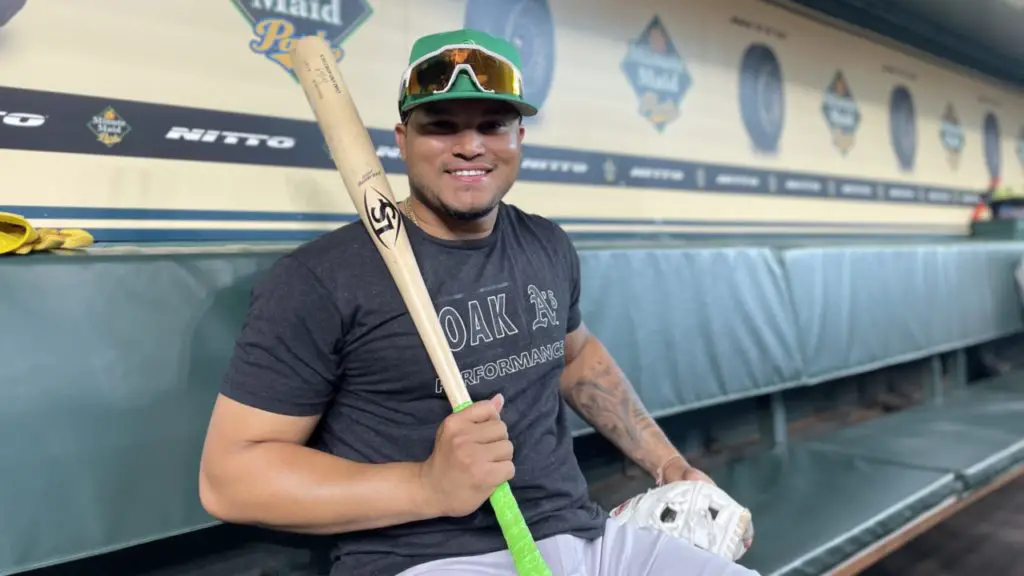 A's rookie Jordan Diaz paints a picture of success
Colombian Jordan Diaz lives up to his late grandfather's prediction
HOUSTON – From his wrist all the way to his elbow, Jordan Diaz has a tattoo of a winding staircase on his left forearm. A little boy is at the base of the staircase preparing to climb from the first step.
The Oakland Athletics' Colombian slugger got the tattoo as an 18-year-old in 2019 while in Class A Vermont of the New York-Penn League. He was in only his second full season in the minors, and the tattoo reminded him there were many steps ahead on his way to the major leagues.
"It's a symbol of wanting to keep rising up the levels," Diaz says of the first of three large tattoos that envelope most of his left arm.
You can learn a lot about the A's 22-year-old rookie infielder if you look closely at his left arm. His aspirations and passions are drawn into his arm. It's clear the only Colombian to hit three home runs in a major league game has big dreams.
Jordan Diaz hopes to lead
A menacing, roaring lion covers much of Diaz's left shoulder all the way down to his elbow. A regal horse's face covers the inside portion of his forearm. The horse represents his favorite off-the-field passion and hobby.
"The lion represents the king," he said in Spanish recently. "He wants to be on top. He wants to lead the pride. That's one of the things that inspires me."
Climbing the ladder hasn't been easy for Diaz although his late grandfather Orlando Diaz predicted his greatness a decade ago.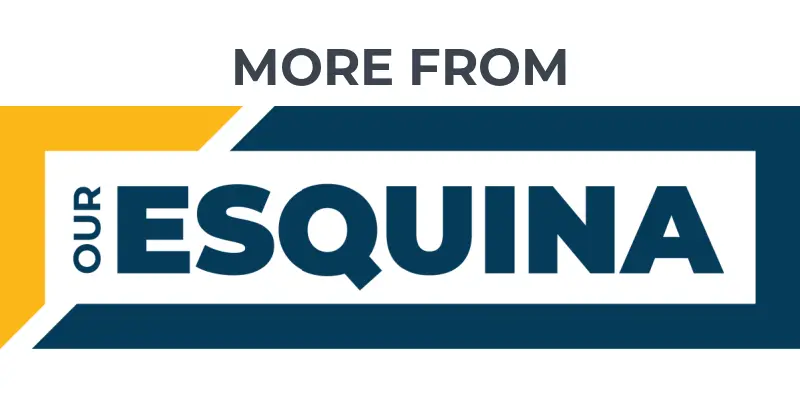 Orioles, Braves close to Rays atop Power Rankings
Cubs slugger Christopher Morel blasts off
Yainer Diaz finally hosts his family in Houston
Diaz, who is represented by William Arroyo at Bad Bunny's new Rimas Sports agency, was born and raised in a country more known for soccer. He grew up in a baseball family, though. His father Jorge David Diaz and paternal grandfather Orlando both played baseball. 
Almost as soon as Jordan could walk, his grandfather began taking him to local baseball stadiums and fields. Orlando Diaz worked with Jordan on fundamentals and nurtured his grandson's love of baseball in Monteria, Colombia.
Jordan cannot remember whether he was 10 or 11 years old when his grandfather first predicted that he could be a special player. He does, however, remember the setting. The three generations of Diaz men were at the Villa Olimpica in Monteria for Jordan's Little League game.
Jordan Diaz's abuelo knew
"He told my dad to keep an eye on me because I would be very good," Jordan recalls. "That day when I started playing baseball in the Little League I hit two home runs. 
"My dad started laughing, and my grandfather told him, 'I told you.' That's one of the things I remember the most about him."
Orlando Diaz was right. Jordan grew to become one of the best teenage baseball players in South America. He was 16 years old when the A's gave him a $275,000 signing bonus in August 2016. 
Diaz made his professional debut in the United States in 2017 as a 16-year-old in the Arizona Rookie League after excelling in the Dominican Summer League. He showed some power at Low Class A Vermont in 2019, hitting nine home runs with 47 RBIs in 70 games.
Diaz was genuinely starting to climb up that staircase he got on his arm that season. But the COVID-19 pandemic wiped out the 2020 minor-league season. He played in Colombia that winter.
Soon after he returned to the U.S., doubts and frustrations crept into his mind early in the 2021 season at Class High A Lansing. He wondered if he still wanted to play.
Diaz called his mother Dally Sandoval to tell her that he wanted to quit. She urged him to stay strong and continue chasing his big league dreams.
"It was a frustrating moment," he said. "It was a moment I had never faced in my life. That moment came, and thank God my mom told me to keep going forward. My dad said to keep moving forward too."
Diaz hit .288 with 13 home runs and 56 RBIs at Lansing in 2021. A year later, he sprinted through Class AA and Class AAA to earn his first promotion to the majors. Diaz made his big league debut last Sept. 18, prompting him to commission his lion tattoo. He added the horse tattoo this year.
Yankee Stadium magic 
Jordan Diaz hit .265 (13-for-49) during his brief 15-game cameo in the majors last year. He truly had his breakout performance on May 9 on the biggest stage with a three-home run performance at Yankee Stadium.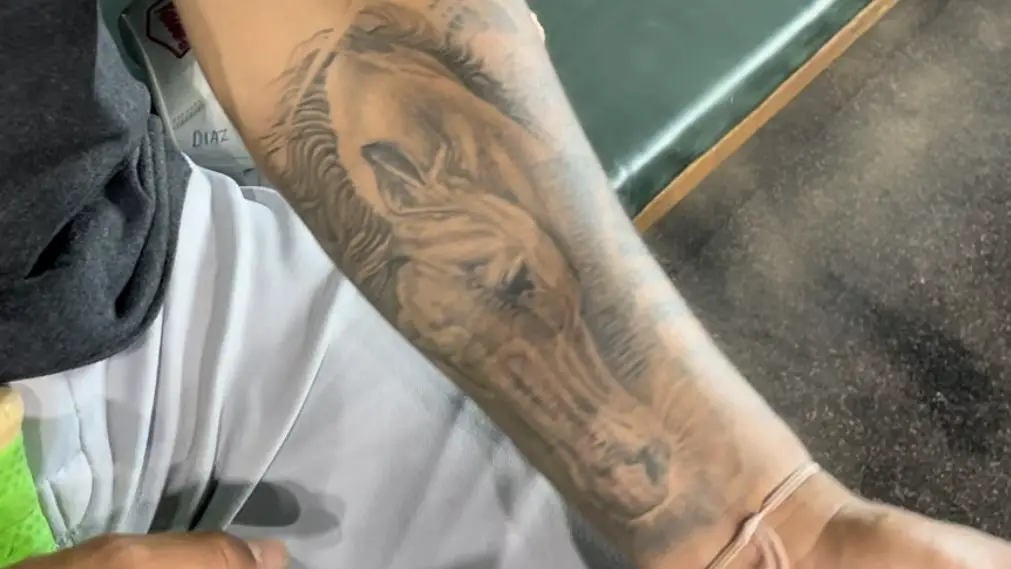 Diaz became the first native of Colombia to hit three home runs in a big league game. The performance was extra special, Diaz says, because his childhood idol was former Yankees star Alex Rodriguez.
The 5-foot-10, 175-pound second baseman has hit four home runs in his brief big league career.
Diaz "has very good talent for 22 years old," said A's coach Ramon Hernandez, who hit 169 home runs in his 15-year career. "He has a lot of talent and he has a lot of power."
Diaz has already climbed the figurative staircase he had tattooed onto his left forearm four years ago. He's in the majors, after all. Yet, in many ways, he's back at the start of what he and the A's believe will be a productive major league career.
He already holds one impressive distinction as the only Colombian with a three-home run game on his resume. Five-time All-Star Edgar Renteria, who won two World Series titles and three Silver Slugger Awards, never hit more than two homers in one game.
Renteria, a former World Series MVP and member of the St. Louis Cardinals Hall of Fame, is considered the greatest big leaguer from Colombia. He's one of Diaz's childhood idols. Renteria is the benchmark for players from Diaz's beloved Colombia.
Diaz hopes to be as good as Renteria. Better actually. As Diaz is reminded daily when he sees his tattoos, he wants to eventually be the lion leading his pride. There's work to be done, but Diaz is definitely living up to the promise his late grandfather saw in him more than a decade ago.
Get the Our Esquina Email Newsletter
By submitting your email, you are agreeing to receive additional communications and exclusive content from Our Esquina. You can unsubscribe at any time.