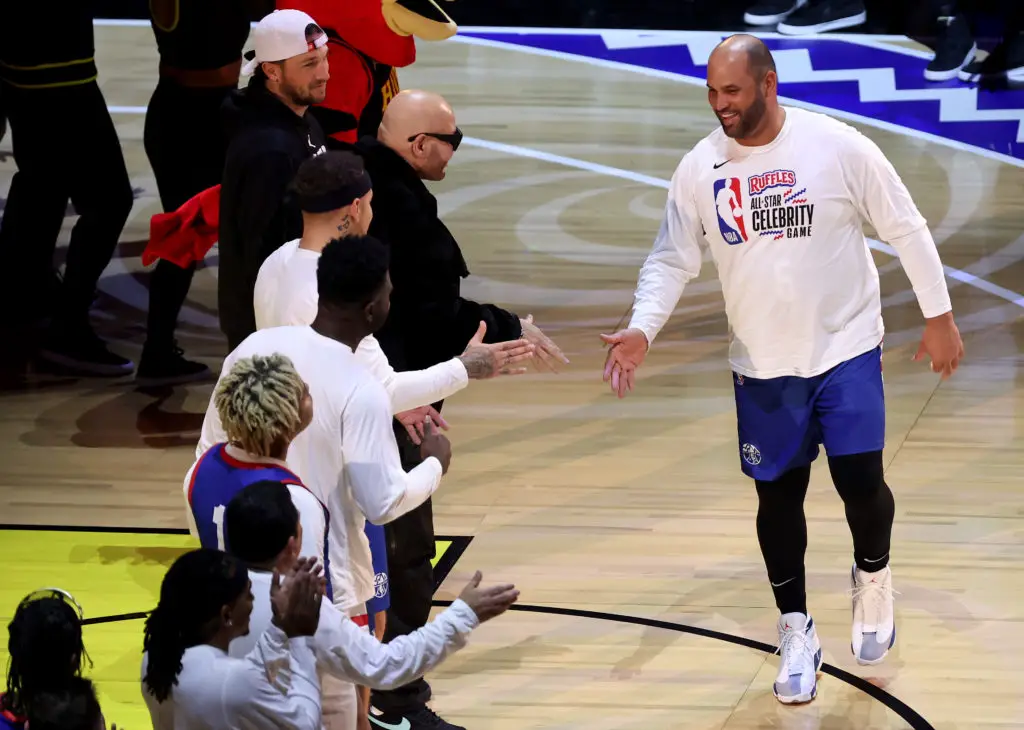 Albert Pujols shines in NBA Celebrity Game
Baseball stars participate in NBA All-Star Celebrity game.
Move over Bo Jackson. After what took place at the NBA All-Star Celebrity Game, It appears Major League Baseball has found itself the next great multi-sport athlete.
Even after WWE Superstar The MIZ sank a prayer from half-court that would have tied the game at the buzzer, baseball took center stage Friday night.
To start with, future Hall of Famer Albert Pujols participated on Ryan Smith's team. "La Maquina" showed some serious chops on the hardwood.
He even traded points with Seattle Seahawks wide receiver DK Metcalf late in the fourth quarter of the exhibition.
Sitting courtside, Pujols' assistant coach for the game was recent World Series winner Alex Bregman of the Astros. And in the stands, NBA legend Shaquille O'Neal donned one of the dopest articles of clothing in the entire building.
Shaq had a throwback Homestead Grays varsity jacket.
The Grays were a Negro Leagues team with African American and Afro-Latino players in the early 20th century played.
Latinos increase embrace of basketball
For a long time, Latinos were associated with Fútbol. How could they not be?
Players like Pelé, Diego Maradona and Lionel Messi are considered to be among the greatest of all time in the sport.
Baseball came to be associated with Latin America over the last 60 years. This is thanks to the likes of Roberto Clemente, Fernando Valenzuela, and Pedro Martinez.
Now, there appears to be a surge of Latinos embracing basketball.
The NBA All-Star Celebrity Game is hardly something notable in the sports world, but I can't remember the last time a baseball player participated in one.
With the influx of elite Latinos already participating in the game, it's a clear indication that we are all in. Al Horford became the first native of the Dominican Republic in the NBA Finals last year. Juan Toscano Anderson became the second Mexican American to win an NBA title while his Warriors beat Horford's Celtics last year.
Toscano Anderson also shone in the Slam Dunk Contest last year, and Dominican American Karl-Anthony Towns, the 2015-2015 Rookie of the Year, won the 2022 NBA 3-point contest.
Devin Booker has been a star for several years now. Jose Alvarado of the Pelicans was the MVP the NBA's Rising Stars Game Friday night.
If soccer and baseball are any indication of anything, it's that Latino dominance in basketball is soon to come
Get the Our Esquina Email Newsletter
By submitting your email, you are agreeing to receive additional communications and exclusive content from Our Esquina. You can unsubscribe at any time.