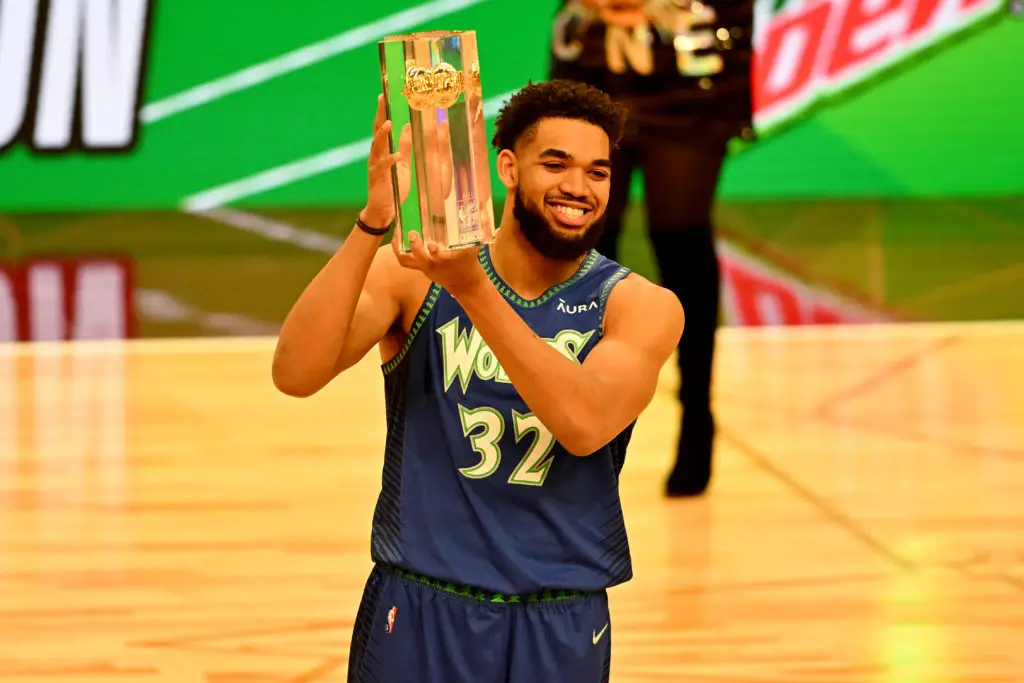 Karl-Anthony Towns proves big men can shoot too
Karl-Anthony Towns wins the NBA 3-point contest.
Minnesota Timberwolves center Karl-Anthony Towns added another trophy to his collection. Six years after winning the NBA Skills Challenge, the 2015-16 NBA Rookie of the Year drained a record-breaking 29 shots in the final round to beat out Luke Kennard (Los Angeles Clippers) and Trae Young (Atlanta Haws) in the NBA 3-Point Contest.
It had been 10 years since a big man won the competition. In 2012, another Timberwolves player, Kevin Love, towered over his competitors to take home the trophy.
"It's coming back home where it belongs," Towns said in his press conference.
Though he wasn't the first Latino to hoist the trophy – Mexican-American shooting guard Devin Booker won it in 2018 – Towns is the first Dominicano to do it.
Towns could not have won the competition without the support of his family. He was even allowed to honor his late mother, Jacqueline Cruz, by wearing her necklace.
"I want to give a shout-out… to the League," he said. "Because the League said we can't wear earrings and jewelry, but they allowed me to keep my mom's chain on, so I really appreciate them for allowing me to do that."
Big Men Can Shoot Too!
When he was growing up, Karl-Anthony Towns' heard many say his game was best suited in the paint. He and his father Karl-Anthony Towns Sr. thought differently.
"Me and my dad said, ' screw them,'" he said. "We're going to be great in a way that the world has never seen before, and that's been my motto. Just show the world greatness from a different lens."
For Towns, the 3-point contest was way more than just another opportunity to show his distance shooting abilities. It was his chance to prove that he can win the event.
Only three other players measuring 6-feet, 8-inches or more have won the 3-point contest: Kevin Love (6-foot-8), Dirk Nowitzki (7 feet) and Larry Bird (6-foot-9). The 6-foot-11 native of Metutchen, New Jersey, is the first center to win the competition.
"I just think that for all the kids — the tall kids and for all the big men out there who are told that they won't succeed doing nothing but having their back to the basket and shooting hook shots," he said, "I want to be the example that that's not true."
Though Towns looks forward to celebrating this win for a little while, his sights are set on adding another trophy to his set. An NBA Finals trophy.
"It's more momentum for us into the playoffs," he told Timberwolves coach Chris Finch. "That's all that matters."
Get the Our Esquina Email Newsletter
By submitting your email, you are agreeing to receive additional communications and exclusive content from Our Esquina. You can unsubscribe at any time.