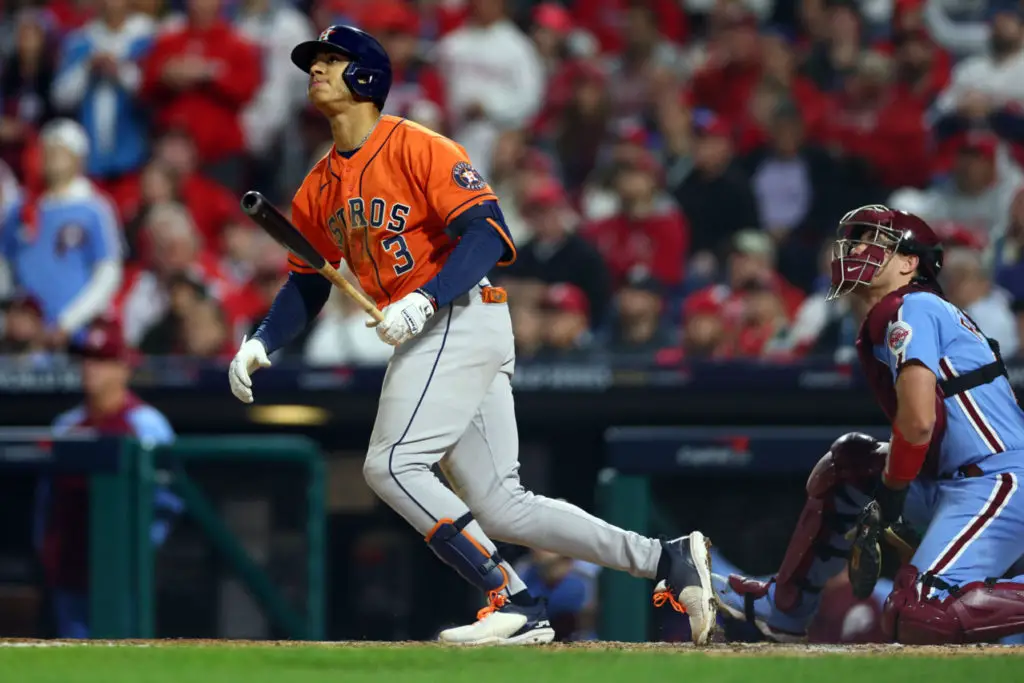 Jeremy Peña pushes Astros a win away from title
Jeremy Peña hit an RBI single and home run to win Game 5 of the World Series
PHILADELPHIA – Jeremy Peña, who is properly nicknamed "La Tormenta" or "The Storm," wreaked havoc once again Wednesday night. The 25-year-old rookie put the Houston Astros within one victory of a World Series title.
Peña doesn't resemble someone playing in his their first postseason. He is owning the biggest stage, literally and figuratively, as he showed in Game 5 by leading the Astros to a 3-2 victory over the Phillies at Citizens Bank Park.
After winning the American League Championship MVP award by hitting .353 with a double and two home runs, the Dominican Republic native is having an even better World Series. Thus far, Peña is batting .381 with a double and a home run.
The way he has elevated his game series after series and game after game leaves many wondering how he is doing it?
"My teammates. Shoutout to my teammates," Peña said after going 3-for-4 with a home run and 2 RBIs in Game 5. "They prepare for every single game. It rubs off on you.
"They have a sense of calmness because they have been here I guess four years out of the last six. So you just gravitate towards them and just go out and compete and have fun."
Peña the student
This is a theme that emerges when discussing Peña with any member of the Astros. The kid is like a sponge. He takes in everything he sees from his teammates and applies it to the maximum.
No one game is bigger than the other. It's just one play, one inning, and one game at a time.
"He came in as a young player and always paid attention," manager Dusty Baker said. "You can tell he was very attentive and confident, but quiet. He's playing remarkably well and he's really carried us for a while here through this postseason. That's especially tough for a young player, a shortstop and I'm just glad we have him.
Peña silenced an always rowdy Philly crowd with an RBI single in the first inning after Jose Altuve led off with a triple. How many times have we seen veteran players with stacked trophy cases shrink in pressure situations? Not La Tormenta, who became the first rookie in history to earn a Gold Glove at shortstop.
Crowd control
With the score tied in the third inning and a runner on first, Peña stole a potential game-leading line drive by Nick Castellanos. Once again, a rambunctious Citizens Bank Park fell silent, letting out a collective sigh.
The following inning, Peña delivered a game-leading home run that soared high into the sky. It took about six seconds for the ball to finally land over the left field wall. An eternity for Phillies fans.
Even Peña wasn't sure when it landed. That is until the umpire finally signaled the home run.
"Yeah, I hit it, you know, and it felt good off the bat, but I didn't know if it was enough," he said. "And I was running normal and then when the umpire signaled, that's when I started jogging."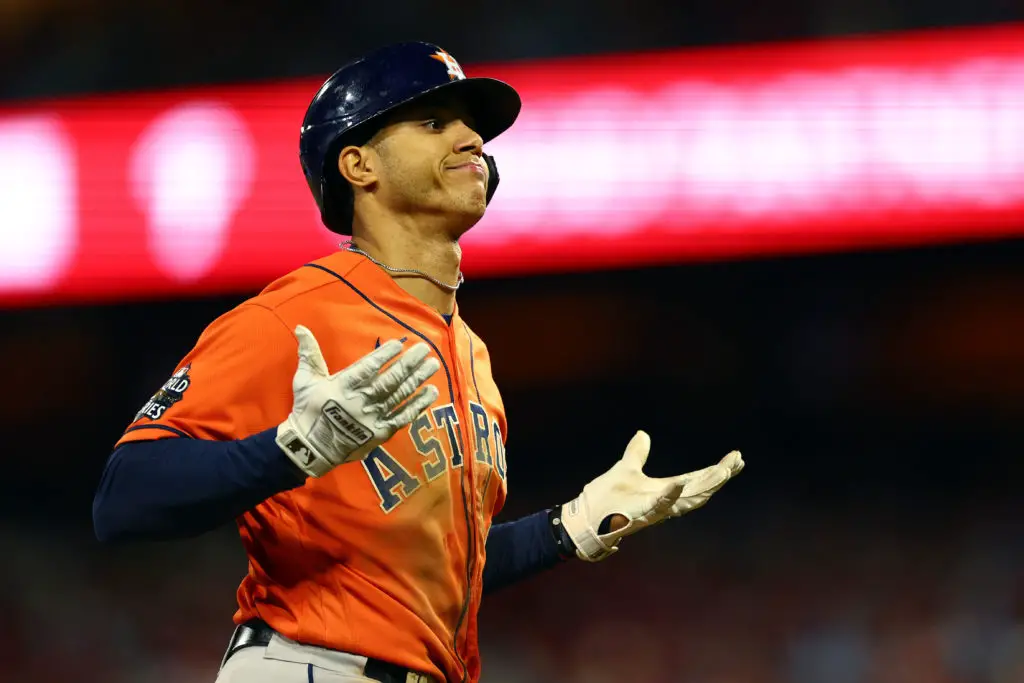 Peña is different
It's hard to believe the Astros would find his replacement so quickly after Carlos Correa left to the Minnesota Twins in free agency in March. It's even more glaring how both players, elite in their own right, present differing leadership qualities.
Justin Verlander, who earned his first World Series victory, noted as much in his postgame remarks.
"Obviously, coming in as a rookie at the major league level is never easy, no matter what," Verlander said after throwing five innings of one-run ball. "To step in and try to replace a Carlos Correa on a roster that he was a mainstay in, a leader of our team. To come in and to fill – I don't want to say to fill those shoes.
"He's different. He's not expecting to fill those shoes, because he's his own player. To come and to do what he's done and showcase his game and step up in the biggest of moments, it's just been a lot of fun to watch."
Jeremy Peña isn't your prototypical rookie. There's no time to stop and marvel at all of his accomplishments. There will be time for that later.
"At the end of the season, once we accomplish our goal, which is to go all the way, then I'll sit down and reflect on the journey," he said. "But there's still work to do, and we got to lock in."
The Astros will look to close out the Series in Minute Maid Park in Game 6.
Get the Our Esquina Email Newsletter
By submitting your email, you are agreeing to receive additional communications and exclusive content from Our Esquina. You can unsubscribe at any time.