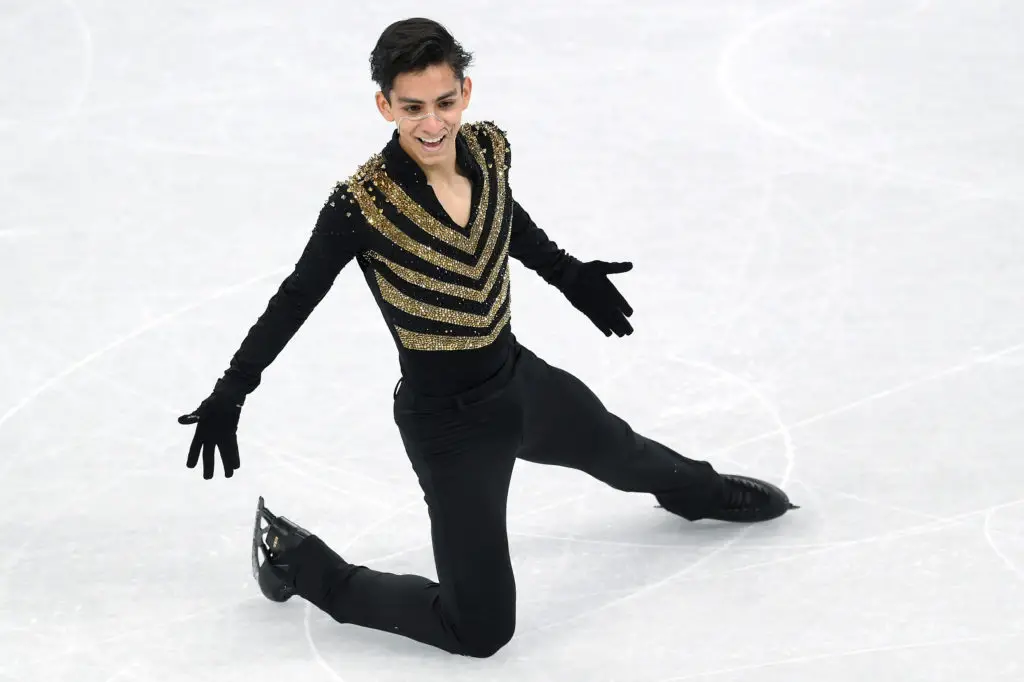 Beijing Olympics: Mexico's Donovan Carrillo already won
Mexican figure skater Donovan Carrillo blazes important trail
Mexico's Donovan Carrillo had the eyes of his entire nation on him Wednesday night, and that was just part of his appeal. The young figure skater is an important example for a country where futbol is king and a macho mindset endures.
Mexico has been captivated by a figure skater from Guadalajara, where the legendary GOATS usually wear striped red and white jerseys and are known as las Chivas. The land of famed former Chivas and Manchester United striker Javier "Chicharito" Hernandez loves its underdogs.
You won't find bigger underdogs than Carrillo in men's figure staking, or Mexicans at the Beijing Winter Olympics. Carrillo, one of only four members of Team Mexico at the 2022 Winter Games, was the ultimate underdog.
He was in the first of four six-men groups competing in the free skate program Wednesday night (Thursday in China). Considering the groups competed in reverse order of how they scored in the short program to qualify, that wasn't a good sign for Carrillo's medal prospects. He finished 22nd out of 29 who finished.
His performance was greater than the results, however. Carrillo, 22, has already made Winter Olympics history as the first Mexican man to reach the figure skating long program. He's also the first Mexican figure skater at the Olympics in three decades.
Truly Hecho en Mexico
Donovan Carrillo's mere journey to Beijing is storybook. It's important to consider that the diminutive four-time Mexico champ trains in an undersized rink in Leon, Guanajuato, Mexico. Unlike the rest of Mexico's small contingent, he's not based outside the country.
Donovan Carrillo was born and raised in Zapopan in the greater Guadalajara metro area. The other members of Team Mexico either married a Mexican or have Mexican ancestry.
Nobody expected Carrillo to contend with the United States' Nathan Chen, who won, and Japan's Yuma Kagiyama and Shoma Uno. And that's fine. Carrillo's presence among the top four groups is triumph enough for a country where boys are discouraged from such a sport.
Carrillo's story is important to Mexico and legions of Mexican Americans and Latinos in the United States. He defies our macho stereotypes and expectations. Carrillo also celebrates his Mexican culture and artists. He did as much two days ago when he played Carlos Santana's music during his short program routine.
Carrillo proves Mexico's more than soccer
The land of Hugo Sanchez, Rafa Marquez and Chicharito reminds the world that it is more than just about futbol. Mexico's iconic sports heroes don't all have to be macho boxers like Julio Cesar Chavez or baseball greats following Roberto "Bobby" Avila and Fernando Valenzuela.
Boys in Mexico dream of playing for El Tri, the famed men's national soccer team. Now Carrillo has shown his countrymen that it's OK to try sports other than soccer, boxing and baseball.
UCLA basketball star Jaime Jaquez reminded us last spring that Mexicans can star beyond the soccer pitch, baseball diamond and boxing ring. Jaquez helped UCLA reach the Final Four last year, and he has the Bruins primed for another run this season.
Cuban American Zach Calzada of Texas A&M and Mexican American Matt Corral of Ole Miss reminded us what Hall of Famer Tom Flores taught us more than half a century ago. Latino quarterbacks can lead teams to success.
Unlike football, basketball, boxing, baseball and soccer, skating defies the macho mentality that can be detrimental in our culture. Carrillo was told often that skating is a feminine sport, yet he refused to let others' ignorance define his dreams.
Donovan Carrillo ignored early taunt
He showed strength by following his own dreams while others questioned his sexuality or called him a girl merely because he liked to skate.
"Sometimes people think that the artistic sports are only for women," Carrillo told the Associated Press. "So that's something I had to fight when I was a kid because many people at school told me 'Oh you're a girl.'
"And they sometimes even think that to practice an artistic sport, it's going to affect your (sexual) preferences as a person. I never thought that. I think that's one of the reasons of why we don't have many male skaters in my country."
Fortunately, the 2022 Winter Olympics have given Donovan Carrillo the necessary platform to enlighten Mexico. The eyes of Mexico were on a young male figure skater, and that's a victory for Carrillo, Mexico and Latin America. In many ways, it's a more important victory than a gold medal.
Get the Our Esquina Email Newsletter
By submitting your email, you are agreeing to receive additional communications and exclusive content from Our Esquina. You can unsubscribe at any time.