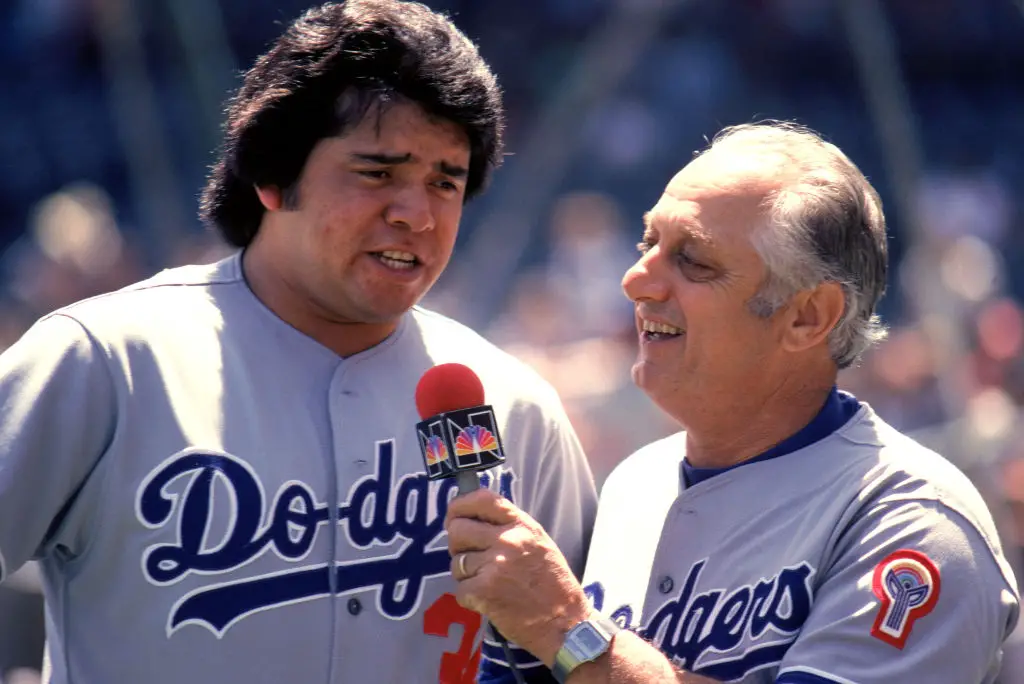 Fernandomania lives through Jose Urquidy, Julio Urias
Astros righty Jose Urquidy happy to see childhood friend Julio Urias receive World Series ring
Jose Urquidy is too young to remember exactly when Fernandomania started. The Astros' righthander knows about Fernando Valenzuela's legacy, though. He is part of that legacy, after all.
Urquidy was reminded about Fernandomania on Friday, April 9, the 40th anniversary of Valenzuela's first start in the majors. 
Valenzuela's legacy was on full display Friday at Dodger Stadium, where the Dodgers received their 2020 World Series championship rings. From afar, Urquidy celebrated as his childhood friend Julio Urias and fellow Mexican Victor Gonzalez received their rings. 
"I saw that it was Fernandomania," Urquidy said of the anniversary mentions on social media. "I don't know how many years ago that started, but I saw it."
Urias and Urquidy were teammates as 12-year-olds on Sinaloa's state team. Moreover, Urquidy, Gonzalez and Valenzuela are members of one of the most exclusive clubs in MLB and Mexican history.
In 1981, Valenzuela capped the year of Fernandomania by winning the Rookie of the Year, the Cy Young Award and a World Series title. 
World Series history
That year Valenzuela also became the first pitcher born in Mexico to win a World Series start. A Mexican starting pitcher didn't win another start in the World Series until Urquidy in the 2019 World Series. 
Actually, only four pitchers who were born in Mexican have earned victories in the World Series. The first was Valenzuela. He was followed by the Detroit Tigers' Aurelio Lopez, who earned his victory in relief in 1984. 
A year after Urquidy became the third, Victor Gonzalez earned the Series-clinching victory in Game 6, which Urias closed to give the Dodgers their first World Series title since 1988.
Gonzalez, Urias and Urquidy developed in Mexican after Valenzuela popularized baseball throughout Mexico.
There was a 38-year gap between World Series victories by a Mexican starting pitcher, and a 35-year gap between victories by pitchers born in Mexico. Then, Urquidy and Gonzalez won World Series games in consecutive seasons. 
Urias and Gonzalez actually made their own history last year, marking Game 6 as the first game in World Series history in which Mexican natives earned the victory and the save. 
They celebrated after Game 6 by posing with a Mexican flag on the field at Globe Life Field in Arlington, Texas. A little more than five months later, they got their World Series rings 40 years after Valenzuela threw a shutout against the Astros to kick off Fernandomania.
"You could see their joy when they got their rings," Urquidy said. "I hope they get many more rings and for me to get one too. I hope that happens. I'm very happy for them, and we're here working to also have World Series rings too."
Get the Our Esquina Email Newsletter
By submitting your email, you are agreeing to receive additional communications and exclusive content from Our Esquina. You can unsubscribe at any time.