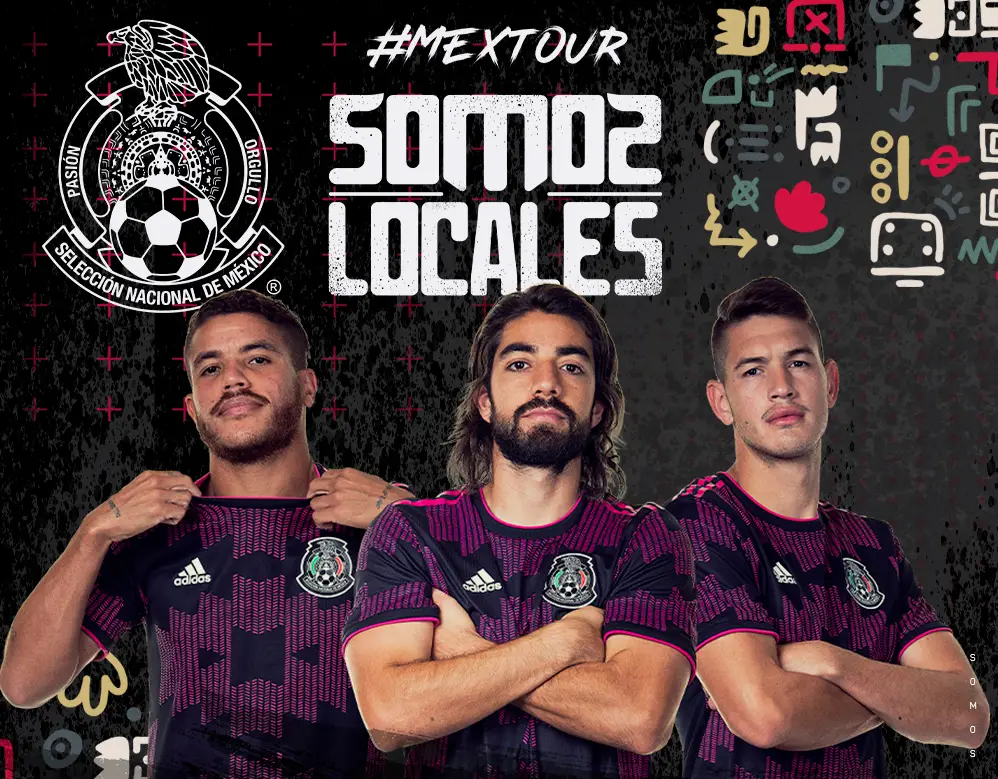 Mexican national team tour campaign captures Mexican American essence in U.S.
New campaign reminds Mexican Americans they and the Mexican national team are home here
Home, as they say, is where El Tri is. There are an estimated 60 million fans of the Mexican national team living in the United States. They are diehard soccer fans working in every sector. They're lawyers and engineers, cooks and dishwashers, soldiers and Marines, members of the U.S. Navy and Air Force too. 
Some have taken the oath to defend the United States, whether they were born here or south of the borders. Others arrived not long ago. Many of them also cheer proudly for the U.S. men's and women's national team against every country but Mexico. Nonetheless, El Tri is in their blood, part of their heritage and roots.
Soccer United Marketing and the Mexican Soccer Federation captured that devotion perfectly. Their new branding campaign was made for El Tri's upcoming tour of the United States, which kicks off May 29 at Arlington's AT&T Stadium.
Look deeper into it, though. The "Somos Locales" message is larger and more important than the so-called "Mex Tour" or soccer.
Mexican national team not visitors here
Billed as "Somos Locales" which means we are the locals, the branding campaign perfectly captures El Tri's place in American sports. Actually, "Somos Locales" also captures the attitude most Mexican and Mexican Americans rightfully feel in the United States.
"The Mexican National Team recognizes and thanks our millions of passionate fans in the U.S. with this campaign which highlights their cultural experiences and powerful stories," said Beatriz Ramos, the Director of Communications and Image for the FMF. "Over two decades, Mexican National Team matches in the U.S. have grown into major events and mass celebrations of Mexican and Mexican American pride through the love and dedication to El Tricolor, and this campaign showcases this like never before."
To the frustration of U.S. Soccer players and fans, the Mexican national team has usually received the home treatment when the two CONCACAF rivals have met on U.S. soil. In contrast, the U.S. national team is booed loudly whenever it plays in Mexico. 
It's difficult to explain to non-Mexicans why El Tri holds such a special place to Mexican Americans born in the United States. There are many reasons, of course.
In many of the largest cities in America – Los Angeles, Houston, Chicago and New York, to name just the top four – Mexican immigrants could theoretically hang out in Mexican enclaves without ever needing to speak English or socialize with other groups.
Whether raised in Mexican enclaves or not, though, our parents instill a love of Mexico. Many first-generation Mexican Americans grow up spending summers or Christmas vacations in our parents' homeland. 
Following parents' lead
We grow up with El Tri as our team in the same way we view the Dodgers and Lakers as our home teams in Los Angeles or the Cubs and Bears as the home teams in Chicago. When El Tri shows up to Houston's NRG Stadium or the Rose Bowl, you can bet those stadiums will be packed with El Tri fans dressed in their beloved green jersey. The same can be said for AT&T Stadium, home of the Dallas Cowboys.
You can expect banda music and mariachi bands during mini tailgate fiestas hours before El Tri plays in the United States. You can also bank on at least one rendition of Cielito Lindo during the game. We're taught this early in our lives. We embrace it, cherish it, long for it.
No matter how far away we move from our parents, El Tri games make us feel close to home, our family and our gente. This campaign is billed as a rallying cry for the "Mex Tour." It's more than that, however. It's a reminder that we as Mexicans should never consider ourselves visitors in the United States. Not at the Rose Bowl or the smallest town in Mississippi or Minnesota or Idaho.
We are Mexicans
We are not visitors here. We're not foreigners when we visit our parents' homeland either. "Somos Mexicanos," or we are Mexicans, as the Mex Tour campaign states.
"If you ask where we're from, we'll tell you the truth," the narrator says at the start of the video campaign. "Somos Mexicano, but not because we were born there. Because we were raised Mexicanos here. This is our home. …
"Here no one tells us we're the visiting team. Not at school, not at work, and never, ever on the pitch. We live it. We breathe it. We wear it on our chest with one voice we scream to show that world that here we root for our roots. … Here and everywhere somos locales."
Get the Our Esquina Email Newsletter
By submitting your email, you are agreeing to receive additional communications and exclusive content from Our Esquina. You can unsubscribe at any time.