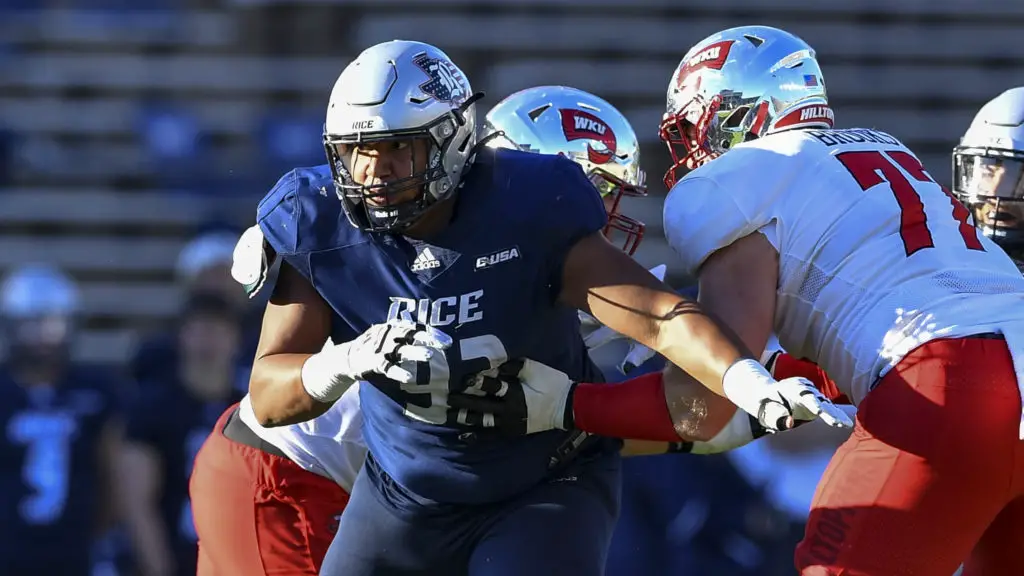 Elijah Garcia leaves legacy at Rice University
Elijah Garcia on pace for Master's in accounting and NFL draft
HOUSTON – Candido Garcia had a simple request as he dropped his son Elijah off at Rice University a little more than five years ago. The former Army soldier from the southside of San Antonio had overcome so much just to get his son to that point, and he wanted to make a request as he drove back home. 
"Leave your legacy," Candido Garcia told Elijah as he dropped him off at Rice for the first time. "Go out and leave your legacy at this place."
The 6-foot-5, 300-pound defensive lineman arrived at Rice in 2016 eager to see what was in store. As Elijah Garcia prepares to play the final game of his Rice career Saturday against Louisiana Tech, that message still resonates.
More Rice:
Jose Cruz Jr. capitalizes on Rice brain power
Cruz sets tone for Rice's return to prominence
Leaving a legacy
The redshirt senior remembers that message vividly because his father repeated it to him almost immediately after he graduated from Rice last spring with a degree in sports management.
Elijah could have easily started his post-playing career after receiving his bachelor's degree. He wasn't done leaving his legacy at Rice, though. He  had more to accomplish on the gridiron and in the classroom.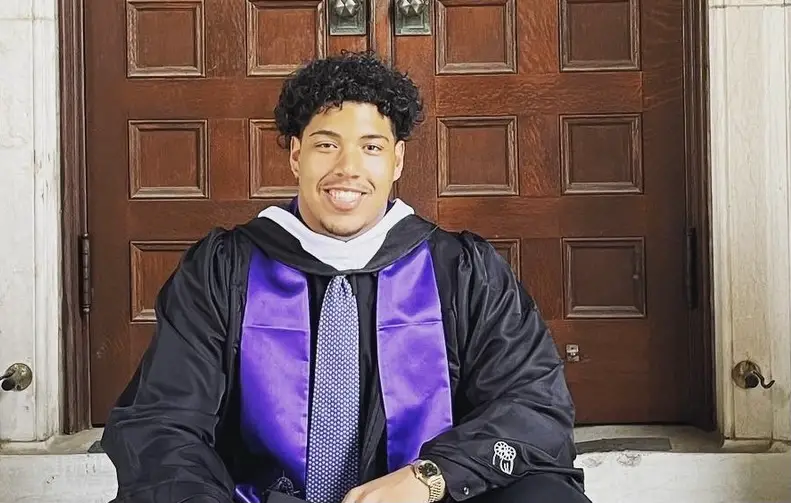 He took advantage of the NCAA's decision to grant athletes an extra year of eligibility because of the 2020 pandemic.
Elijah Garcia, who is second on the Owls with a career-high 55 tackles and first with 24 quarterback pressures this season, was excited to chase another degree too. He'll graduate with a Master's in accounting next month.
"I just hope to do this school proud and make something of that accounting degree that I'll earn," Elijah says. "Maybe be a financial analyst somewhere or a CFO at some startup company. That would be pretty amazing."
Elijah has been able to chase a legacy because of the sacrifices his father and grandmother made. The road to Rice was hardly easy. 
In fact, it was difficult early on.
Candido Garcia kept promise to late wife
Candido was in his sixth year in the Army as a communications specialist when his wife died in 2001. Elijah was three years old. His sister Anna-Alyse Garcia was only one year old.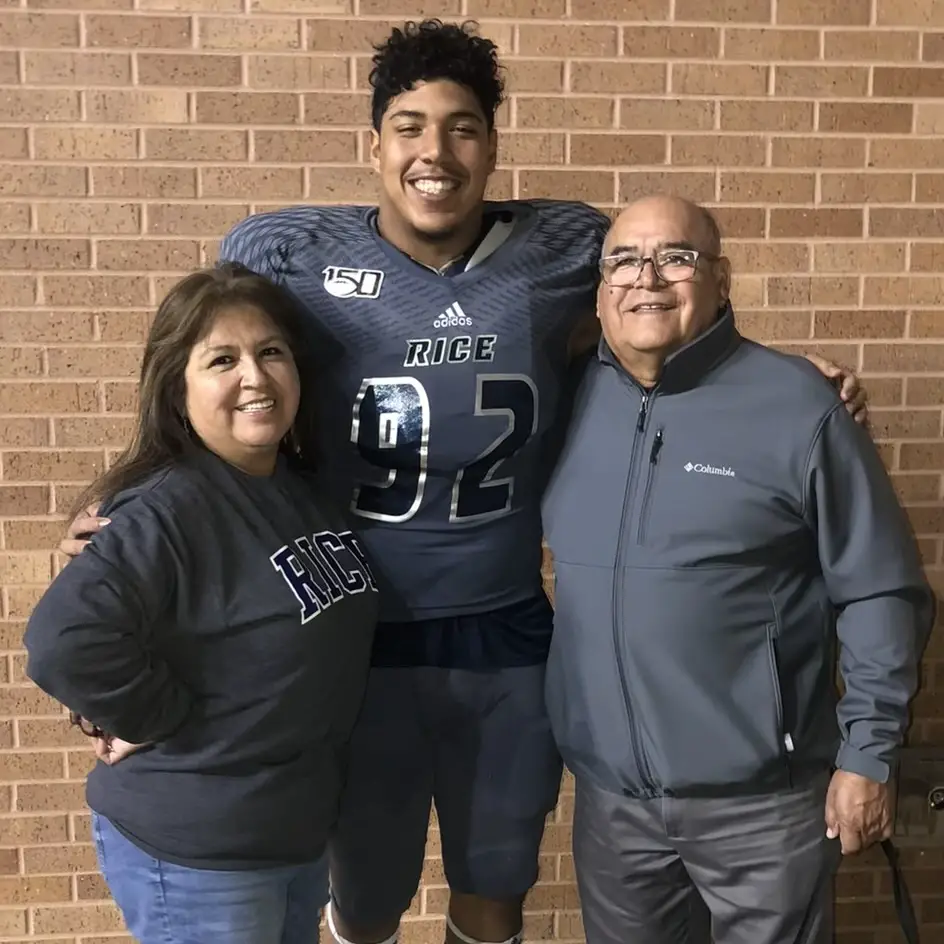 The Army let him out on a hardship case. 
"I got out and wanted to raise my kids," Candido said. "I can remember conversations with my late wife when the kids were little. We wanted so much for them. It was a promise that I kept to my late wife that I would do everything I can to bring them up and educate them."
Both Garcia kids were exceptional athletes. Anna-Alyse earned a basketball scholarship to Southwestern College in Winfield, Kan.
Elijah has blossomed into an exceptional college football player who will likely be picked in the next NFL draft.
He has more tackles this year than any Rice interior defender since Christian Covington had 59 in 2013. He'll need four in the season finale to reach that mark. He already has a career-high 3.5 sacks.
He is the Conference-USA active leader in career tackles with 178. Perhaps more impressively at the most prestigious academic institution in Texas, Elijah Garcia also has made the conference honor roll for four consecutive seasons.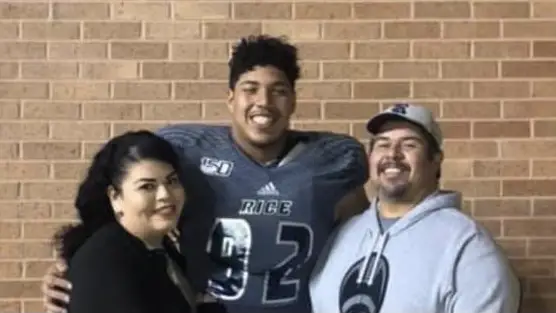 Elijah also takes pride in showing fellow Latinos that there's a place for them in college football and, more importantly, elite universities like Rice.
Moreover, he dreams of making it to the NFL and showing Latinos that there's a place for them too.
Elijah Garcia sets example
"I love going out there on Saturdays and wearing this last name on my back," he said. "I know that a lot of my younger cousins look up to me and what I'm doing. And a lot of kids in my community, if I can be an example to them, that will mean the world to me. 
"Just making it to the NFL to just show them, you come from this neighborhood too. You can do this too. That's awesome for me."
More college football:
2021 College Football: 21 Blessings
'Cuban Missile' Zach Calzada Embodies American Dream
Texas A&M's Seth Small, Ohio State's Chris Olave set school records
When he talks about life after football, he hardly sounds like your average athlete.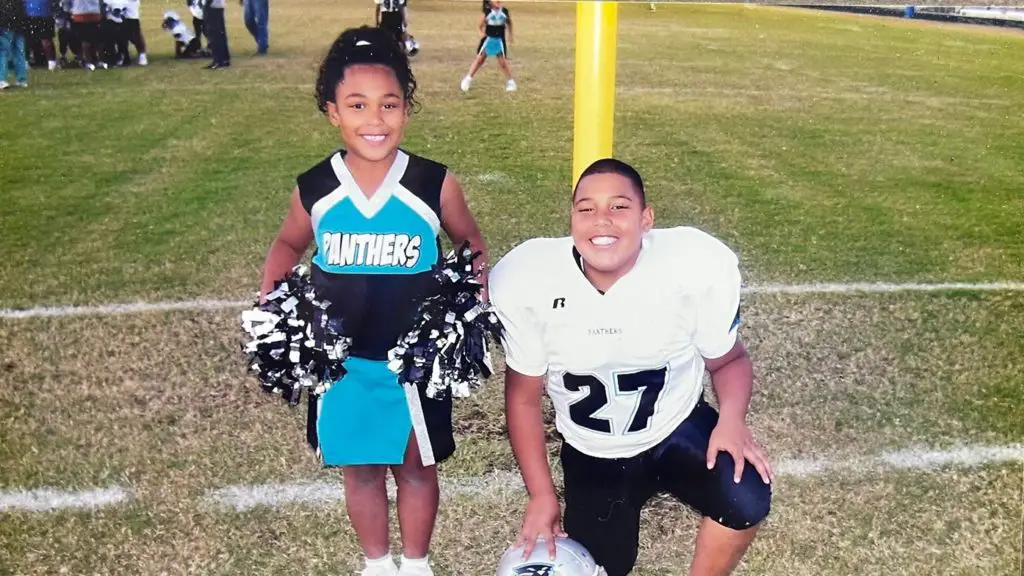 When Elijah Garcia mentions generational wealth as a goal, it's clear that football isn't the only avenue he hopes to use to chase that goal. 
Garcia has prepared himself at Rice for his next step in life, whether it's in football or in the business world.  
Football opened the door to an elite Rice education for Garcia, and he hopes to have left his legacy there too.
"In that football stadium over there I think I've left a pretty good impression on the younger guys coming up," Garcia said. "We unfortunately didn't get to bowl eligibility this year, but hopefully my mark has left an impression on some guys that they can do it. We're a better team than when I got here. Hopefully they can keep doing that and get a couple of rings."
Featured photo by Maria Lysaker/Rice Athletics
Get the Our Esquina Email Newsletter
By submitting your email, you are agreeing to receive additional communications and exclusive content from Our Esquina. You can unsubscribe at any time.