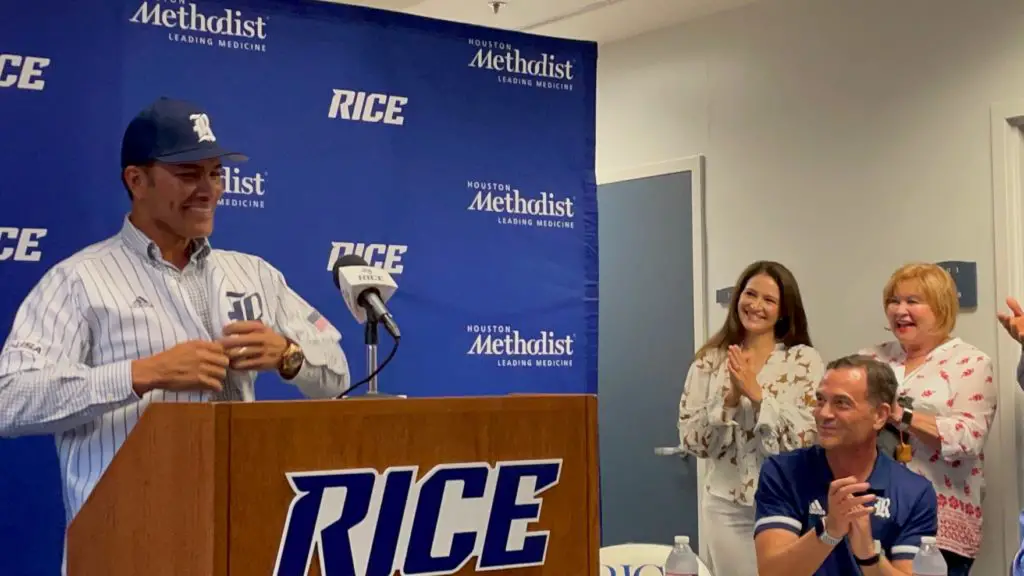 Jose Cruz Jr. capitalizes on Rice brain power
Rice baseball coach Jose Cruz eager to put Owls on cutting edge
Jose Cruz Jr. has learned quite a bit since he was hired as his alma mater Rice University's baseball coach in June. He was heartened by the large parliament of Owls from several generations who gathered on the golf course last week, reminding him that he's not alone.
The parliament of Owls didn't just include former Rice baseball players either. A few former Rice golfers and football players showed up along with the usual band for Rice alumni, the doctors and lawyers.
"Just to see the support from all the Rice baseball alumni that showed up from every era all the way up was so awesome to see," Cruz Jr. said. "I was ecstatic about it. We all treasure this program. It's our program. It really is. 
"We have all gone through it, all have experiences. We have great memories with it and we know that we have a chance to be really good. This is our shot to be really good. So they're all in there supporting. Whatever they can do, they're all in."
More Jose Cruz Jr., Rice
Cruz sets tone for Rice's return to prominence
Rice University a family affair for Jose Cruz Jr.
It hasn't been a full six months since Cruz Jr. was hired to coach the team he led to prominence in the mid 1990s. Nonetheless, he has already learned a lot about himself and his program.
Jose Cruz Jr. adds through transfer portal
He hit the transfer portal to replenish the talent pool, and he's excited about those new players. 
Cruz is also happy that Deer Park High righthanded pitcher Roel Garcia is returning for a fifth year.  Retaining Garcia for another year was "huge" for the Owls. Cruz expects the 6-foot-4, 245-pounder from Andy Pettitte's old high school to be an impact player for Rice next season.
Cruz has admittedly been busier than he expected with the administrative portion of his job. It has kept him away from tasks that he'd much rather spend his time working on with players on the field. 
Nonetheless, the former major leaguer is optimistic about the Owls' future. Cruz knows the intellectual capital at Rice University, which is considered the top academic institution in Texas. 
He wants to cultivate some of that brain power to help bring the baseball program back to national prominence.
"I'm trying to create something that hasn't been done here ever," he says. "So it takes a lot of time to be able to meet with the right people, talk to the right people, share the vision. Share what we want to do. All in all it's going pretty well."
Seeking 'Cutting edge'
Cruz wants to push Rice baseball to the cutting edge with the use of data and technology.
As far as Cruz knows, the way he wants to use data and technology has never been done at Rice.
He's trying to bridge Rice academics with the baseball program, hoping both sides can benefit from each other.
"I think we have some of the most brilliant minds in the United States – the world really, here – concentrated at Rice," he said. "That includes computer science, which includes statistics. We have the top sports management program in the nation. 
"All that encompassing can come here and get creative with analyzing the data, creating the data, using the data to our benefit. Whether it's positioning or whether it's sequencing or whether it's understanding of the right tunneling of certain pitches and what the metrics are of each pitch and how we can use that to win baseball games."
Cruz is certain there are many students at Rice who are interested in sports analytics. To that end, the school will add a sports analytics major as part of the sports management program. 
Students in the sports analytics major will be allowed to work with the baseball program. They'll work with Cruz's director of baseball analytics as interns.
"All of that kind of started here with the vision I had for the program," Cruz said. "Had guys on the academic side jump on board and love it. A lot of the alumni that are in that world love it. It just kind of became a perfect storm in a way to put us all together. We all had the same vision. We share the same vision and I'm willing to try it, willing to apply it."
Get the Our Esquina Email Newsletter
By submitting your email, you are agreeing to receive additional communications and exclusive content from Our Esquina. You can unsubscribe at any time.