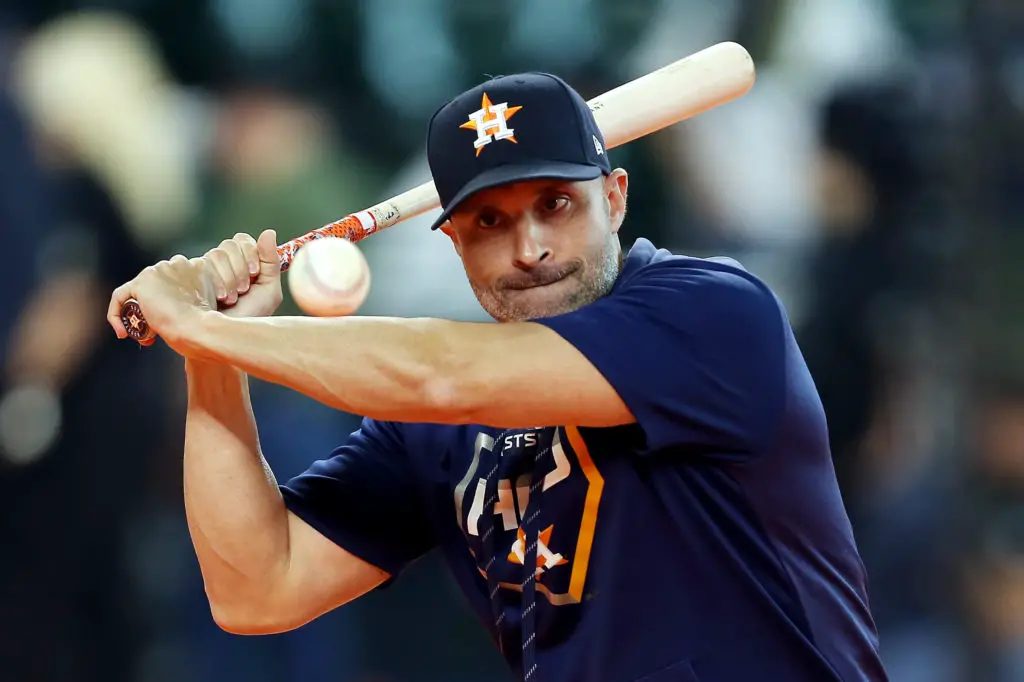 Astros lead way, Dodgers pitch shutout on Latino coaches
Dodgers, Cubs, Rangers, Brewers and Pirates have no Latino coaches
Compiling a list of the Latino coaches in Major League Baseball, it was not surprising to see Dusty Baker's staff leading the way.
At times, the Astros' legendary manager has joked that he's Mexican. That's how much the California native appreciates and understands Mexican culture. The love is mutual for sure, considering how much Baker is beloved by Latinos dating back to his days with the Dodgers.
So it shouldn't be a surprise that Baker's staff is tied for Latino coaches in MLB. It is surprising, however, to see that Dodgers manager Dave Roberts has no Latino coach on his staff.
Our Esquina compiled a list of all Latino coaches in Major League Baseball and found that there are four teams with no Latino coaches on staff. Although Latinos make up roughly 30 percent of the players on Opening Day rosters, Roberts, Dave Ross of the Cubs and Craig Counsell of the Brewers don't have a Latino coach on their staffs.
The Rangers and Pirates also don't have a Latino coach. Baker, Mets manager Buck Showalter and Giants manager Gabe Kapler lead the majors in Latino coaches with four each.
Espada leads Astros' Latino coaches
Baker has a Puerto Rican bench coach, Joe Espada, who has been a top managerial prospect since 2020.
Baker also has a Puerto Rican hitting coach, Alex Cintron. First base coach Omar Lopez is a native of Venezuela. He developed as a coach through the Astros' farm system, beginning at the old Venezuelan academy.
Baker found bullpen coach Dan Firova working a camp in Mexico. At one point, Baker complimented Firova's English, prompting the Mexican American coach to tell him he was born in Texas.
Firova was working in the Mexican League when he met Baker, who promptly asked permission to interview Firova.
Below is a list of the Latino coaches, managers and decision makers in Major League Baseball. 
Arizona DBacks
Third base coach Tony Perezchica is the lone Latino on Torey Lovullo's staff. Luis Urueta serves as coordinator of Major League player development and instruction.
Atlanta Braves
The World Series champion Braves have a pair of Latino assistant hitting coaches, Jose Castro and Bobby Magallanes. 
Baltimore Orioles
Former Marlins and Braves manager Fredi Gonzalez serves as the Orioles' bench coach. Jose Hernandez holds a major league coach title.
Boston Red Sox
Alex Cora is one of only four Latino managers in baseball. The 2018 World Series champion is also one of three current big league managers with Puerto Rican roots.
Carlos Febles serves as Cora's third base coach, and Ramon Vasquez is a quality control coach. 
Chicago White Sox
White Sox bench coach Miguel Cairo appears well positioned to take over on the Southside of Chicago when Tony La Russa retires.
Cincinnati Reds
Veteran coach Freddie Benavides serves as the Reds' bench coach. Cristian Perez and Rolado Valles are assistant coaches. 
Cleveland Guardians Latino coaches
Former big league catcher Sandy Alomar, Jr., who serves as the Guardians' first base coaches, is one of the most experienced first base coaches in baseball. Alomar, the son of former big leaguer Sandy Sr. and brother of Hall of Fame second baseman Robbie Alomar, has served as interim manager of the Indians/Guardians twice.
Sandy Alomar Jr. is arguably one of the most prepared Latino coaches in MLB. He was interim manager in 2012 after Cleveland fired Manny Acta. He also took over the club in 2020 when Terry Francona took a leave for medical reasons.
Victor Rodriguez is also an assistant hitting coach on Francona's staff. 
Colorado Rockies
Andy Gonzalez serves as assistant hitting coach. 
Detroit Tigers
The Tigers are the only team in Major League Baseball with a Latino general manager. Al Avila, a native of Havana, Cuba, became the Tigers' GM in 2015 after 13 years as an assistant GM with the club.
Avila, 63, is the first and only native of Cuba to serve as general manager in MLB. The Tigers also have two Latino coaches on AJ Hinch's coaching staff. Ramon Santiago serves as Hinch's third base coach, and Juan Nieves is an assistant pitching coach.
Kansas City Royals
Mike Matheny has Pedro Grifol as his bench coach with the Royals.
Los Angeles Angels
Mexican American Mike Gallego, who starred at UCLA, serves as the Angels' bench coach. Benji Gil is the first base coach in Anaheim.
Miami Marlins
The Marlins are loaded with Latino coaches. Al Pedrique, the man who signed Jose Altuve out of the Astros' Venezuelan academy, coaches third base for Miami. Pedrique is an experienced coach who served as manager of the Diamondbacks briefly in 2004.
The Marlins also have Wellington Cepeda as bullpen coach, Edwar Gonzalez as assistant hitting coach and Eddy Rodriguez as catching coach. 
Milwaukee Brewers
Manager Craig Counsell doesn't have a Latino coach on his staff. Bullpen catcher Nestor Corredor is Latino, but that's not a coaching position.
Minnesota Twins
Manager Rocco Baldelli has three Latino coaches on his staff, including assistant bench coach Tony Diaz.
Many in baseball consider Diaz, a native of the Dominican Republic, a future manager. The Twins' coaching staff includes assistant pitching coach Luis Ramirez and hitting coach Edgar Varela.
Queens quartet of Latino coaches
Mets manager Buck Showalter joins the Astros' Baker with the most number of Latino coaches in important spots on his staff.
Joey Cora, the older brother of Red Sox manager Alex Cora, is the Mets' third base coach. Former big league All-Star Eric Chavez is the hitting coach. Tony Tarasco is the first base.
Craig Bjornson, whose mother is Mexican, is the Mets' bullpen coach. He served in that same capacity for the 2017 World Series champion Astros and 2018 champion Red Sox.
 New York Yankees
Carlos Mendoza serves as the Yankees' bench coach. Former Mets manager Luis Rojas is the third base coach. 
Oakland Athletics
Mike Aldrete is the A's first base coach.
Philadelphia Phillies
Paco Figueroa is the Phillies' first base coach.
San Diego Padres
The Padres have three Latino coaches. Francisco Cervelli is the catching coach. David Macias is the first base coach, and Ruben Niebla is the pitching coach.
San Francisco Giants
Gabe Kapler's coaching staff has a rich Latino flavor although the positions aren't at the top of the staff. Craig Albernaz serves as the bullpen/catching coach. Pedro Guerrero is an assistant hitting coach, and J.P. Martinez is an assistant pitching coach. Nick Ortiz is a quality assurance coach.
Seattle Mariners
Former Cleveland and Washington Nationals manager Manny Acta serves as Seattle's third base coach, and Kristopher Negron is the first base coach. 
St. Louis Cardinals
Dominican American Oliver Marmol is the youngest manager in baseball. The Cardinals' front office also has two Latino assistant general managers, Moises Rodriguez and Randy Flores.
Tampa Bay Rays
Rodney Linares, the son of legendary Astros player development executive Julio Linares, is the Rays' third base coach. He managed most of the Astros' top stars of their current dynasty when they were in the minors.
Don't be surprised if Rodney Linares is a manager in the majors in the next few years. Many All-Stars credit Linares for helping them reach the majors.
Toronto Blue Jays
Blue Jays manager Charlie Montoyo paid his dues as a longtime minor-league manager before earning his promotion to the majors. Now Montoyo, a native of Puerto Rico, is one of four Latinos and three Boricuas managing in the majors.
Guillermo Martinez is Montoyo's hitting coach. Luis Rivera is the Blue Jays' third base coach.
Washington Nationals
Dave Martinez, who guided the Nationals to the 2019 World Series title, is one of three Boricuas and four Latino managers in MLB.
Henry Blanco serves as Dave Martinez's catching coach, and Ricky Bones is the bullpen coach.
No Latino coaches
It's odd to think that Dodgers manager Dave Roberts doesn't have a single Latino on his coaching staff. Sadly, Jackie Robinson's old team isn't the only team without a Latino on the big league coaching staff.
Cubs manager David Ross also has no Latino coaches on his staff. Ross does have staff assistant Pipi Cabreja, but he isn't a full-time "coach," per se. The Rangers and Brewers also lack Latino coaches on their staffs.
Surely, Roberto Clemente wouldn't be happy to know the Pirates have no Latino coach.
Get the Our Esquina Email Newsletter
By submitting your email, you are agreeing to receive additional communications and exclusive content from Our Esquina. You can unsubscribe at any time.