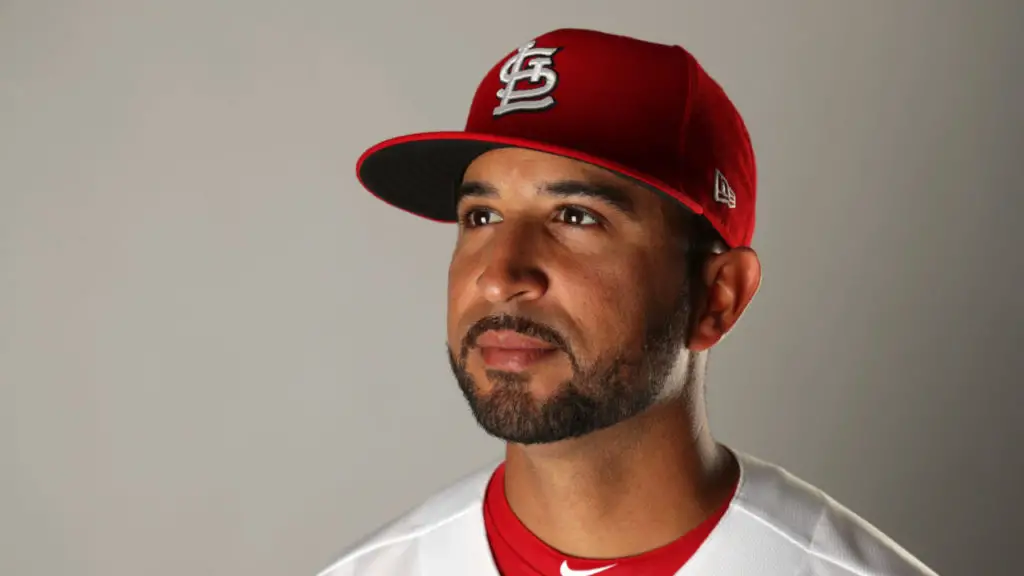 Cardinals' Oliver Marmol appreciates rare chance
Oliver Marmol is grateful for opportunity to manage Cardinals
When Oliver Marmol received the call that he would be named the next manager of the St. Louis Cardinals, the Dominican American felt mixed emotions. The joy was tempered because he was replacing a close friend and mentor, Mike Shildt.
On the other hand, he appreciated the rare opportunity to lead one of baseball's most prestigious organizations.
This was a once-in-a-lifetime opportunity that doesn't come across people like him too often. Until he was hired, there were only three Latino managers in Major League Baseball. Now there are four – Marmol, the Nationals' Dave Martinez, the Red Sox's Alex Cora and the Blue Jays' Charlie Montoyo.
Moreover, he is only the second manager of color for the 11-time World Series champions. Marmol is now another example of the opportunities available for Latinos, whether in baseball or other professions, regardless of where they come from.
Humble roots
"If you look back and just rewind to some of the neighborhoods we lived in early on, these opportunities don't come across the table to the majority of people that grew up like that," he said. "For them to be able to identify and see someone of color in a position of leadership, especially for a winning franchise, one with the history that the St. Louis Cardinals has, it's extremely meaningful."
Marmol became the first person of color to manage the Cardinals in over half a century. He's the first Latino Cardinals manager since Mike González managed the club from 1938-1940. Currently, he is one of four Latinos managers in MLB.
More Cardinals
Moises Rodriguez's footprint extends beyond Cardinals
Though Marmol hopes that the Cardinals' decision to hire him opens doors to more people of color, ultimately, he just wants to put his head down and do a "tremendous" job.
"If at the end of it all," he said with a shrug of the shoulders and a laugh, "we win championships and nobody knows my name, it's OK, baby."
Early lessons from Tony La Russa
As a 22-year-old with the Palm Beach Cardinals, Oliver Marmol would sit in the backfields listening to Tony LaRussa talk. The year was 2009 and, at the time, LaRussa would visit the St. Louis Cardinals Class A affiliate and offer wisdom and encouragement.
Though LaRussa's message to the team did resonate with Marmol, he wasn't absorbing it so much as a player as he was as a coach. As a player, Marmol wasn't making much progress. He was barely scratching the Mendoza Line and plateauing in the lower rungs of the Cardinals' minor league system.
Sensing his playing career was coming to an end, he was intuitively changing his mindset.
"Some of the things that were coming out of (LaRussa's) mouth were meaningful, and I wanted to make sure to carry that on at some point for this organization on the other side of the fence," Marmol remembers thinking. "That's when I realized that truly my passion lied in influencing the people around me and not so much playing."
It didn't take long for Marmol, a son of Dominican immigrants, to begin working toward that goal. He was 23 when he officially began his coaching career after being released by the Palm Beach Cardinals. He never looked back.
Who is Oliver Marmól?
Oliver Marmol was drafted ahead of All-Stars like Anthony Rizzo, Yasmani Grandal, and DJ LeMahieu. Though those guys made names for themselves as MLB All-Stars, Marmól made a name for himself as a coach.
After being released by the Palm Beach Cardinals less than four years after being drafted, Marmol began his first coaching job with the Batavia Muckdogs. He served as coach for the New York-Penn League affiliate of the St. Louis Cardinals through the 2011 season.
Soon after, he received his first managerial position with the Johnson City Cardinals in 2012. One year later, he managed the State College Spikes, where he stayed through 2014. Then, in 2015 he returned to the Palm Beach Cardinals. This time he was the team's manager.
In 2017, the St. Louis Cardinals offered Marmol the position of first base coach under then-manager Mike Matheny. He remained in that position until 2020, when he was promoted to bench coach under one of his mentors, Mike Shildt.
Oliver Marmol is second youngest Cardinals skipper
Now, he is the team's 51st manager. Oliver Marmol is the Cardinals' youngest manager since Marty Marion, who managed the team in 1951 at the age of 34 years old.
"Overall, when you look at Oli's career and his career development, there's a lot of connections and dotted lines to similar mentors," Cardinals president of baseball operations John Mozeliak said. "So, when you look at where we are today, as I stated when we opened it, Oli's going to have his own voice.
"He's going to be able to put his own fingerprints on this. Ultimately, you hope and expect that he learned to do things in his own way and one that he has a lot of confidence in. So, the easiest take away for you might be to say that Oli learned a lot. He saw a lot. And he'll use it as an opportunity to grow from that."
Featured photo by Streeter Lecka/Getty Images
Get the Our Esquina Email Newsletter
By submitting your email, you are agreeing to receive additional communications and exclusive content from Our Esquina. You can unsubscribe at any time.