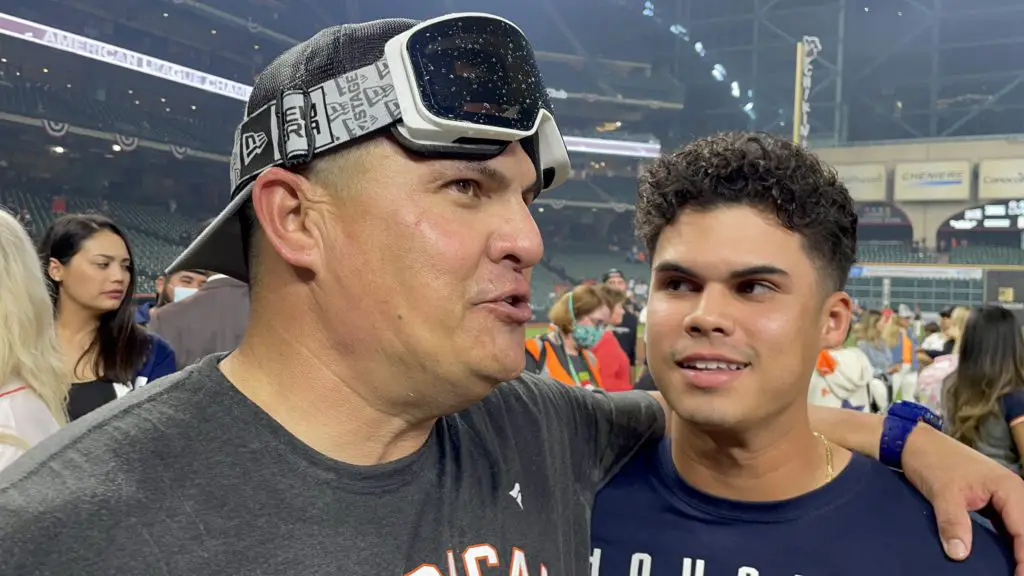 Astros coach Omar Lopez fulfills World Series promise
Omar Lopez shares World Series experience with family
HOUSTON – Omar Lopez was at Game 1 of the 2019 World Series at Minute Maid Park when he allowed himself to dream. He had just finished his second season as manager of Class AA Corpus Christi and his 12th overall managing in the Astros' farm system.
Lopez was sitting with his son Omar Jr. in Section 130 near many other members of the Astros' player development staff.
"Papi," Omar Lopez told his son Omar Jr. that evening, "one day I'll be there. I'm getting close."
Omar Lopez Sr. was closer than he realized. He was named first base coach of the Astros in December 2019. Last Tuesday night, he took his place along the first base line at Minute Maid Park and was introduced with the rest of the Astros' coaches before Game 1 of the World Series.
More World Series
Astros' Machete Martin Maldonado chops Atlanta
Jorge Soler pushes Braves closer to title
Mexican umpire Alfonso Marquez blazes trail
Confessions of a Yankees fan pulling for the Astros
He'll be back in the middle of it all for Game 6 as the Astros' third base coach against the Atlanta Braves. Lopez's immediate family will be in the family section, just as they were for Games 1-2 and then in Atlanta's Truist Park for Games 3-5.
Omar Lopez brings family on World Series ride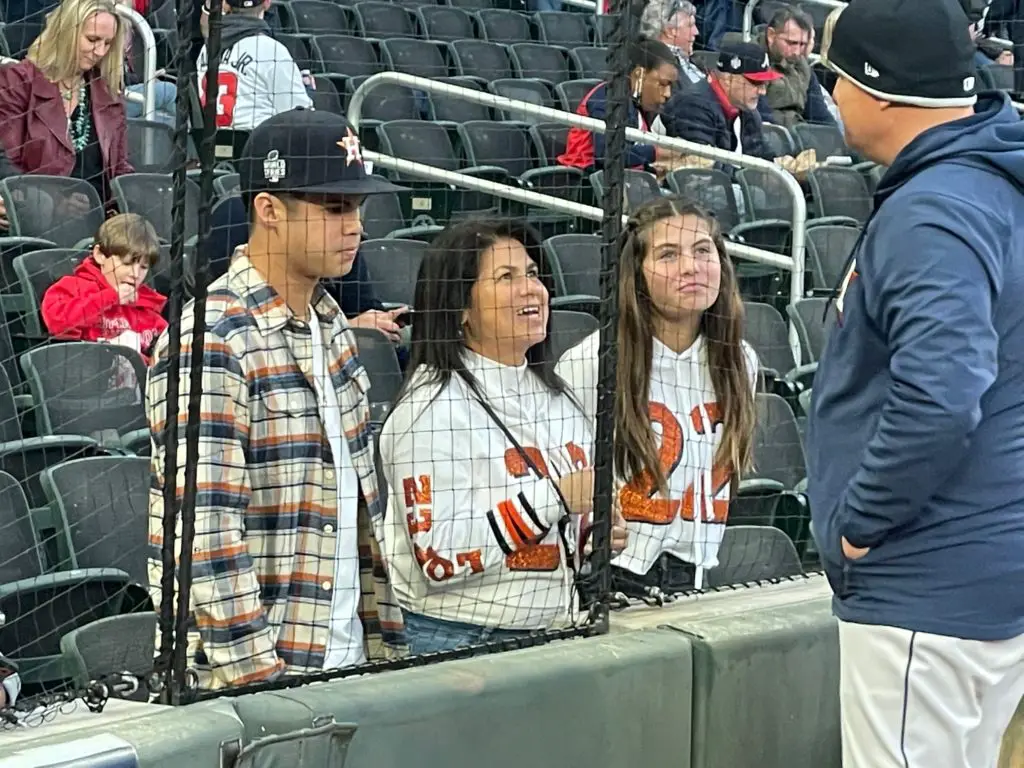 "This opportunity that has presented itself to him and our family is very important," Omar Lopez's wife Helen said. "He's been with the organization for 21 years, and three years as (a big league coach). We're proud to see him here in the big leagues.
"We're here supporting him like always. I think it's one of the biggest things. That's why we told our son that he has to be here. He thought about it and realized this is an experience we have to live as a family together."
Omar Jr., 18 and daughter Emily, 13, have taken time off school to be with their parents during the World Series. 
This is the fourth Fall Classic Omar Lopez Sr. has attended at Minute Maid Park. It's the first, however, in which he has participated. He was a 28-year-old coach in the Astros' Venezuelan academy in 2005 when the organization brought their entire staff for the franchise's first Fall Classic appearances. 
Lopez had tickets for Games 3 through 5 of the 2005 World Series against the White Sox. Only two of those tickets were used. Venezuelan legend Ozzie Guillen led the White Sox to a four-game sweep, becoming the first Latino manager to win a World Series.
Former Colorado Rockies slugger Andres Galarraga and Guillen had been Lopez's favorite players growing up in Venezuela. Lopez even signed with the White Sox as an amateur free agent.
Venezuelan pride
They were basically his childhood heroes, he concedes. 
"No. 1 he's our hero in Venezuela," Lopez says of Guillen. "In 2005, when he was about to win his first World Series I was in section 100-somethign watching the World Series against the White Sox. I never thought I was going to be able to meet Ozzie. 
"I think for the entire country and for myself he's one of the guys that we should follow. We should see as our leader. We should see as our motivation that if he was capable and he had the knowledge and he had the whole skills to manage, whoever followed that had a chance to also do it."
Lopez was only 28 when Guillen led the White Sox over the Astros in the 2005 World Series. Former Astros owner Drayton McLane flew the club's entire Venezuelan academy staff to the World Series that year. 
By then, Lopez had already been an infield and hitting instructor in the Astros' Venezuelan academy and a full-time scout for seven seasons. 
Although he was proud of Guillen, Lopez was cheering for the organization that first hired him on Dec. 1, 1998.
Developing Astros stars
By 2019, Lopez's Astros roots were firmly entrenched with the Astros. He had even gotten to know Guillen well and faced him multiple seasons as manager in the Venezuelan winter league.
Lopez also attended the 2017 World Series after he managed Yordan Alvarez, Kyle Tucker and Framber Valdez at Class A Buies Creek. He was promoted to Class AA Corpus Christi the next season, winning the Texas League Manager of the Year Award in 2018. 
Omar Lopez managed most of the Astros' stars in the minor leagues, beginning with Carlos Correa and Lance McCullers Jr. in 2013.  
"I was waiting for this time to see these guys succeeding in the big leagues and reaching the big leagues," Lopez said. "I never thought I'd be in the same spot. Every coach has a goal of being in the big leagues. 
"Sometimes you close your eyes and (then) open your eyes and you're here, you're there. You never know in this game. Now I feel more blessed to spend that time with those guys who went through my hands, went through some other coaches' hands."
Omar Lopez credits Tampa Bay Rays third base coach Rodney Linares with helping him settle in as a minor-league manager. They met working in the Astros' Dominican academy almost 20 years ago. 
When Lopez finally became a minor-league manager at Class A Quad Cities (Iowa) 2013, Linares was often on the phone with him offering advice and answering questions.
It's not an exaggeration to say Linares, who was usually one level ahead of Lopez, called Lopez every other day to check in on him.
That squad was loaded with future MLB All-Stars like Carlos Correa, McCullers and the Toronto Blue Jays' Teoscar Hernandez. Chris Devinski was also on that team.
Special brother's help
"It was a huge team with first round picks, so (Linares) was on me," Lopez said. "That's why I'm very thankful to God for putting Rodney in my career. He's my brother."
Linares made his World Series debut last year coaching third base for the Rays against the Dodgers. He still pulls for Lopez and vice versa, as brothers do.
"Get that ring, bro," Linares messaged Lopez before Game 6.
Lopez is definitely trying to get that ring. He's come a long way since he attended his first World Series in 2005. As he promised Omar Jr. two years ago, he's participating in the Fall Classic now.
Omar Jr. never had a doubt his father would be in the World Series. He told him as much in Section 130 at Minute Maid Park during the 2019 World Series. 
Omar Lopez Sr. and Jr. both remembered that conversation after the Astros beat the Red Sox in the ALCS to win the American League pennant.
"It's unbelievable," Omar Jr. said. "It's a blessing. It's definitely a dream come true. I told him that one day I was going to see him in an Astros uniform in the big leagues. Seeing this moment happen with my dad is truly unbelievable." 
Get the Our Esquina Email Newsletter
By submitting your email, you are agreeing to receive additional communications and exclusive content from Our Esquina. You can unsubscribe at any time.