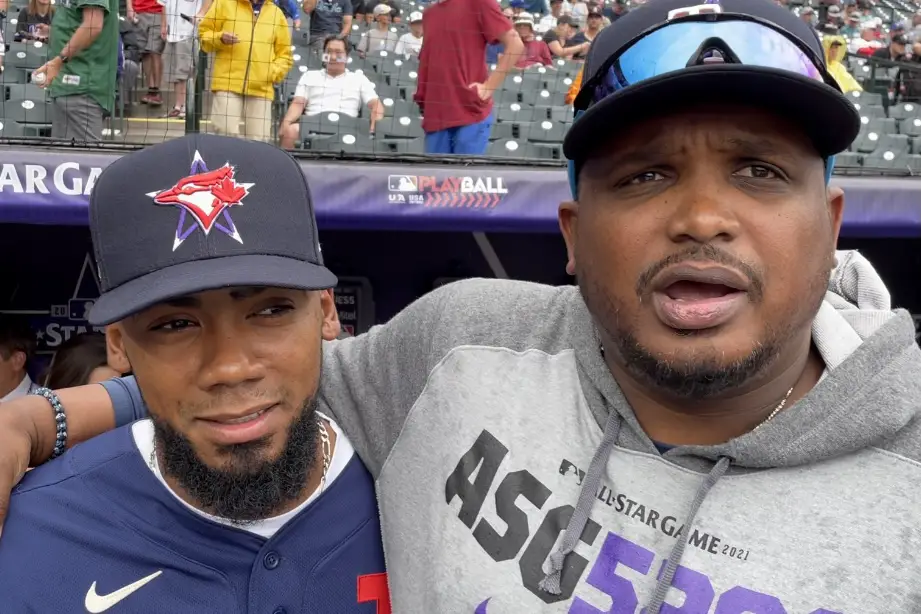 Teoscar Hernandez enjoyed All-Star stage with Rodney Linares
Teoscar Hernandez remembers lessons he learned from Rodney Linares
DENVER – Teoscar Hernandez was headed to batting practice with his celebrated Toronto Blue Jays teammate Vladimir Guerrero Jr. when he spotted Rodney Linares. His former minor league manager was leaning on the third base dugout's railing, catching the view as the National League All-Stars took batting practice at Coors Field.
Hernandez, the All-Star outfielder, could have easily walked by without saying anything to the Tampa Bay Rays' third base coach. He had seen Linares a day earlier, after all, when the 2021 All-Star gathered for the first time. 
They actually see each other often as members of AL East rivals. This was different. They were on the same side again. Hernandez as an All-Star and Linares as a member of the AL All-Star coaching staff. Hernandez stopped for a few seconds to admire the view with his former Class AA Corpus Christi Hooks manager.
Hernandez dreamed of a day like this often when he played for Linares at Class A Lancaster in 2014 and Corpus Christi in 2015. Now at 28, he was an All-Star for the first time. The Blue Jays' outfielder shared most of All-Star week with Guerrero Jr., the All-Star Game MVP.
They were together from the flight to Denver until they returned home on a private plane. Seeing Linares added a special layer to the Midsummer Classic.
Teoscar Hernandez dreamed of being together in the majors
"It means a lot to see him," Hernandez said of Linares. "When we were in the minors we always dreamed of being on the same team. But it doesn't matter the circumstances or where. Thank God we're here and we're enjoying it."
Linares, one of the top young managerial prospects in baseball, spent almost two decades coaching and managing in the Astros' farm system. He was only 21 when he was hired by the Astros in 1999, when Gerry Hunsicker was the general manager. 
His coaching career took off in the last decade. He was promoted from Class A to Class AA and then Class AAA with arguably the best collection of prospects in Astros' history. Linares managed 2017 AL MVP and seven-time All-Star Jose Altuve, two-time All-Star Carlos Correa and almost every other Astros star of this current generation.
Linares also had Milwaukee Brewers closer Josh Hader and Boston Red Sox All-Star J.D. Martinez.
"It was incredible," Hernandez said of playing for Linares. "The way he managed, the confidence he gave his players and the way he treated us was unique. I always tell him I appreciate him a lot for that. 
"He gave us a lot of good advice. The most important thing was that he spoke to me with the truth. He would tell me what I needed to do and what I needed to improve on the field to be a great player."
Hernandez made his debut with the Astros in 2017, but he was traded to the Blue Jays along with Norichika Aoki for Francisco Liriano on July 31, 2017. Linares was managing at Class AAA for the Astros at the time.
Finding home with Rays
Linares seemed destined for a promotion to then Astros manager AJ Hinch's major league coaching staff. Surprisingly, he was let go by former Astros general manager Jeff Luhnow after the 2018 season. 
The man who had groomed most of the Astros' biggest stars wasn't unemployed long. Kevin Cash of the Rays hired Linares as his third base coach for the 2019 season, and now Linares is helping the young Rays.
The Astros ties remain, however. Linares is often bumping into his former minor-league players in the majors. He appreciates when players like Hernandez still take time to thank him for the advice and lessons he gave them. 
"It means a lot looking back," Linares said. "Not only (Hernandez). Every player that I manage or coach I try to give it my best. Hopefully a lot of those guys that have gone on to not only be successful in baseball but in life have things like that to say.
"Hearing it from him, I know he's said it before to me personally. But for him to go out and say that it's pretty cool."
The All-Star Game was merely the latest stage where Linares' former players have thanked him.
"I'm proud of him and proud of my work," Hernandez said. "We're both All-Stars."
Get the Our Esquina Email Newsletter
By submitting your email, you are agreeing to receive additional communications and exclusive content from Our Esquina. You can unsubscribe at any time.