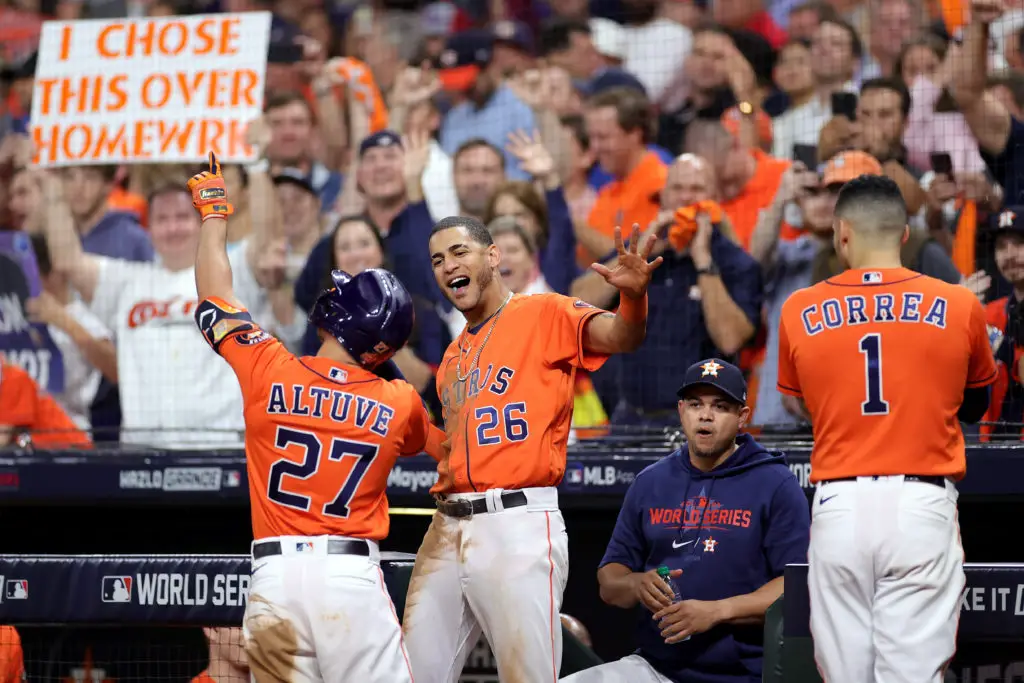 Confessions of a Yankees fan pulling for the Astros
Forget the sign stealing scandal, the Houston Astros are the team to root for in the World Series.
I have a confession to make. As the World Series heads into Game 3, I'm finding myself pulling for one particular team: the Houston Astros.
Please allow me to explain.
In my previous life, I was an unadulterated New York Yankees fan. Having grown up in Washington Heights — a small immigrant neighborhood less than two miles from Yankee Stadium — during the last great dynasty, can you blame me?
One of the things that really drew me to the Yankees back then was that they relied on home-grown talent. Players like Derek Jeter, Andy Pettitte, Jorge Posada, Mariano Rivera, and Bernie Williams lead the way to five World Series appearances and four titles in six years.
Similarly, the Astros have built a juggernaut of a team by promoting from within. What's more, they have way more home-grown players than New York's dynasty ever did. It includes players like Jose Altuve, Alex Bregman, Carlos Correa, Yuli Gurriel, and Lance McCullers to name only a few.
Like the Yankees, the Astros have been dominant in their own right. In an era of pure parity — no team has won back-to-back titles since those Yankees more than two decades ago — Houston has made it to five consecutive League Championship Series.
Overcoming Obstacles
Many will point to Houston's sign stealing scandal to explain their dominance since 2017. I'll admit, for a time, I did too. How could I not when it was the Yankees who fell victim to it in the ALCS that year?
While it can't be overlooked that the Astros engaged in illegal sign stealing, we shouldn't forget that they weren't alone. 
The Boston Red Sox were penalized for using Apple Watches to steal signs against the Yankees that same season. The Yankees themselves were also punished for using YES Network footage to steal signs against the Red Sox too.
We should all just admit it, 2017 was the Wild West of illegal sign-stealing. No team was beyond suspicion. 
Let's also remember that since that trashcan banging system was brought to light at the end of the 2019 season, all Houston has done is to continue to win. In 2020, they came within one game of another World Series appearance, and now, here they are, competing for another ring.
This despite having trashcans hurled at them and through endless "F*** Altuve!" chants. They continue to prove that they are a legitimately great team and not worthy of the continued vitriol.
No Excuse to Hate the Astros
The fact of the matter is that two years removed from the trashcan scheme being exposed, there's just no excuse to hate the Houston Astros anymore.
One reason is that they have been able to replace a number of players who have left the team since the scandal came to light with likeable, home-grown talent. Players like Gerrit Cole, Justin Verlander, Dallas Keuchel, George Springer, and more have left, and in their place, players from within have risen to the task. 
Players like Framber Valdez, Luis Garcia, Yordan Alvarez, and Kyle Tucker just to name a few. These are players that are easy to root for and can't be accused of engaging in illegal activity.
Even after AJ Hinch was fired, all the Astros did was hire the most likeable manager on the planet in Dusty Baker. The ultimate loveable loser, Baker is the only manager to lead five different teams to the postseason by winning a division. Still, he has yet to earn a World Series ring.
Isn't this what all fanbases want? 
A nucleus of players that come up through your system. Check.
A team that is likeable and extremely easy to root for. Check 
A manager you trust won't allow cheating and always has his team's best interest at heart. Check.
So, at this point, how could you not be pulling for the Houston Astros? 
Get the Our Esquina Email Newsletter
By submitting your email, you are agreeing to receive additional communications and exclusive content from Our Esquina. You can unsubscribe at any time.