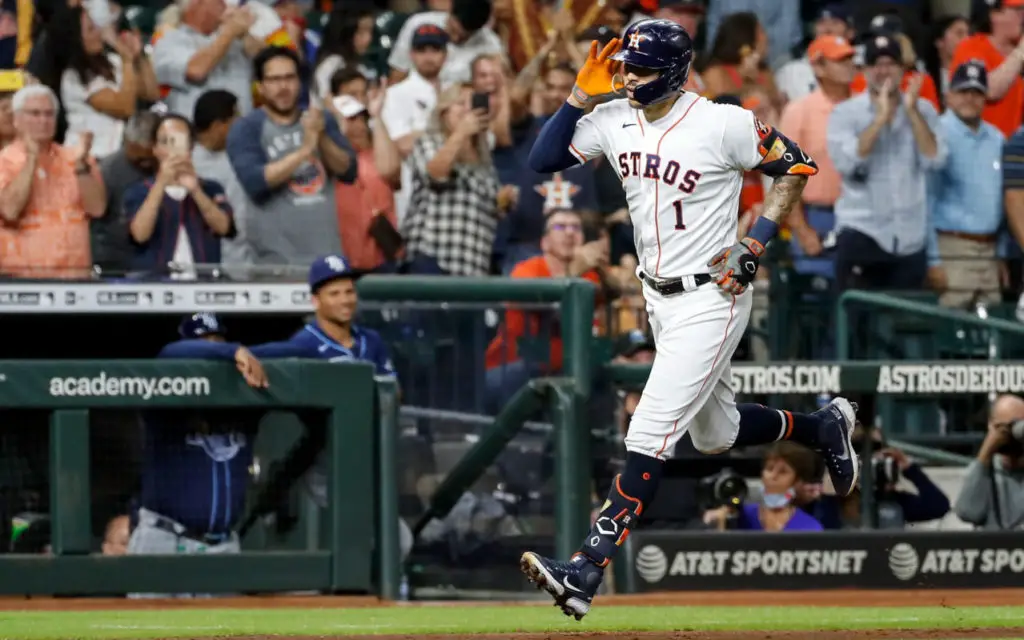 Astros Title Chase A Family Affair For Carlos Correa
Carlos Correa delivers key blow as Astros clinch AL West title
Carlos Correa peeled away for a few minutes Thursday night while his Astros teammates celebrated. He grabbed an American League West championship hat and a blue T-shirt. Then he marched toward the seats behind home plate at Minute Maid Park. 
Almost four years after he capped the Astros' World Series title celebration at Dodger Stadium by proposing to Daniella Rodriguez, Correa opened the door to the Diamond Club to greet her. He hugged and kissed Daniella Correa before placing an AL West championship hat on her head amid the roar of the crowd.
Much has changed in Correa's life since he proposed to Daniella on national television. She's now pregnant with the couple's first child. As soon as he could take her on the field behind home plate, he gave her a hearty embrace, bent down and kissed her belly.
"I love you," Carlos Correa told Daniella.
Then he whispered the same message to his unborn child.
Family first for Carlos Correa
"It's very important," Correa said. "Like you guys know, I'm a family guy. She's carrying my first child. So it's even more special. I enjoy every moment with my family, and this one is very special also."
It was a night to remember for the Correas. The All-Star shortstop delivered the blow of the night with a three-run home run to left field in the fourth inning, propelling the Astros to a 3-2 victory over the Tampa Bay Rays.
"He's a special player, special leader in our clubhouse and our team," righthander Lance McCuller Jr., who earned the victory with six strong innings of two-run ball, said of Correa. "It was a huge moment. … He just never runs out of those big moments."
The home run was the 25th of the season for Correa, setting a new career single-season high. He set his previous high with 24 in 2017, the year the Astros earned the franchise's first and only World Series title.
The No. 1 overall pick in the 2012 draft is having one of the greatest seasons of his career at the best of all times – heading into free agency. 
He has spoiled the Astros and their fans with clutch performances since making his debut in June 2015 against the White Sox, the team they'll face in the Division Series next week. 
Correa time
"He's one of the greatest players in our game," McCullers said of Correa. "I think that finally we've been able to see a full body of work from him and how special this season has been.
"You don't see his name necessarily all the time in the MVP (discussion), but he really should be. He has the highest defensive WAR. He's been a staple for us in the lineup. He's on pace to play 149-150 games."
Correa and McCullers have been two of the biggest staples during the Astros' run of five consecutive playoff appearances and four AL West titles in five years. They were both drafted out of high school in 2012. Correa was taken first overall. McCullers was drafted 41st overall with a compensation pick in the first round.
McCullers beat Correa to the majors in 2015 by four weeks. As rookies they helped the Astros make the playoffs for the first time in a decade, setting the tone for the most successful run in franchise history.
Therefore, it was quite fitting that McCullers earned the victory and Correa delivered the winning blast to seal the latest division title. The Astros and their fans have grown to anticipate their greatness.
Expecting greatness from Carlos Correa
Astros icon Craig Biggio was sitting near general manager James Click as Carlos Correa strolled the plate in the fourth inning. Yuli Gurriel had led off with a single, and Kyle Tucker followed with a walk against Ray lefthander Ryan Yarbrough.
Two on, nobody out, Correa time.
Most of the crowd of 31,608 was on its feet with anticipation. Biggio told Click that Correa would homer. In the dugout, Jose Altuve and several of the Astros called the shot too.
"That's Carlos, right?" Click said. "He's clutch. He always goes and gets it. But the nice thing about this team is we got clutch guys one through nine. And any of them could have stepped up. Tonight was Carlos' night. Now that we're in the playoffs that's where he and these guys know how to shine."
They've been shining on the October stage since 2015. They've reached four consecutive American League Championship Series and won two AL pennants so far. Along the way they've grown into husbands.They're now sharing these moments with their spouses. 
"It's so amazing," Daniella says. "Just in general being able to go into this journey with him. I know he's going to be such an amazing dad. But I love the fact that he had this incredible moment in his career, but he still makes it about his family. It feels great. … I'm very proud, proud of the whole team."
Carlos is proud of his little family too.
"I told her, 'I love you,' and obviously I love the baby too," he said. "I'm excited. This has been a great year for the team, and it's been a great year for us as well as a family. We're grateful."
Get the Our Esquina Email Newsletter
By submitting your email, you are agreeing to receive additional communications and exclusive content from Our Esquina. You can unsubscribe at any time.