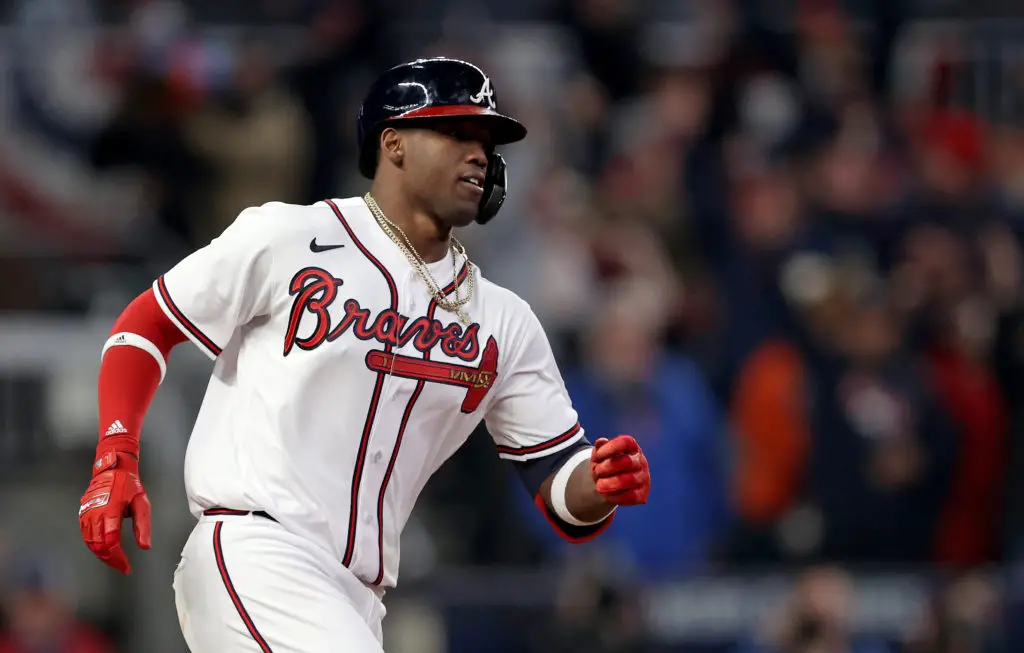 Jorge Soler pushes Braves closer to title
Jorge Soler and the Braves are a win away from the title
ATLANTA – Jorge Soler had the best view in the house for Dansby Swanson's tying home run Saturday night. The Cuban slugger was standing near the on deck circle along the first base side of Truist Park when his Braves teammate drilled his rocket to right.
Soler was about to start a practice swing when Swanson made contact. He stopped, lifted his head and took his right hand off the bat to point toward right field. He tracked the ball all the way and then lifted his hand triumphantly.
Once the raucous sellout crowd began to settle back down, Jorge Soler sent another charge of energy through Truist Park. Soler followed Swanson with a home run of his own, putting the Atlanta Braves up for good in Game 4 of the World Series.
 "It was just a complete game changer," Soler said of Swanson's home run off Astros reliever Cristian Javier.
Soler should know. He set the tone in the World Series on Thursday with a leadoff home run in Game 1 at Minute Maid Park.
More World Series
Mexican umpire Alfonso Marquez blazes trail
Ian Anderson flirts with no-hitter, settles for win
Confessions of a Yankees fan pulling for the Astros
If Swanson's shot was the game changer, Soler's may have been a series changer. The Braves now lead the best-of-seven Series 3-1.

Soler and the Braves will try to clinch the title Sunday night at home.
The Astros must win Game 5 just to remain alive and then hope to win Tuesday in Game 6 to force a winner-take-all Game 7.
Jorge Soler hopes to end another drought
The Braves are trying to break a 26-year championship drought. That cold spell is brief compared to the 108-year title drought Soler and the 2016 Chicago Cubs broke five years ago.
"It was different, obviously, in Chicago," Soler said. "I think at one point we were down to a 3-1 deficit. That group was a resilient group, and we never gave up, and we were able to overcome and win the World Series.
"I think here with this group, there's a different dynamic. I think maybe there's a little bit of a better chemistry with some of the guys in the clubhouse. We all have that same energy where we go out to enjoy ourselves and give our best efforts in the field, and I think that would be kind of the differences."
The Astros hope to follow the example of Soler's 2016 Cubs. They have no choice if they want to win the franchise's second title and first since 2017.
"Just basically focus on one game at a time," said Jose Altuve, who gave the Astros a 2-0 lead with a solo home run. "That's it. That's pretty much what we talk about. If we win tomorrow, then try to win Game 6 and see what happens. But we've got to focus on one game, and that game is tomorrow."
Photo by Elsa/Getty Images.
Get the Our Esquina Email Newsletter
By submitting your email, you are agreeing to receive additional communications and exclusive content from Our Esquina. You can unsubscribe at any time.