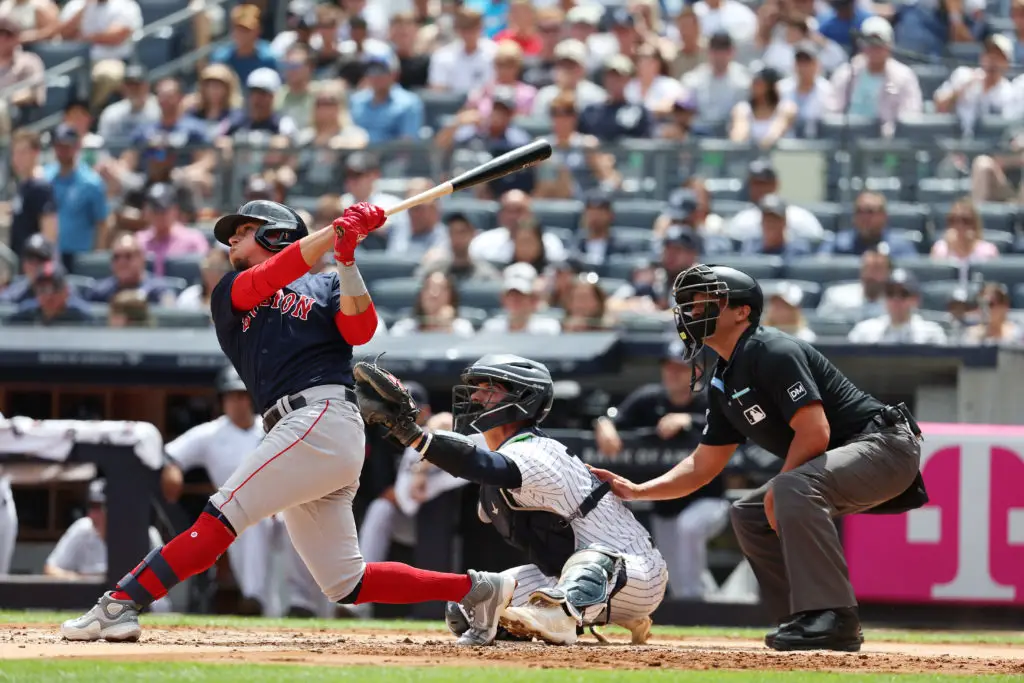 Luis Urias finds grand slam home in Boston
Luis Urias follows brother Ramon's lead
HOUSTON – Three Major League Baseball players have come out of Luis Urias' hometown of Magdalena de Kino, a small city in the northern part of Mexico. Sergio Robles and Luis' older brother Ramón Urías Jr. are the others.
Luis's father, Ramon Urías Sr., wanted his boys to be out of the house and active in sports. Ramon Sr. enjoyed watching baseball, so he signed his kids up at their local Little League.
"Where I live and where I'm from on the northside of Mexico, baseball was more popular, I'd say," Luis Urias said. "My dad was a huge baseball fan, and he would take my brother and I to many baseball games."
The Urias brothers form one of the four active MLB brother duos. William and Willson Contreras, Josh and Nathaniel Lowe, and Bo and Josh Naylor are the others. 
Following brother's lead
Baltimore Orioles utility-man Ramón Urías Jr. is playing his fourth year in the big leagues. Last year Ramon Urias became Mexico's first Gold Glover since 1986. Most younger brothers look up to and admire their big brothers as role models. Luis Urias is no different.
Luis is three years younger than Ramón Urías Jr. He always felt like his brother set an example when it came to doing certain things, especially in baseball.
"My brother started to play baseball first, and I wanted to be like my brother," Luis said of his eldest brother Ramón Urías Jr. "My brother doesn't talk too much, but we had a great relationship. He always set the example of doing things, and he's still a great example for me.
MORE FROM OUR ESQUINA
Mexico earns its applause with historic WBC run
Isaac Paredes grateful for Hermosillo, Mexico, roots
Astros: Cesar Salazar Jr. gives dad special present
"Obviously, he's still a person I admire so much and he always sets the example really high."
Luis Urias suffered a left hamstring injury in the first game of this season, and the Milwaukee Brewers placed him on the injured list. On June 5, the former top prospect was activated off the IL. He struggled at the plate coming off his injury. 
In 20 games, he was batting .157/.317/.255 with 13 hits and 15 strikeouts. The Brewers optioned Urias to Triple-A  on June 29 and then traded him to the Boston Red Sox on Aug. 1 trade deadline. Luis didn't see the trade as a negative. 
Boston reprieve
"When I got traded, I saw it as a new opportunity," he said. "Obviously, Boston's a great organization. I feel like every player wants to play with the Red Sox at some point in their career.
"I'm just grateful for the opportunity and just try to enjoy it."
Luis is very familiar with some of his teammates on the Red Sox. He played with outfielders Jarren Duran and Alex Verdugo on Team Mexico in the 2023 World Baseball Classic.
"When I found out about the trade, I knew we got a great guy, which is important to have a good person," Verdugo said of Luis. "You see the tools, the power, defense. And at the end of the day he's a really good guy, teammate and somebody who's gonna help us win."
Luis has made the most of his opportunity. Since joining the Red Sox, he's hitting .250/.385/.469 with eight hits, two home runs, nine RBIs and carries a 129 OPS+.
Grand Luis Urias
Wicho has also made history.
Luis hit a grand slam last Thursday against the Washington Nationals. Then on Saturday against the New York Yankees he became the only Red Sox player ever to hit a grand slam on consecutive pitches he saw.
Also, the 26-year-old second baseman became the first player in the modern era (since 1901) to hit a grand slam out of the ninth spot in the lineup in back-to-back games played.
"Honestly, it's pretty sick," Luis laughs. "I never hit a grand slam before in my life, not even Little League. I think hitting at this stage, with this team, was something that I want to remember."
Get the Our Esquina Email Newsletter
By submitting your email, you are agreeing to receive additional communications and exclusive content from Our Esquina. You can unsubscribe at any time.