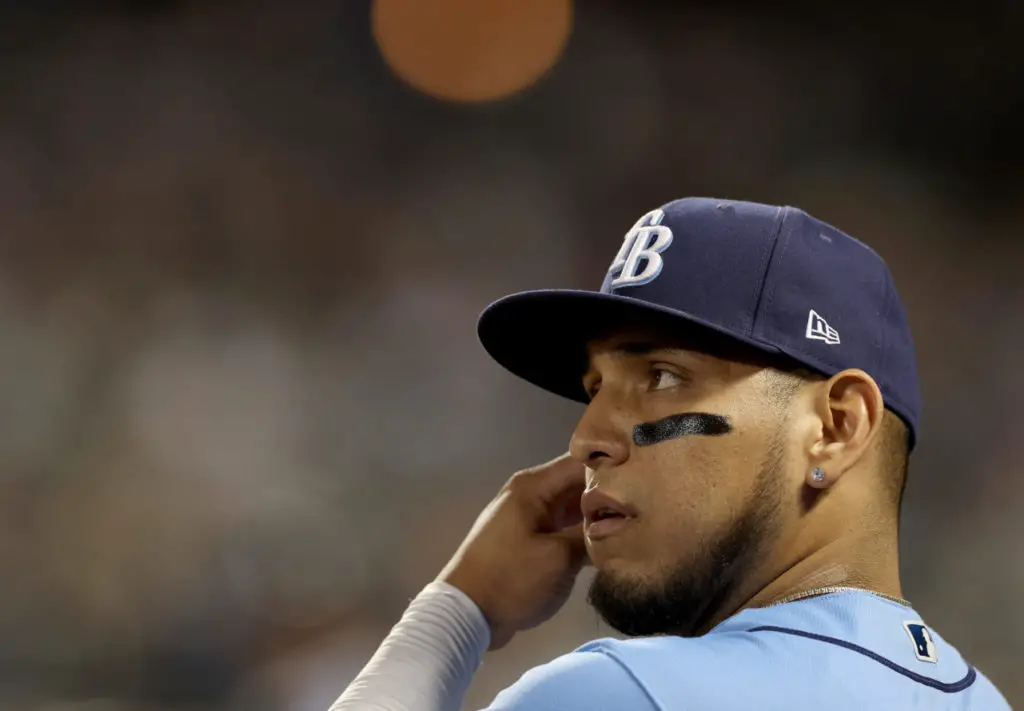 Isaac Paredes grateful for Hermosillo, Mexico, roots
Isaac Paredes hopes to build on Mexico's WBC success
HOUSTON – Tampa Bay Rays third baseman Isaac Paredes played in one of Mexico's toughest baseball Little Leagues growing up in Hermosillo, Sonora. 
Paredes started his baseball journey on a team called the Juitos. He is proud to represent Mexico in the major leagues while also cheering for his country's next generation of ballplayers.
"I was very fortunate and grateful to start my baseball career there," he said. 
The 24-year-old so far is hitting .258/.361/.508 with career-highs in hits (77) and RBIs (62). He drilled his 20th home run of the season on Saturday night against the Houston Astros at Minute Maid Park.
"Every facet of the game he's growing," Rays bench coach Rodney Linares said of Paredes. "He's getting better everyday. He's turned into a complete player for us. He should've been an All-Star this year, but he still has a lot more growth in the tank."
Baseball was always first for Isaac Paredes
In a country where soccer is the most popular sport, Isaac Paredes was born into a baseball family. Soccer fans would attend games where they go watch their favorite teams play like Guadalajara, Monterrey, and others in the Mexican Liga BBVA MX.
The FIFA World Cup is soccer's most prestigious tournament. The World Baseball Classic is baseball's global tournament held every four years.
While most of the boys in his country dreamed of representing El Tri's soccer team in the World Cup, Paredes had other goals. The 5-foot-11 infielder dreamt of representing his country in the WBC. He accomplished that goal this year with an impressive showing in the 2023 WBC.
Childhood dreams
"Ever since I was young, I always wanted to represent my country," Paredes said. "That's one of the greatest experiences I've had."
Mexico had a phenomenal and historic run in this year's WBC. El Tri advanced in Pool C with a 3-1 record. Mexico advanced to the quarterfinal, where they defeated a scrappy Puerto Rico team 5-4. Mexico's run ended after losing a heart-breaker to eventual champion Japan in the semifinals.
MORE FROM OUR ESQUINA:
El Capitán Groomed Rodney Linares for Managerial Future
Mexico earns its applause with historic WBC run
Mariners reliever Andres Muñoz benefits from brothers
The group from 2023 was the best team Mexico has ever had in the WBC. Isaac Paredes is optimistic that Mexico's incredible run in the 2023 WBC will continue to inspire the Mexican and Mexican Americans. 
"We played very well," Paredes said of the WBC. "We came very close to winning a championship, and we hope that inspires the kids to play more baseball in Mexico."
Isaac Paredes cheers for next generation
Now, Paredes is keeping an eye on Mexico's next generation of ballplayers. He's excited to see the Tijuana Municipal team that will represent Mexico in the 2023 Little League World Series.
A Little League team from Tijuana hasn't traveled to Williamsport, Penn.,. since 2012. Moreover, a Little League team from Mexico hasn't won the Little League World Series since 1997.
Mexico reached the international championship game during the 2012 Little League World Series. El Tri just needed to win one more game to advance to the Little League World Series championship. Unfortunately, El Tri was defeated by Japan, the same country that beat Mexico in the 2023 WBC.
The Tijuana Municipal Little League team will play their first game on Aug. 15, when they will look to make their own history. Paredes will watch them closely because he knows how important Little League was to his development.

Get the Our Esquina Email Newsletter
By submitting your email, you are agreeing to receive additional communications and exclusive content from Our Esquina. You can unsubscribe at any time.