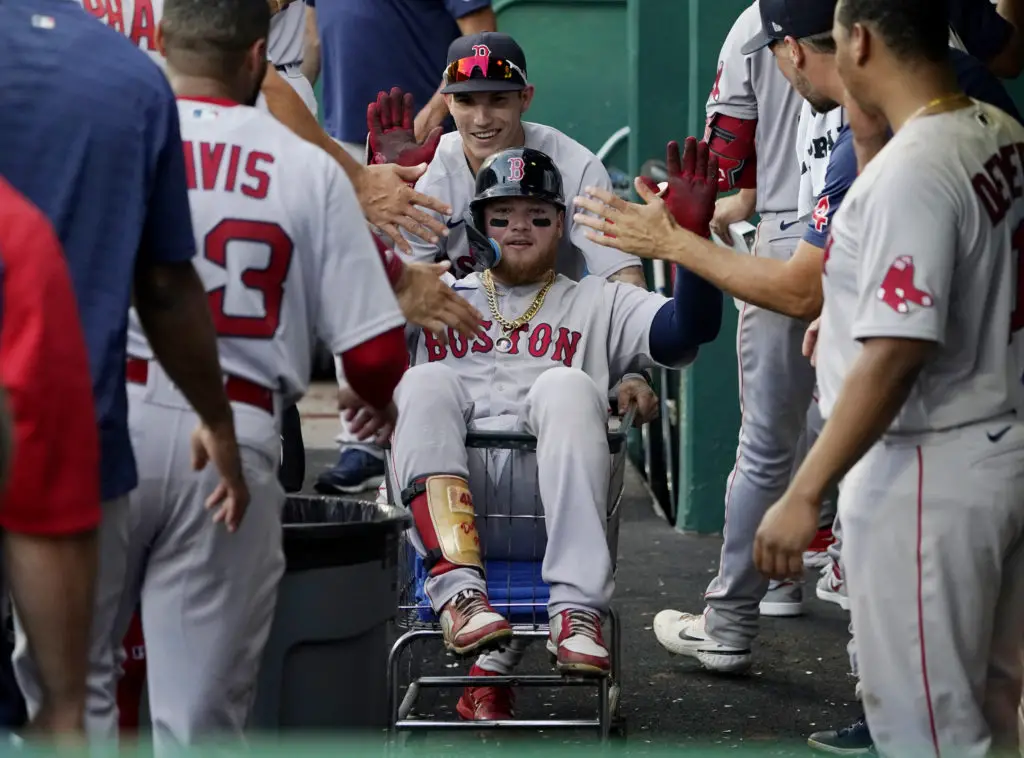 Red Sox: Dugie and Duran bring Mexico to Camp
Dugie and Durran will play for Team Mexico in the WBC.
The Red Sox's spring training complex resembled a middle school classroom Monday. As a team-building exercise, manager Alex Cora assigned Alex Verdugo and Jarren Duran to make a presentation. The subject: Mexico, their country of descent.
Verdugo, "Dugie," led the presentation while Duran held up a poster board as a crowded clubhouse looked on. As background music, the pair brought in a live Mariachi band.
This is nothing new for Verdugo, who has paid homage to his Mexican father throughout his career using the legendary Vicente Fernadez's ballad "Volver, Volver" as a walk-up song. During the 2021 Postseason, he told Our Esquina why he chose that song in particular.
"For me, having it here, I'm not with my family a lot, so everytime I go up to the box and hear that song, it helps me lock in," Verdugo said. "I think about my parents, about my dad, and about being a kid."
Duran's father was also born in Mexico. Both players will represent Team Mexico in the World Baseball Classic next week.
A Dynamic Duo
The fun didn't stop there for the Mexican American pair. They were responsible for two of four Red Sox's runs against the Twins. Those runs turned out to be enough for them to come away with a victory.
Duran had an impressive spring debut, going 2-for-2 with a double and a solo home run to the opposite field in the fifth inning. He gave Boston a 1-0 lead over the Twins with his homers.
Duran is looking to secure a roster spot with the Sox this season. He spent much of last summer on the MLB roster, but after an underwhelming 58 games, he was optioned back to Class AAA in late August.
The Sox added another pair of runs in the sixth inning before Verdugo added some security in the eighth. Dugie scored from second base on a sacrifice fly, sealing 4-1 victory for Red Sox.
Verdugo came to the Red Sox in 2020 in a blockbuster trade that sent Mookie Betts to the Los Angeles Dodgers. Since then, the 26-year-old outfielder has struggled to fit in Betts' shoes.
Dugie is looking to cement himself as a true powerhouse within the Red Sox lineup.
He's already a fan favorite, but is that enough to keep him in Boston for good? This upcoming season will reveal the answer to that question.
Get the Our Esquina Email Newsletter
By submitting your email, you are agreeing to receive additional communications and exclusive content from Our Esquina. You can unsubscribe at any time.