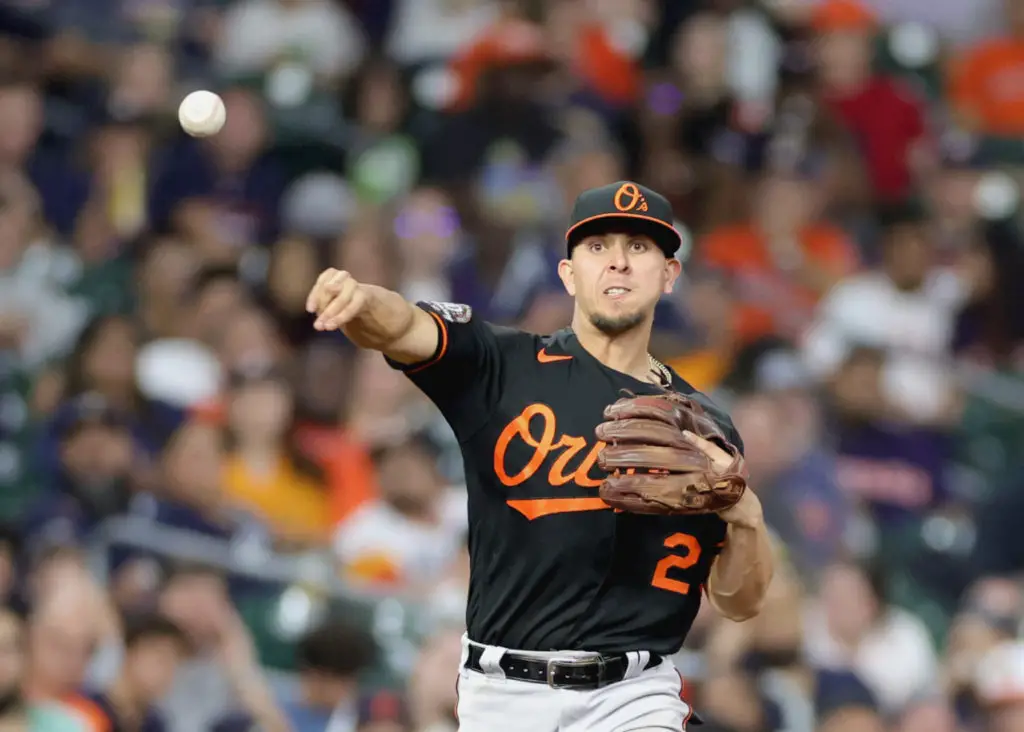 Ramon Urias is Mexico's first Gold Glover since '86
Ramon Urias is only the fourth Mexico native to win a Gold Glove
PHILADELPHIA – Throughout his time with the Baltimore Orioles, Ramon Urias has played almost every infield position. The native of Magdalena de Kino, Mexico, played short and second throughout this first cameo in the majors in 2020.
Then he jumped around between short, second and third during his rookie season last year. This season, he found a home at third base, playing well enough to become just the fourth native of Mexico to win a 2022 Rawlings Gold Glove Award for defensive excellence.
Urias joins Hall of Famer Brooks Robinson (16) and Manny Machado (2) as the only third basemen to win the prestigious award in the Orioles' rich history.
"It feels good to be in the same company as Brooks Robinson and Manny Machado," he said. "I know that I haven't come close to accomplishing what they have in their careers, but I think it'll be fun to see in the coming years if I'm still in their company."
Ramon Urias by the numbers
Prior to this season, Urias played only 10 games at the hot corner in the big leagues. Having had experience on the left side of the infield helped him get acclimated, however.
Mostly, Urias played second base and shortstop. It appears his true talent lies at third base. He didn't even know how good he was at the position until the season was over.
"In reality, I never really thought about what was happening," he said. "I was just focused on playing hard every day. When the season ended, I realized that my stats were very good among third basemen and I felt confident that I could win."
Those stats he is talking about are elite in every sense of the word. Ramon Urias beat out three-time winner Matt Chapman to win the award.
He led American League third basemen with a minimum 750 innings with a 14 DRS and 10.9 UZR. He trailed only Nolan Arenado, who won his 10th consecutive NL Gold Glove at third base, and Ryan McMahon with a 9.9 FanGraphs defensive rating in MLB.
México is in the house!
Urias is also proud to be the fourth native of Mexico to win a Gold Glove and the second to win it at third base in the American League. He is Mexico's first Gold Glover since the legendary lefthanded pitcher Fernando Valenzuela won a Gold Glove Award in 1986.
Philadelphia Phillies shortstop Ruben Amaro Sr., a native of Nuevo Laredo, became the first Mexican Gold Glove winner in 1964. Twelve years later, Detroit Tigers third baseman Aurelio Rodriguez of Cananea became Mexico's second Gold Glover.
"It means a lot to me," he said. "These last two days have been very special for me because everybody has been congratulating me and noticing me. It makes me feel really good."
This year has been a special season for Ramon Urias and the Orioles. He plans to build on it by representing his homeland in the World Baseball Classic next spring.
"I plan to represent my country in the World Baseball Classic," he said. "It's not official, but I think I will have the opportunity to represent my country."
Get the Our Esquina Email Newsletter
By submitting your email, you are agreeing to receive additional communications and exclusive content from Our Esquina. You can unsubscribe at any time.