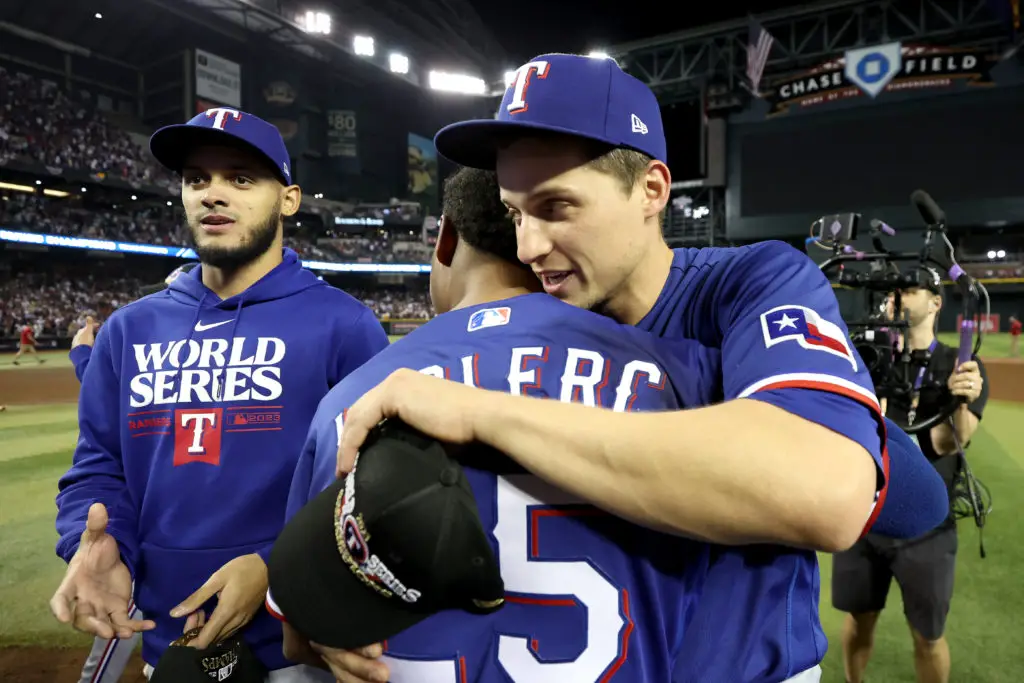 Jose Leclerc caps rise from poverty with a title
Perseverance pays off for longest-tenured Ranger Jose Leclerc
Jose Leclerc never envisioned a World Series trophy as he developed his powerful right arm along the Mao River in the Dominican Republic. He was a teen by the time he first saw a celebration on television like the one he participated in Wednesday night at Chase Field after his Rangers won the 2023 World Series.
As he danced with the World Series trophy Wednesday night in the visitors clubhouse at Chase Field, Leclerc embodied the promise of talent and perseverance. Leclerc's march to the top of the baseball world began amid poverty in Esperanza, Dominican Republic, near the Mao River.
Now he's a world champion after the Rangers beat the Diamondbacks 5-0 in Game 5 to win the best-of-seven World Series 4-1.
Leclerc and his friends in the province of Valverde could not afford gloves or baseballs as children.
Modest roots for Jose Leclerc
When they were lucky enough to play with a baseball, it was always an old, battered one. They mostly played with a ball made of rubber. They built their makeshift diamond on the edge of the river. Leclerc didn't even dare pretend he was in the major leagues, and he certainly didn't pretend he was in the World Series.
Jose Leclerc was so poor growing up, he couldn't even afford to dream of playing in the major leagues. Unlike most of the competitors in the 2023 World Series, Leclerc doesn't have any childhood memories of watching Major League Baseball postseason games. 
By the time he saw the playoffs for the first time, he was already 17 years old and a member of the Rangers' organization.
MORE FROM OUR ESQUINA
Perfect Jose Leclerc sets stage for Adolis Garcia
Confident Jose Leclerc helps Rangers force Game 7
Adolis Garcia powers Rangers to World Series
"In reality I played baseball, but I played baseball near a river," he said. "It was a river behind my house. We had a ball made of rubber or a ball that wasn't very good. I never thought there were big leagues. I just played ball because that is our sport in the Dominican."
Leclerc and his three siblings were raised in poverty by his mother Fiordaliza and his stepfather. His biological father left the home when Jose was very young. Leclerc's father would go months without visiting his kids and ex-wife. 
Life-changing opportunity
Because of limited resources, Leclerc's family never had a television to see the playoffs. Leclerc was about to turn 15 when he realized what most boys in the Dominican Republic learned much earlier: there was a chance to make a living playing baseball. 
A buscon (talent scout) let him know that he was talented enough to chase a contract with an MLB team as a 16-year-old amateur free agent. Leclerc then left his childhood home at 15 and moved to Santiago to focus on developing into a baseball prospect.
"I didn't know that you could sign," he said. "I just thought that I could play with more people. He told me, 'You can help your family if you sign.' That helped to motivate me more because I can help my family. I thought, 'Now I'm going to give 100 percent to baseball.'"
Leclerc, 29, doesn't remember the exact signing bonus amount he received from the Rangers. It was between $80,000 and $90,000, he says. He remembers exactly what he did with his bonus, though. He handed it over to his mother so she could pay to build the family a home.
"We built the house and she said, 'This is left over. Tell me what you want to do,'" he recalls. "I said, "That is fine. What you do with it is fine.' She gave me like 20,000 pesos, which was like $300-$400. I felt super proud because I had never had that amount. To me it was a lot."
2011 World Series memories for Jose Leclerc
That same year, a 17-year-old Leclerc saw the playoffs for the first time at the Rangers' Dominican Academy. He watched the Rangers lose the 2011 World Series to the St. Louis Cardinals in heartbreaking fashion.
Jose Leclerc reached the majors in 2016 and coped with the franchise's rebuilding process. He even had a rebuilding process of his own after undergoing Tommy John surgery in 2021 and missing the Rangers' 102-loss season that year.
He returned in 2022 and then had a 2023 season that mirrored the Rangers' up-and-down run to the title. His four saves in the postseason matched his regular season save total. He was 1-0 with a save and a 0.00 ERA while throwing 3 ⅓ scoreless innings in the World Series.
Now, the poor kid from Esperanza is a world champion. His hometown's name means Hope in Spanish, and Leclerc's story is definitely full of hope.
"This is exciting," he said after winning the title. "This is the team that gave me the chance to sign. This is the team that gave me everything. Everything I know is thanks to them. This is something I'll never forget in my life."
Get the Our Esquina Email Newsletter
By submitting your email, you are agreeing to receive additional communications and exclusive content from Our Esquina. You can unsubscribe at any time.