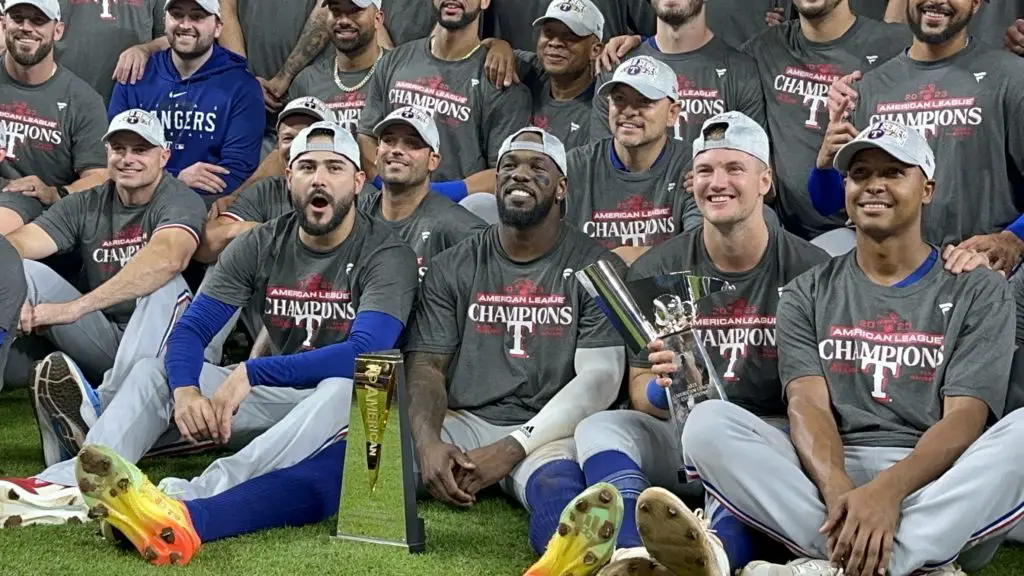 Adolis Garcia powers Rangers to World Series
Adolis Garcia silences Astros fans
HOUSTON – Most of the fans who booed Adolis Garcia incessantly had already left Minute Maid Park by the time he triumphantly lifted the American League Championship Series MVP trophy Monday night. 
The Cuban slugger silenced and cleared his detractors from Minute Maid Park, letting him bathe in the adulation of his teammates and a large segment of Rangers fans who gathered in the seats behind the visiting dugout on the third base side.
"MVP! MVP! MVP!" Garcia's teammates and Rangers fans chanted leading to a massive roar when Garcia lifted the ALCS MVP trophy.
"It has been a long road," Garcia said after leading the Rangers to the franchise's third World Series appearance and first since 2011. "We all know the sacrifices we have to make to get to the big leagues. 
"I never dreamed I would go to a World Series, but thank God he put me in the right place and the right team. And we're here today."
Adolis Garcia punished Astros
With Garcia leading the way in the winner-take-all Game 7, the Rangers pounded the Astros early and often before a dejected sellout crowd of 42,814.
Rangers 11, Astros 4.
Garcia was 4-for-5 with two home runs, five RBIs and three runs in Game 7. His 15 RBIs in the ALCS were the most in a single postseason series. The native of Ciego de Avila became only the fifth Cuban to be selected MVP of an LCS.
MORE FROM OUR ESQUINA
Rangers All-Star Adolis Garcia has Cuba protests on mind
Not all lost for Rays star Randy Arozarena this postseason
Peña, Alonso look to inspire with La Gran Fantasia
He had two more RBIs than the previous record for RBIs in a postseason series, which Nelson Cruz set with 13 in the 2011 ALCS. The Rangers outscored the Astros 20-6 combined in Games 6 and 7 at Minute Maid Park, where the 2022 World Series champs went 0-4 in the 2023 ALCS.
"They can hit," Astros manager Dusty Baker said of the Rangers. "They can really hit. … I don't like tipping my cap to anybody. But when somebody, like, beats the hell out of me then what else are you going to do?"
Adolis Garcia rebounds from Game 5 drama
Garcia drove in nine runs over the last two games. More impressively, he has homered in four consecutive games. He also drove in at least one run in each of the last six ALCS games.
Garcia was the biggest story of the ALCS since Game 5 at Globe Life Field, where he exploded on Astros catcher Martin Maldonado after reliever Bryan Abreu hit him with a pitch in the eighth inning. 
Adolis Garcia had celebrated a three-run home run in Game 5 on Friday night with an emphatic bat toss, primal roar and a stomp at home plate. So when Abreu hit him with a pitch in the eighth inning of Game 5, Garcia exploded. He angrily pointed in Maldonado's face, shoved Maldonado and accused the Astros of plunking him on purpose.
Garcia's fury set off a benches-clearing gathering around the plate. No punches were thrown, but Garcia pushed Maldonado a few times. Abreu, Garcia and Baker were ejected in the aftermath of the incident. Some accused Garcia of "waking up the Astros" because Jose Altuve hit a game-winning three-run blast in the bottom of the next inning.
By late Monday, though, some wondered openly if the Astros and their fans had awakened Garcia.
"Obviously you got a whole stadium," Marcus Semien said. "He shut those people up. It was great to see tonight, obviously, yesterday the grand slam and tonight for him to overcome what they yelled at him. He was the one that got hit. Crazy situation, but on to the next series."
A long road
The Rangers jumped on Astros righty Cristian Javier for three runs in the first inning. Corey Seager started the four-run rally with a solo home run to right. Evan Carter followed with a walk. After Carter stole second, Garcia hit an RBI single. He stole second and then scored on Mitch Garver's RBI single to left-center field.
Garcia added a solo home run in the third inning. He drove in two more runs with a single to left during the Rangers' four-run rally in the fourth. Garcia then added a solo home run to left field in the eighth inning.
Seven years after he defected from Cuba, Garcia was being showered with beer and champagne by teammates. The road had not been easy. He signed with the Cardinals in February 2017, but they unloaded him on the cheap to the Rangers in 2019 three days after designating him for assignment.
"It's been a long road, right?" said Garcia's agent Ulises Cabrera. "These guys come from Cuba, leave with a dream. And I think what we're seeing here is a dream becoming a reality.
"It's a lot of work, a lot of sacrifice. Being able to see this come to fruition is really rewarding for him."
No quit in Garcia
Even by Cuban standards, Garcia's journey to prominence has been difficult. Multiple teams essentially decided they were willing to lose him for almost nothing, including the Rangers at one point.
The Rangers essentially gave up on him in February 2021. They designated him for assignment, but he stayed with Texas on a minor-league contract because no other team claimed him on waivers.
He surged to his first All-Star season in 2021. He was an All-Star again this year, and now he's the ALCS MVP.
"It has been a long road," Garcia said. "We all know the sacrifices we have to make to get to the big leagues. I never dreamed I would go to a World Series, but thank God he put me in the right place and the right team. And we're here today."
Get the Our Esquina Email Newsletter
By submitting your email, you are agreeing to receive additional communications and exclusive content from Our Esquina. You can unsubscribe at any time.