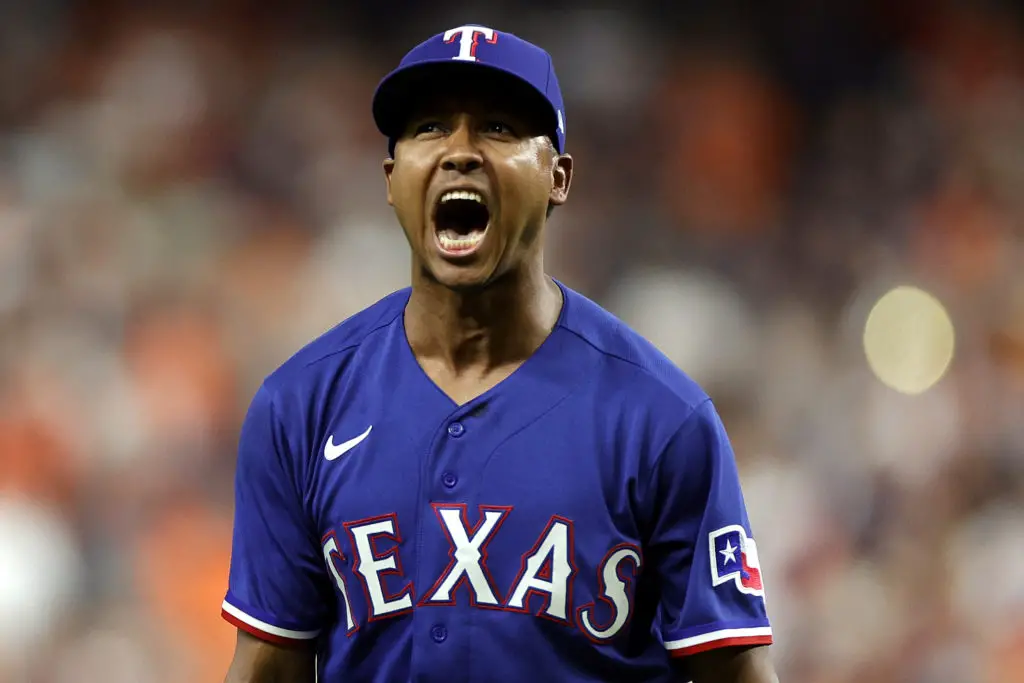 Confident Jose Leclerc helps Rangers force Game 7
Jose Leclerc bounces back from Jose Altuve's blast
HOUSTON – Soon after Jose Leclerc blew the save in Game 5 of the American League Championship Series, his family, friends and Rangers teammates bombarded him with reassuring comments. The calls and texts came in from as close as Arlington and as far away as his small village of Maizal, Dominican Republic.
Leclerc's mother Fiordaliza called from the Dominican Republic to encourage him to remain confident. He then gave Fiordaliza a peek into his positive mindset by inviting her to watch him in the World Series. Never mind that the Rangers needed to win Game 6 on Sunday night to force a winner-take-all Game 7.
Leclerc booked his mother a flight from the Dominican to Houston to watch the Rangers in Game 7. He made the purchase hours before the Rangers beat the Astros 9-2 in Game 6 at Minute Maid Park.
"I said, 'Mami, there's going to be a game for tomorrow,'" he said after stranding the bases loaded in the eighth inning Sunday night to help the Rangers hold on in Game 6. "And 100 percent, I wanted her to come to the World Series. God willing we will win."
The veteran righthander proved his family and supporters right. Two days after giving up Jose Altuve's three-run homer in the ninth inning to lose Game 5, he came out of the bullpen in the eighth inning with two men on and one out.
Jose Leclerc listened to mami
"My mom said, 'What happened yesterday doesn't matter. Try to make today better, and I know with God it will be fine,'" Leclerc said. 
The Rangers led 4-2 when Leclerc took over in the eighth. Kyle Tucker greeted Leclerc with a walk to load the bases, putting the potential go-ahead run at first. 
As most of the sellout crowd of 42,368 stood and roared with anticipation, Leclerc induced a Mauricio Dubon's liner to short for the second out. He then struck out pinch hitter Jon Singleton to strand the bases loaded. 
MORE FROM OUR ESQUINA
Jose Altuve adds to his resume as the greatest Astro
Rangers, Astros lead effort for Uvalde Boys & Girls Club
'Tigre' Jose Abreu continues Astros' power surge
"In (the) regular season, yeah, you've got a month or so before you face these guys again," Nathan Eovaldi, who held the Astros to two runs over 6 1/3 strong innings for the victory. "But when you have to roll out the next day after a tough loss like that you really have to turn the page and learn from it as fast as possible. And he was able to do that tonight."
Singleton had drawn a crucial walk off Leclerc two days earlier in Game 5 to set up Altuve's game-winning blast. Leclerc responded to the strikeout Sunday by pounding his chest and screaming before strolling back to the visitors' dugout.
Leclerc helps Adolis Garcia
Then in the tunnel, he delivered a special message to slugger Adolis Garcia. The biggest storylines in Game 5 were Altuve's heroics, Leclerc's blown save and Garcia's aggressive response to being hit by a pitch in the eighth inning. 
Garcia was booed with impunity by Astros fans each time he went to the plate Sunday at Minute Maid Park. Houston fans clearly remembered the benches-clearing confrontation Adolis set off after Bryan Abreu hit him with a pitch in Game 5.
"We were talking in the tunnel," Leclerc said. "I said, 'Are you going to bat?' (Garcia) was not sure. I said, 'Listen to me, believe that you're good.' He said, 'Yes, don't worry. God will help me and I'm going to hit a homer.' And that's how it went."
Garcia capped the scoring in the Rangers' five-run rally in the ninth with a grand slam to left. Unlike two days earlier, Garcia strolled around the bases without tossing his bat or pounding his chest. Garcia's blast prompted manager Bruce Bochy to pull Leclerc so he could be ready for the Game 7.
Leclerc's mother has seen him pitch in the majors before, but Game 7 will be the first time she will attend a postseason game. 
"To me it would be a great opportunity to have her here in these games,' he said. "I imagine that she will be super excited about what I'm doing here. It doesn't matter what I've done, she has always supported me. It's something I will appreciate always."
Get the Our Esquina Email Newsletter
By submitting your email, you are agreeing to receive additional communications and exclusive content from Our Esquina. You can unsubscribe at any time.