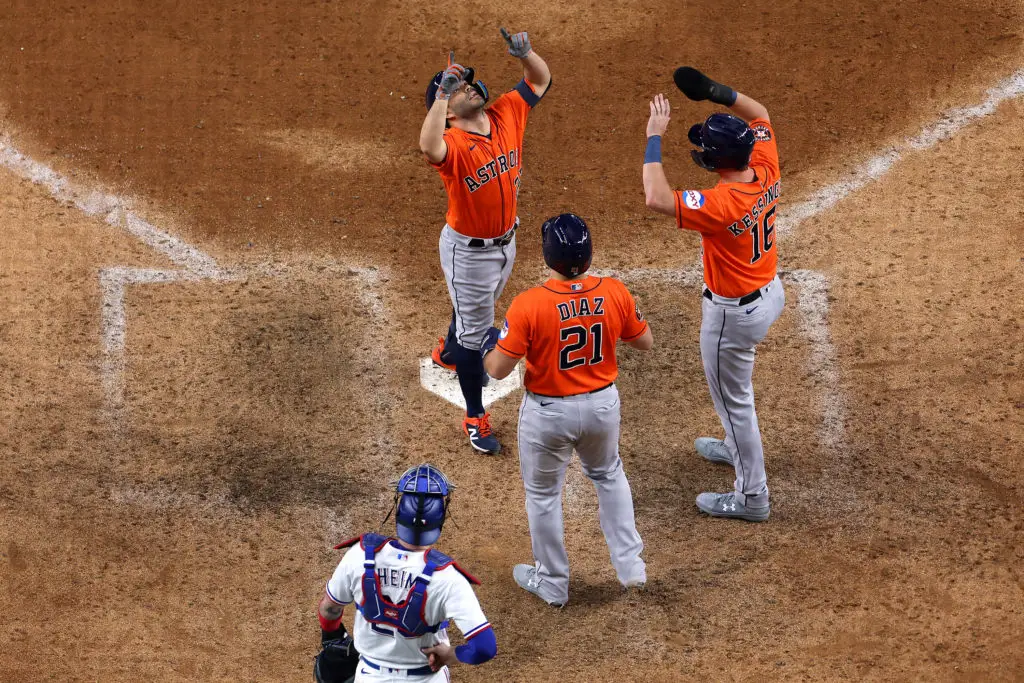 Jose Altuve adds to his resume as the greatest Astro
Jose Altuve's three-run homer caps tension-filled Game 5 of the ALCS
ARLINGTON – As Jose Abreu crossed paths with a disappointed Jose Altuve in the fifth inning Friday afternoon, Abreu made a savvy prediction. At that point, the two former American League MVPs could not imagine the drama, tension and benches-clearing madness that awaited in Game 5 of the American League Championship Series.
They had not seen the electricity Adolis Garcia would send through the sellout crowd at Globe Life Field with a three-run homer that temporarily gave the Rangers a two-run lead in the sixth inning. And despite simmering season-long tension between the AL West and Lone Star rivals, nobody could have predicted that Adolis would angrily turn toward Astros catcher Martin Maldonado and shove him after Bryan Abreu hit Garcia in the elbow with a pitch in the bottom of the eighth inning.
Abreu was certain about one thing, though. He was confident enough to predict that Jose Altuve would deliver in the biggest moment of the game. 
Jose Abreu calls Altuve's shot
That's exactly what Altuve did with a three-run home run in the ninth inning to beat the Rangers 5-4 and get within a victory of their third consecutive World Series appearance. 
"I called that. Yes, I called that," Abreu said. "After that bunt (out) with men on first and second, when I passed by him I said, 'Be calm because the greatest moments arrive for the greats. And it's going to come to you."
Altuve is definitely one of baseball's greatest of his generation. Jose Altuve is arguably the best Astro ever. His postseason excellence is why many believe he has already surpassed Hall of Famers Craig Biggio and Jeff Bagwell as the greatest Astro of them all.

Altuve has had so many brilliant postseason moments, he struggled to name his favorite before Game 5. When asked the same question Friday night, the Little Giant was more certain.
"Yeah, I got to say this one, because it just happened and I still have the emotions, the adrenaline in me," he said. "Yeah, it was a cool moment, and because we ended up winning."
Altuve added to his postseason legend before a stunned sellout crowd of 41,519. For the record, Altuve didn't respond immediately to Abreu's prediction. But Altuve clearly appreciated the vote of confidence.
"Yes, yes, he did call it," Altuve said with a wide smile after the Astros took a 3-2 lead in the best-of-seven ALCS. "He's a caballo, a caballete."
Caballo means horse in Spanish, but it's used to mean stud in the baseball context. "Caballo" is one of the biggest compliments a Latin American big leaguer can give another.
A win away from Fall Classic
The Astros will try to seal their fifth World Series berth in seven years on Sunday night when the ALCS shifts to Minute Maid Park for Game 6. There will be a winner-take-all Game 7 on Monday if necessary. The Rangers had won seven consecutive playoff games, including the first two of the ALCS, before losing the next three at home against the Astros.
Alex Bregman gave the Astros a 1-0 lead with a home run in the first inning. The Rangers' Nathaniel Lowe tied the score at 1 with a homer to left in the fifth. 
The Astros countered with a run in the sixth. Bregman drew a one-out walk. Yordan Alvarez followed with a single through the right side. Abreu then hit an RBI single to short, where it took a late hop on Corey Seager, who couldn't make a play.
MORE FROM OUR ESQUINA
'Tigre' Jose Abreu continues Astros' power surge
Cabrera, Judge among Roberto Clemente Award nominees
Leody Taveras makes himself at home in ALCS
The Rangers rallied in the bottom of the sixth against Justin Verlander. Seager hit a one-out double to right. Evan Carter followed with a single to left. Garcia then hit his three-run blast to left. 
Garcia admired his blast and slowly marched toward first base. He let out a primal roar before slamming his bat emphatically as the crowd went wild. He even stomped on home plate for good measure.
Benches, dugouts clear
Benches cleared in the bottom of the eighth after Bryan Abreu hit Garcia with a pitch in the elbow pad. Garcia immediately turned menacingly toward  Maldonado, the veteran catcher. 
Garcia angrily confronted Maldonado. He waved his index finger in Maldonado's face as Maldonado showed restraint. As the dugouts and bullpens emptied, Alvarez ushered Garcia away. Alvarez urged his fellow Cuban to look at him and then told him the Astros didn't hit him on purpose.
Considering the two-run deficit, the inning and the stakes, it seems ridiculous that Abreu would hit Garcia in that spot. The umpiring crew disagreed, though. They ejected Bryan Abreu. Then they tossed Astros manager Dusty Baker for slamming his hat in anger while arguing after Bryan Abreu was ejected.
"I don't know what the intention was," Garcia said. "I felt that (hit by pitch) could have been worse, and I just reacted. I told (Maldonado) that wasn't right. In this situation we're playing, that's not fine."
Altuve was adamant that he didn't have a problem with the way Garcia celebrated his home run. He also understood why Garcia would react so angrily.
Jose Altuve credits Diaz, Singleton
"I don't think anybody likes to get hit, you know, especially a 95-mph fastball," Altuve said. "So I think — like I said, nobody really likes to get hit. I got hit before, and it doesn't feel good at all."
The defending World Series champions responded after Baker angrily berated the umpires. Baker, Bryan Abreu and Garcia were ejected. Garcia was ejected for being the aggressor.
Yainer Diaz led off the ninth with a pinch single to left off Rangers closer Jose Leclerc. Jon Singleton then drew a pinch walk. Altuve followed with his three-run blast to left to give the Astros a 5-4 lead.
Despite all the drama, Altuve was as calm and steady in the ninth.
"I really wanted to win this game since the first inning," Altuve said. "Obviously it's a big game, so I was really trying not to let anything distract me and bother me. Really pay attention to the game and be ready if I get a situation like I did.
"I know everybody is talking about the homer. But … go see Diaz's base hit and then Singleton walked, especially when he hasn't played in a lot of days and coming from the bench facing probably one of the best closers right now in the playoffs. I think the key was these two guys to be able to score those runs."
Although he emphatically declared that he had no problems with Garcia's home run celebration, Jose Altuve celebrated differently. He softly dropped his bat in front of the plate and jogged around the bases as Verlander and the rest of the Astros went crazy.
'Don't taunt the lion'
Altuve acted as though he had done it before, which he clearly has. With his 26th career postseason home run, Altuve is second all-time in MLB postseason home runs. He is three behind Manny Ramirez (29).
Maldonado and several Astros said Garcia's antics woke them up.
"I'm a believer that you don't taunt the lion," Abreu said. "With all due respect, I'm not disrespecting anybody, but you don't taunt the lion. Unfortunately a compadre of mine was hit by a pitch, but I don't think it was intentional. But you don't taunt the lion."
Which leads us to another question: How did Altuve respond to Jose Abreu after Abreu made his prediction?
"What was he going to tell me?" Abreu said with a smile. "The reality. He hit it."
Get the Our Esquina Email Newsletter
By submitting your email, you are agreeing to receive additional communications and exclusive content from Our Esquina. You can unsubscribe at any time.