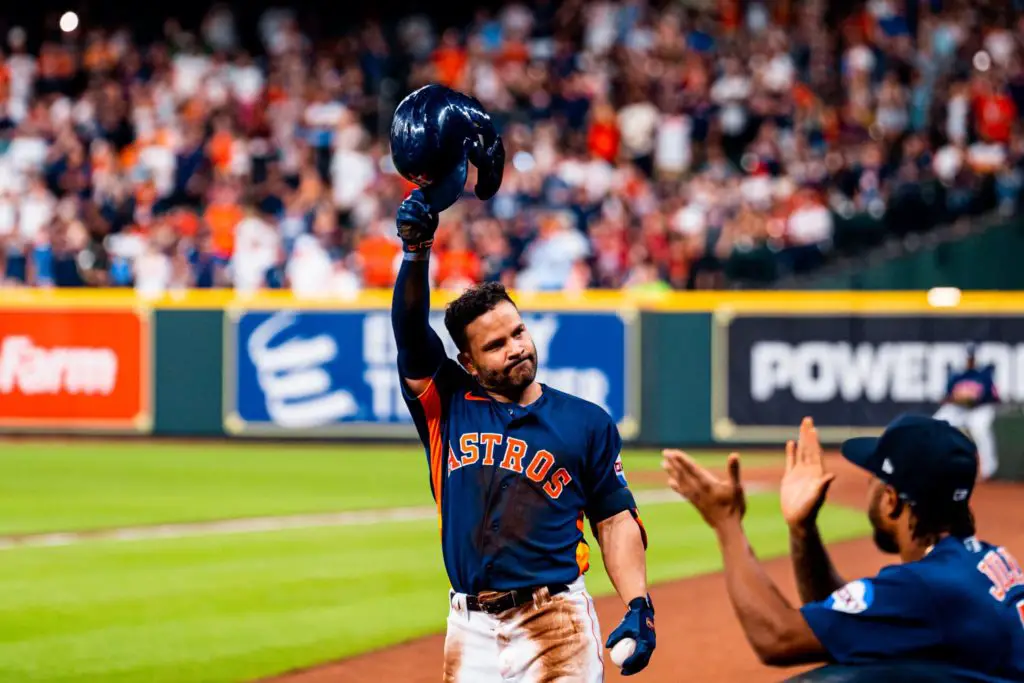 Jose Altuve treats home crowd with his 2,000th hit
Altuve becomes the fastest Astros player to collect 2,000 hits
HOUSTON – Although his Astros trailed by four, Jose Altuve got the strident crowd on its feet Saturday night at Minute Maid Park. They roared as the Little Giant walked toward the batter's box in the bottom of the fifth inning. 
Altuve soaked in the ovation from an adoring crowd that had just witnessed Altuve's 2,000th career hit.
The Houston faithful scurried to their feet with their phones in hand to capture the historic moment from one of the most beloved players to wear the Astros uniform. 
Among those standing preparing to witness history was Hall of Famer and Houston legend Craig Biggio. With lights flashing and all eyes on him, Altuve stepped into the batter's box to lead off the fifth inning. 
With the fans anticipating and recording every pitch, the 5-foot-6 second baseman worked Mariners pitcher Logan Gilbert to a 2-2 count before blasting 106 mph blast that one-hopped off the Crawford boxes for his 2,000 career hit. Altuve — like Biggio when he tallied his 3,000 hit in 2007 — got thrown out at second trying to stretch a single into a double.
Jose Altuve joins Bagwell and Biggio
Altuve wandered back to the home dugout after he was thrown out. The crowd kept cheering and clapping. Biggio, fellow Hall of Famer Jeff Bagwell, who was in the Astros radio booth, and all 38,208 fans acknowledged the huge milestone Altuve conquered.
With the baseball in hand, Altuve gave a curtain call to his fans, friends and family in attendance. Minute Maid Park was engulfed in cheers usually reserved for playoff baseball. 
Although the 10-3 loss to the Mariners dampened Altuve's mood, he still acknowledged the significance of his achievement.
"I'm really happy, obviously," the 2017 American League MVP said. "I know we lost today and not in a good way. But I am really happy and thankful of teammates, family and God because 2,000 is a huge accomplishment."
The Maracay, Venezuela, native, became the fastest Astro to reach 2,000 hits. Altuve needed only 1,631 games to accomplish the feat. He joined Biggio (3,060) and Bagwell (2,314) as the only Astros to have 2,000 hits for the club.
MORE FROM OUR ESQUINA
Jose Altuve hopes to 'retire here' with Astros
Bronx jeers don't reflect Jose Altuve popularity
Houston Latino leaders join Astros at White House
He surpassed Biggio's previous franchise record for fewest games needed to collect 2,000 hits. Biggio is the only Astros player in the 3,000-hit club. Yet, he didn't get his 2,000th hit until the 1,827th game of his career.
Surpassing Willie Mays
Altuve also passed Hall of Famer Willie Mays as the fastest player to tally 2,000 hits, 200 home runs and 200 stolen bases. The legendary Mays needed 1,669 games to collect that trio of feats.
Altuve got his 2,000th hit on the night the Astros gave out his bobblehead commemorating his six Silver Slugger Awards. He also became the 10th Venezuelan out of 469 players to join the 2,000 hit club, joining Hall of Famer Luis Aparicio and 2012 Triple Crown winner Miguel Cabrera. 
"It's always an honor." Altuve said. "Whenever I enter a list where only two or five percent of players have gone, it means a lot to me."
Altuve, 33,  is already a Venezuelan and Astros icon. The eight-time All-Star and two-time World Series champion is beloved in his native Venezuela. 
"I think the entire country should be proud of Jose Altuve for everything he has overcome at this level," said Astros first base coach Omar Lopez, who managed Altuve and Team Venezuela in the 2023 World Baseball Classic. "It's not easy for a guy like him to get it done. 
"All the stuff he's been putting up, the numbers on the field and off the field for the community, it's hard to see a kid like that."
After being overlooked early because of his stature, Altuve accomplished another goal on his way to becoming a Hall of Famer. The quest to 3,000 has officially begun.
The Astros and Altuve celebrated with champagne afterward in the home clubhouse. Altuve dreads talking about himself. Nonetheless, he gave a few words to his teammates to cherish the moment.
Altuve should start preparing for his eventual speech because a trip to Cooperstown, N.Y., is surely looming.
Get the Our Esquina Email Newsletter
By submitting your email, you are agreeing to receive additional communications and exclusive content from Our Esquina. You can unsubscribe at any time.