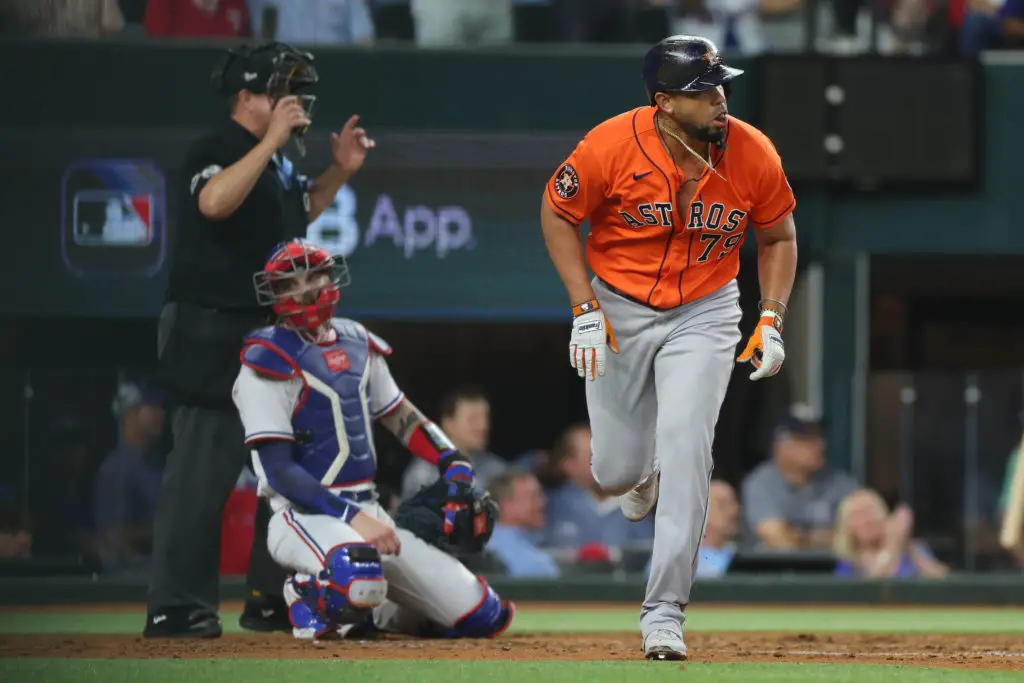 'Tigre' Jose Abreu continues Astros' power surge
Jose Abreu lives up to the nickname his young son gave him
ARLINGTON, Texas – Yordan Alvarez and most Cuban baseball fans affectionately refer to Jose Abreu as Pito, his childhood nickname. But the nickname that softens the Astros' slugger most is "Mi Tigre," my Tiger.
That's what six-year-old Josue Abreu calls his dad each time Abreu heads to work for the Houston Astros. That's the nickname that propels the former American League MVP to push himself toward greatness, toward the World Series title missing from his impressive resume.
El Tigre jokes that it's not easy to hit behind Alvarez because his fellow Cuban takes all of the RBIs. But when Alvarez left some meat on the plate at Globe Life Field, El Tigre pounced Thursday night.
Abreu hit a three-run homer to left-center field in the fourth inning, breaking open Game 4 of the American League Championship Series. 
Astros 10, Rangers 3.
The best-of-seven Lone Star ALCS is now tied at 2 apiece heading into Game 5 on Friday afternoon. Soon after Alvarez hit a sacrifice fly with the bases loaded to give the Astros a 4-3 lead, Abreu strolled to the plate. 
"There's a saying that says, 'Two of us cannot fail," Alvarez said of his sacrifice fly after going 2-for-4 with three RBIs in Game 4. "I had missed it, and I was very happy that (Abreu) was able to connect."
Jose Abreu breaks it open
Alvarez and Abreu had lots of help in Game 4. Jose Altuve was 3-for-4 with two doubles and three runs scored. Ryne Stanek, Hunter Brown, Phil Maton and Rafael Montero combined for 6 2/3 scoreless innings. The Astros gave Jose Urquidy a 3-0 lead in the first inning, but he couldn't go beyond 2 1/3 innings as the Rangers tied the score at 3 in the third.
Abreu lined a three-run homer 438 feet to left-center field in the fourth to give the defending World Series champions a 7-3 lead before a stunned crowd of 42,060.
Abreu was the Astros' big free agent signing after they won their second World Series title last year. In part because of a nagging back issue, he got off to a slow start. Some critics were eager to ridicule Hall of Famer Jeff Bagwell and owner Jim Crane for signing the 2020 AL MVP.
MORE FROM OUR ESQUINA
Jose Abreu on stage he envisioned in November
Jose Abreu is 'pumped' to join the Astros
Cristian Javier continues postseason magic
Through the slow start, Abreu found comfort in the support of his family and his new teammates. He credits his wife Marian and his two sons, Josue and Dariel, 13, for keeping his spirits up.
"My wife is always there," he said. "I think my children are a motivation to be positive every day, because they push me every day more. I think this institution has been on the vanguard of helping me in everything so that Jose Abreu can be in the best position to compete. 
"Personally I appreciate all my teammates and coaches who have been here. The only thing that I need to say is, 'thank you.'"
Clutch when it matters
Abreu has been at his best when the Astros have needed it most. He led the AL with 28 regular season RBIs in September/October to help the Astros edge out the Rangers for the AL West title. He has remained on fire in the postseason.
Abreu homered in Games 2-3 of the Division Series against the Twins. He had the first multi-homer postseason game of his career in Game 3 of the Division Series. 
"Since I was in Cuba, I followed Pito when he was in the big leagues," Alvarez said of Abreu. "Now I have the pleasure to share a uniform with him. I think that's something very special, and I always tell him about that. 
"I'm super happy that he's here. We know how eager he is to put on a (World Series) ring. That's what a ballplayer values the most."
Abreu, 36, is the first player during the Statcast era to hit three home runs 430 feet or farther. His four homers this postseason are tied for the fifth most homers in a single postseason by a player 36 years old or older.
The 6-foot-3, 235-pounder even stole a base, becoming only the fifth Astros player to have a homer and a stolen base in the same playoff game.
Glove work
Abreu also made a crucial defensive play to stymie a threat. The Rangers' Leody Taveras and Marcus Semien hit consecutive singles to start the bottom of the fifth. Corey Seager followed with a line drive to first. Abreu made the catch.
As Semien attempted to dive back to first, Abreu leaned down and tagged him on the batting glove sticking out of Semien's back pocket. Semien was initially called safe, but the Astros challenged the call.
After review, Semien was ruled out for a crucial double play. 
"Yeah, that ball was smoked by Seager," Astros manager Dusty Baker said. "I mean Seager, he continues to hit the ball hard. But we had a little luck going for us. And I couldn't tell from our angle if (Abreu) had touched him or not. Looked like he might have touched him on his batting glove, which is right up our alley.
"That was another huge play. And I told Jose, 'I know in Cuba they don't play football, but you've got to tackle and make sure he doesn't get to the bag.'"
With the victory, the Astros guaranteed at least one more game at Minute Maid Park this year. After Game 5 at Globe Life Field, one team will have the chance to clinch a World Series berth in Game 6 in Houston on Sunday or extend the best-of-seven series to a winner-take-all Game 7 on Monday.
At some point before Abreu heads to the ballpark on Friday and throughout the postseason, Josue will hug him with pride and wish El Tigre luck.
"Each time I leave he calls me, 'Mi Tigre,'" Abreu said with a soft smile. "He says, 'That's mi tigre.' That's what motivates me. That's why one tries to do something every day to make him happy."
El Tigre has made a lot of Astros players and fans happy this October.
Get the Our Esquina Email Newsletter
By submitting your email, you are agreeing to receive additional communications and exclusive content from Our Esquina. You can unsubscribe at any time.