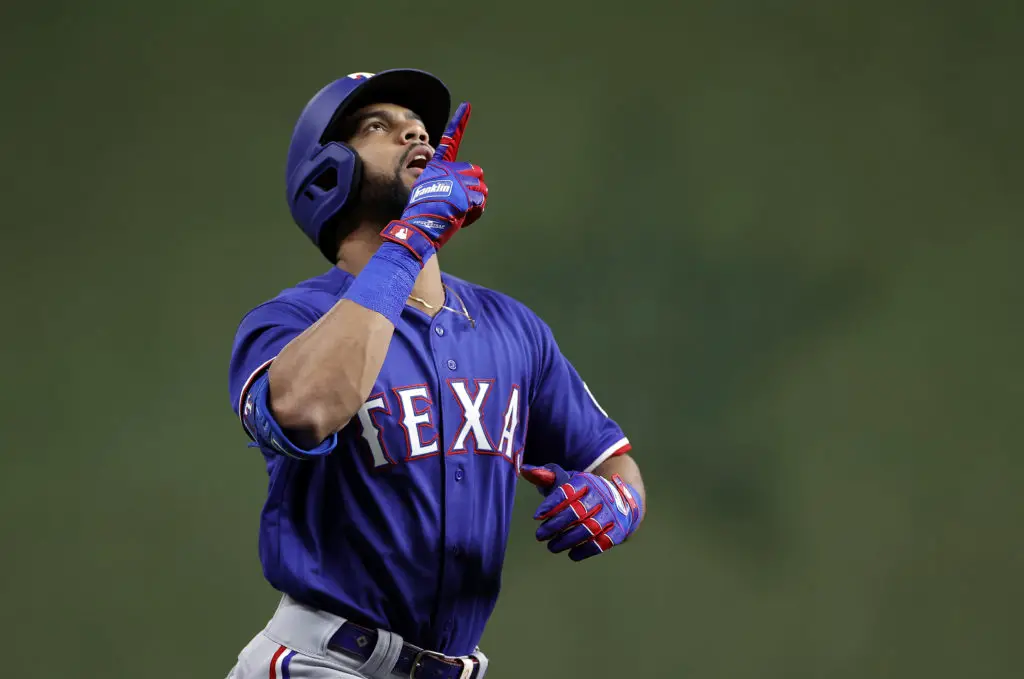 Leody Taveras makes himself at home in ALCS
Willy Taveras' cousin drills key home run for Rangers in Game 1
HOUSTON – As his cousin Leody Taveras prepared for the American League Championship Series, former Astro Willy Taveras spent the weekend watching his daughter play in a softball tournament nearby.
Willy T proudly wore an Astros hat all weekend in support of the team he helped reach the 2005 World Series. He loves his young cousin and protege Leody Taveras like a son, though. He inspired Leody to chase his baseball dreams, after all.
Eighteen years after Leody Taveras and his family would gather around a small television in the Dominican Republic to cheer for Willy and the Astros in the 2005 postseason, Leody Taveras had the best view at Minute Maid Park for two of the biggest plays Sunday night in the Rangers' 2-0 victory.
Willy rushed back to his home in Fort Worth in time to see his cousin drill his first postseason home run. With one out in the fifth inning and the Rangers nursing a 1-0 lead in Game 1, Leody Taveras fouled off consecutive 94-mph fastballs to fall behind 0-2 against three-time Cy Young winner Justin Verlander.
Verlander then threw a changeup out of the strike zone, prompting Willy to correctly predict his cousin's home run. Leody then fouled a 2-1 slider before depositing Verlander's next slider over the right field wall.
Willy T called it
"I was standing in the living room and called it after the change up," Willy said. "I sent him a message before the game to calm down, have fun and be aggressive at the plate. It feels very good. We are very excited for him."
Leody Taveras, 25, was 2-for-2 with a walk and his first career postseason home run. He made franchise history by becoming the first Rangers switch-hitter to homer in a postseason game.
"It means a lot," Leody said. "To help the team in that way is just something special."
MORE FROM OUR ESQUINA
Leody Taveras on other end of Lone Star Series
Rangers, Astros lead effort for Uvalde Boys & Girls Club
Cabrera, Judge among Roberto Clemente Award nominees
The Astros mounted their biggest threat when Chas McCormick, Mauricio Dubon and Jeremy Pena hit three consecutive two-out singles to load the bases in the bottom of the fourth. The Astros didn't get another hit against lefthander Jordan Montgomery and three relievers.
Montgomery, who threw 6 ⅓ scoreless innings, struck out Martin Maldonado to strand the bases loaded in the fourth. Leody, the Rangers' No. 9 hitter, then stunned the crowd of 42,872 with his solo home run in the fifth.
Crucial double play
The crowd was stirring again after Jose Altuve led off the bottom of the eighth with a walk off Josh Sborz. Bruce Bochy then called on Aroldis Chapman. Alex Bregman greeted Chapman with a towering shot into the corner in left-center field. 
Taveras was sprinting from center toward the warning track in the left-center field corner when Rangers left fielder Evan Carter made a leaping grab on Bregman's line drive.  
"Let's go!" Taveras screamed with excitement after Carter stunned the sold out crowd and the Astros. Until Carter made the sensational grab, it appeared as though Bregman would have extra bases and perhaps even an RBI. Altuve had already stepped on the second base bag when Carter made the catch.
Unfortunately for the Astros, Altuve didn't step on the bag again as he ran back to first. After a replay review, Altuve was ruled out on a 7-6-4 double play. Instead of having two men on and nobody out, the Astros had nobody on and two outs.
"This corner is hard, but the talent that this guy (Carter) has is something special," Leody said. "So I'm not surprised with what he can do. It's a privilege for us to have a guy like him."
Leody Taveras inspired by Willy T
Leody's cousin is one of a select group of men who know how difficult it is to play center at Minute Maid Park. Willy made his debut with the Astros in 2004 and was the runner-up for the 2005 National League Rookie of the Year Award. Willy helped the Astros make their first World Series appearance in 2005. At that time, his younger cousin would watch the games as a six-year-old in the Dominican. 
"Yeah, I remember that a long time ago," Leody said. "I think 2007 or something like that, 2005? It's something special for me. He's really special in my career. We always stay in touch every single day. He's like my dad. He's something that I always want on my side."
Although he wore an Astros hat while spending the weekend in the Houston area, Willy Taveras plans to wear a Rangers cap during Game 3 in Arlington.
"He's like my son," Willy says of Leody. "He's a cousin, but he's like my son."
A Taveras shone at Minute Maid Park again, just like old times.
Get the Our Esquina Email Newsletter
By submitting your email, you are agreeing to receive additional communications and exclusive content from Our Esquina. You can unsubscribe at any time.