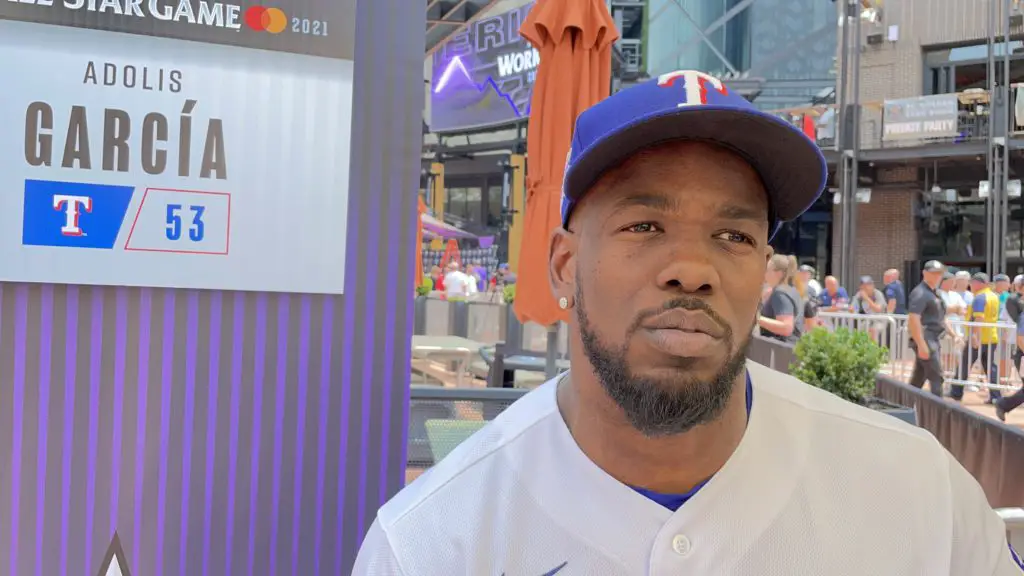 Rangers All-Star Adolis Garcia has Cuba protests on mind
Rangers Adolis Garcia urges Cuban protesters to remain strong
DENVER – Adolis Garcia had his parents and countrymen in Cuba on his mind Monday as he joined his fellow All-Stars. Under different circumstances, the Texas Rangers' rookie outfielder might have had his parents with him at Coors Field this week.
Several All-Stars have their parents with them for the All-Star festivities. It's a time to celebrate, after all, and the first All-Star berth is extra special. Garcia was excited, of course, but he was also concerned as protests broke out in his native Cuba.
"We know the situation going on right now," said Garcia, who was born in Ciego de Avila, Cuba. "The people are in the streets protesting and fighting for their rights. Be strong. We are all here with you. … 
"I was born in Cuba. I'm Cuban. All that happens there, sure I feel it. I have family in Cuba. A part of me is there, my roots. The people of Cuba are part of me also."
In a rare display, Garcia's countrymen took to the streets Sunday in Cuba, crying out for libertad, or freedom. 
Some even demanded that Cuban president Miguel Díaz-Canel resign, CNN reports. Cuban big leaguers have paid attention and offered support. 
Astros' Yuli Gurriel urges protesters to be strong
Astros first baseman Yuli Gurriel, whose father Lourdes was among Fidel Castro's favorite baseball figures until Yuli and his brother Lourdes Jr. defected, offered support. 
Gurriel posted a raised fist painted in Cuba's blue, red and white with the star. He used the hashtag #SOSCuba and wrote in Spanish, "Be strong, my people."
Gurriel told Our Esquina last month that he aspires to be able to return to Cuba one day. 
Gurriel at least has his entire immediate family in the United States. His parents and siblings all make their homes in the U.S. although Lourdes Jr. plays for the Toronto Blue Jays. 
Adolis Garcia left parents behind
Garcia, who defected from Cuba in June 2016 and signed with the St. Louis Cardinals in February 2017, isn't so fortunate. His parents, uncles and cousins all remain behind in Cuba.
He has spoken with his parents on the phone since the protests broke out. Garcia says his countrymen in the majors are aware of what's going on at home. He joined the rest of the All-Stars at Coors Field on Monday, a day after three Cuban prospects participated in the 2021 SiriusXM All-Star Futures Game.
"I think they all support it," he said. "They're very aware of what's happening in the last few hours."
Nonetheless, there's little they can do.
"From here we're supporting them spiritually," he said. "In the next few hours, whatever we can do for our people, we'll do it."
Get the Our Esquina Email Newsletter
By submitting your email, you are agreeing to receive additional communications and exclusive content from Our Esquina. You can unsubscribe at any time.