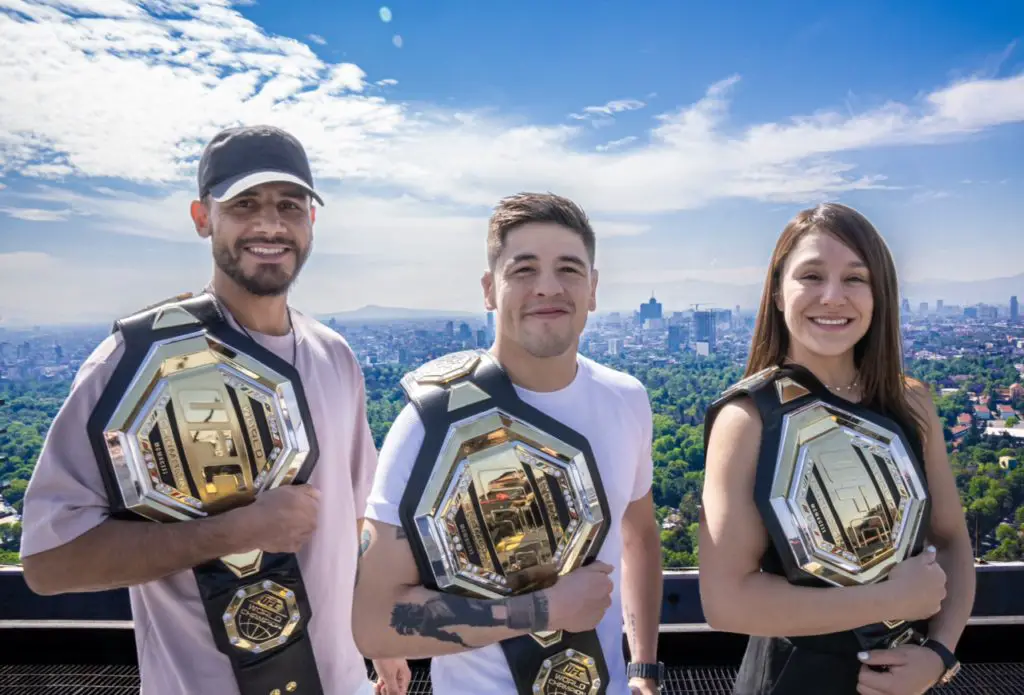 Jair Rodriguez says UFC's Mexican era has arrived
Mexican champs Brandon Moreno and Jair Rodriguez headline UFC 290
As far as Jair Rodriguez is concerned, the Mexican era in the Ultimate Fighting Championship has already arrived. If you don't believe the UFC interim featherweight champion, though, you can see for yourself Saturday night at T-Mobile Arena in Las Vegas.
UFC 290 will have a distinct Mexican flavor. The co-main events will feature the first two Mexicans to win UFC titles – Rodriguez and Brandon Moreno – in championship fights. Three other Mexicans will compete in the UFC 290 preliminary bouts, putting a Mexican stamp on International Fight Week.
Rodriguez will face champion Alexander Volkanovski for the undisputed UFC featherweight title after Moreno defends his flyweight belt against Alexandre Pantoja.
"The era now is ours," Rodriguez said in Spanish. "We have three belts in Mexico. We're living the best phase (for Mexicans in) MMA that has existed in all time. I think it will continue to be this way for a good while."
Jair Rodriguez follows Moreno
Rodriguez, a native of Parral, became the second Mexico native to win a UFC title when he beat Josh Emmett at UFC 284 in February. Less than a month later at UFC 285, Guadalajara's Alexa Grasso  beat UFC flyweight champion Valentina Shevchenko to become the first Mexican woman to win a UFC title.
It all started with Moreno, the son of Tijuana piñata makers.
Moreno beat Brazilian Deiveson Figueiredo in June 2021 to become UFC's first Mexican champion. Moreno-Figueiredo became one of the best rivalries in MMA over the next 18 months.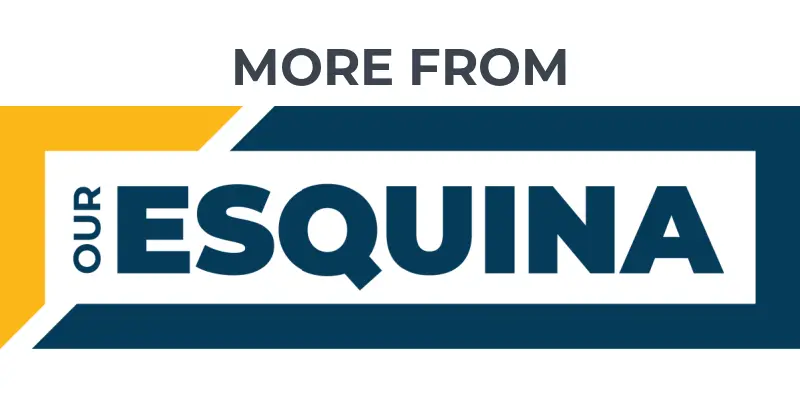 Champ Brandon Moreno Opens Mexico For UFC
Champ Brandon Moreno: 'Year for the Mexicans'
Mexico's Alexa Grasso makes UFC history
Moreno capped the four-fight rivalry with a victory over Figueiredo. Now, however, Moreno (21-6-2) will try to retain his title against a fighter who beat him twice earlier in their careers.
"I'm expecting a lot of Mexican flags around the arena, around T-Mobile this Saturday," Moreno said.
Moreno and Rodriguez won't be the only Mexicans on the card during UFC's International Fight week. Undefeated Yazmin Jauregui (10-0) will face Denise Gomes in a women's strawweight fight.
Two more Mexican fighters will feature in the early prelims. Edgar Chairez, who was also born in Baja California, will face Tatsuro Taira. Jesus Aguilar, a native of Ensenada, will fight Shannon Ross.
Brandon Moreno grateful for opportunity
"I'm very happy for them," Moreno said. "I'm also very honored that the UFC gave this importance to us Mexicans in such an important event for them, International Fight Week."
Mexicans and Mexican Americans make up the largest group of Latinos in the United States. As Irene Aldana noted before her fight against the legendary women's champ Amanda Nunes, Mexicans traditionally love combat sports, whether it's boxing or MMA.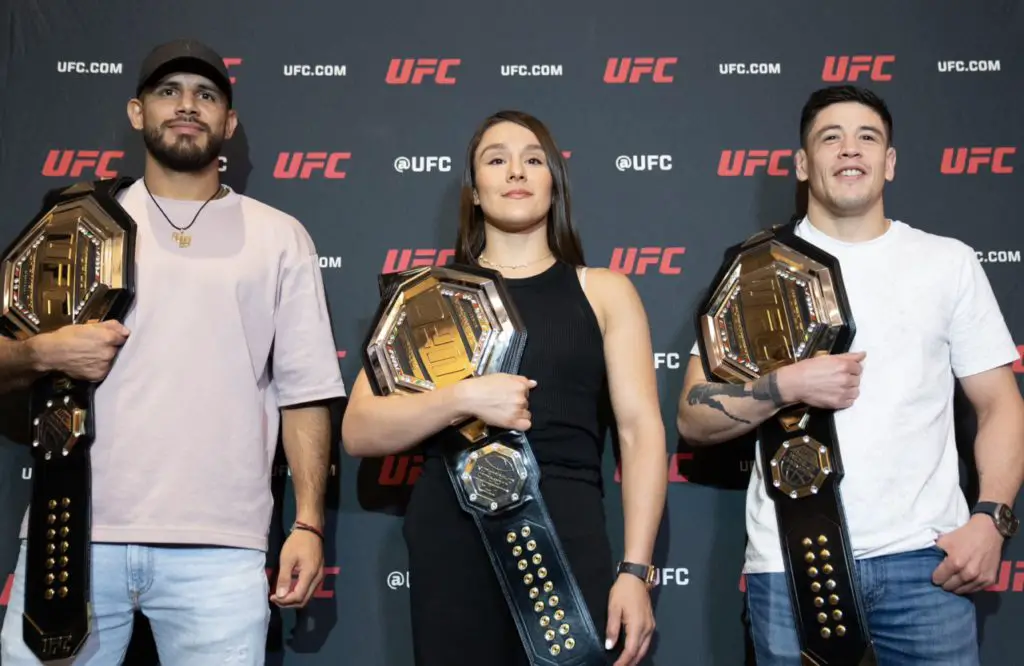 UFC president Dana White has courted the Mexican demographic since the beginning.
"Listen, there's a lot of things that I've been waiting for since Day 1," White told Our Esquina in 2021. "A real Mexican-born world champion is one of them, and now I got it. (Moreno) couldn't be easier to work with. This should be a lot of fun."
It has definitely been a lot of fun for Moreno, Jair Rodriguez and Mexican UFC fans.
Now, UFC has three Mexican world champions. Two of them will try to retain their belts Saturday night in Las Vegas after three other Mexicans fight.
Get the Our Esquina Email Newsletter
By submitting your email, you are agreeing to receive additional communications and exclusive content from Our Esquina. You can unsubscribe at any time.