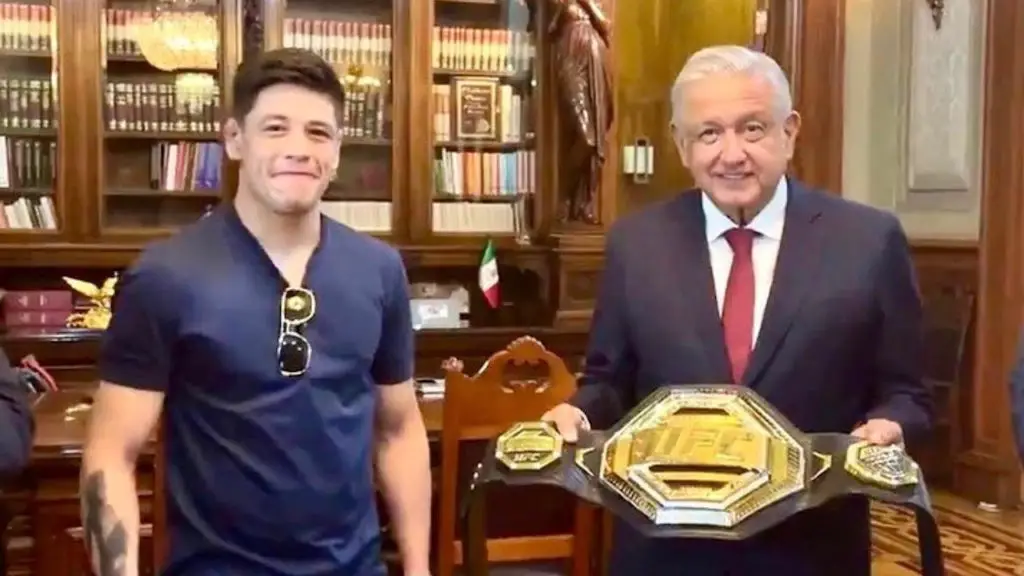 Champ Brandon Moreno Opens Mexico For UFC
Tijuana's Brandon Moreno has been busy promoting UFC since winning title.
On the eve of UFC 265 recently, Brandon Moreno visited a small mixed martial arts gym in the suburbs of Houston. A few dozen fighters hung on to his every word as he gave a clinic. The Ultimate Fighting Championship flyweight champ grabbed a partner and demonstrated moves one at a time with breaks to see the students execute them. 
Then he gave individual tips, whether on footwork or holds. In one move, the person standing grabbed the person lying on his back by the knees and stepped between the legs. Tap, tap, tap! Tap, tap, tap!
When the footwork was off, Moreno ushered the man to the side and gave him a personal demonstration. Tap, tap, tap! Tap, tap, tap! Brandon Moreno, who was born in Tijuana, gave the clinic in English. When he forgot a word, he'd merely say it in Spanish. Then one of the Spanish-speaking amateur fighters would yell out the word in English. Hardly anything was lost in translation for the charismatic son of piñata makers.
A little more than 24 hours later, Moreno was at Houston's Toyota Center for UFC 265. He was not on the card, which featured Houston heavyweight Derrick Lewis and France's Ciryl Gane. Brandon Moreno was definitely a featured attraction, though.
A crowd that likely wouldn't have recognized him a year ago roared when Moreno was shown on the Toyota Center jumbotron. 
"You see the pop (Brandon Moreno) got when they showed him on screen?" UFC president Dana White said after UFC 265. "He had like a couple hundred thousand followers. Now he's up to 1.2 million. He's doing all the right things."
Brandon Moreno gives UFC Mexican champ
Moreno, 27, is the type of fighter White has sought for almost two decades – A genuine Mexican champion. 
The so-called Assassin Baby has been killing it on the public relations front since defeating Brazilian Deiveson Figueiredo in their rematch on June 12. The "Bebé Asesino" put his name in the MMA history books during the UFC 263 co-main event in Glendale, Arizona.
Since Moreno submitted Figueiredo in the third round to pull off the upset before a crowd of 17,208 at Gila River Arena, he has been busy growing his brand and UFC's footprint into Mexico.
"When you get a guy who burst onto the scene the way he did and beats a guy like Figueiredo you put him on the road and you just send him to do all the PR," White said. "A lot of them fight back and they don't want to do it. 
"They don't want to do this. This kid is doing everything that we ask him to do. Textbook on how you build a kid. He's just so easy to work with and sucha great kid, talent. He's blowing up."
Endearing Assassin Baby
Moreno's story is an endearing one. It's somewhat storybook and even worthy of a movie, considering that UFC had actually dropped him three years ago.
The 5-foot-7, 125-pound Moreno (19-5-2) had lost two fights in a row when UFC cut him in May 2018, less than two years after he debuted. He hit the minor circuits and worked his way back to UFC in June 2019.
Two years later, he submitted Figueiredo to make history. That title has opened plenty of doors for Moreno.
Mexican President Andrés Manuel López Obrador greeted Moreno at the presidential palace. Boxing champion Saul Canelo Alvarez, one of the biggest names in Mexican sports, also visited with Moreno.
"It's all part of these crazy things, to meet a lot of famous people," Moreno said. "Meeting the president of my country is crazy, talking about the opportunity for the sport in Mexico. Canelo obviously is the best boxer right now. That's an inspiration for me. 
"When I meet those kinds of guys, those famous people, I try to get advice. A lot of famous athletes I try to get some advice from them because you never know when you can have the opportunity again to talk with them."
It's too early to put him on par with Canelo. He's on another level altogether in terms of popularity and stature in his sport. Nonetheless, there's no doubt Moreno's popularity has doubled if not tripled since he settled for a majority draw against Figueiredo last December.
Brandon Moreno inspires other Latinos in UFC
No. 10 ranked women's strawweight Tecia Torres, a native of Massachusetts with roots in Puerto Rico, would love to follow in Moreno's footsteps.
"He comes from Mexico. That's a big ass country, so he has a lot of people behind him," Torres said of Moreno. "Just his journey from the Ultimate Fighter to where he is now, that's inspiring. I started in the Ultimate Fighter. I came from struggles growing up.
"I didn't have much. I earned my spot to be here. I had a lot of people on the way up helping me, of course. It's a team effort, but at the end of the day I'm the only one in the octagon. I'm the one who has to put in the work in, the dedication. It's awesome seeing (Moreno) and his comeup. Hopefully I can have that one day and have the support of Puerto Rico as well."
Moreno's popularity growth is evident in his numbers on social media. He now has a million followers on Instagram and 45,000 on Twitter. 
There's a mural of him already in Tijuana, which depicts him raising the Mexican flag above his shoulders while he wears his UFC title belt. Four-time WBC champ Erik "Terrible" Morales also posed for a picture with Moreno and the UFC title belt. Moreno also posed for pictures with Canelo, former WBO, IBF, IBO and WBA heavyweight champion Andy Ruiz and WBC superweight champion Oscar Valdez.
The Mexican national team invited him to watch El Tri play at the Los Angeles Coliseum. Moreno's hometown Liga MX soccer club Tijuana Xolos also had him as a special guest. 
Moreno tries to stay humble
"To be honest with you, nothing changed," Moreno said. "I'm the same Brandon Moreno. I still love fighting. Everything is the same right now, so I need to keep focused on my final goal. Like I said before, my final goal was to get the belt. All right, that's perfect. Let's start with another new goal. I'm working on that."
He hasn't wasted those opportunities. He has sought advice from champions like Canelo and Morales. Canelo reminded him that although the fame and money are amazing, he must stay true to what made him a champion. Canelo encouraged him to remain focused on what got him to this point.
Moreno is adamant that nothing has changed, but in many respects everything has changed. He has opened new doors for himself and UFC.
Figueiredo wants to make it a Moreno-Figueiredo trilogy. The Brazilian is even willing to have the third fight in Mexico.
White, who built UFC into one of the most successful sports entities in America, finally has his Mexican champion. 
"Listen, there's a lot of things that I've been waiting for since Day 1," White says. "A real Mexican born world champion is one of them, and now I got it. He couldn't be easier to work with. This should be a lot of fun."
Get the Our Esquina Email Newsletter
By submitting your email, you are agreeing to receive additional communications and exclusive content from Our Esquina. You can unsubscribe at any time.