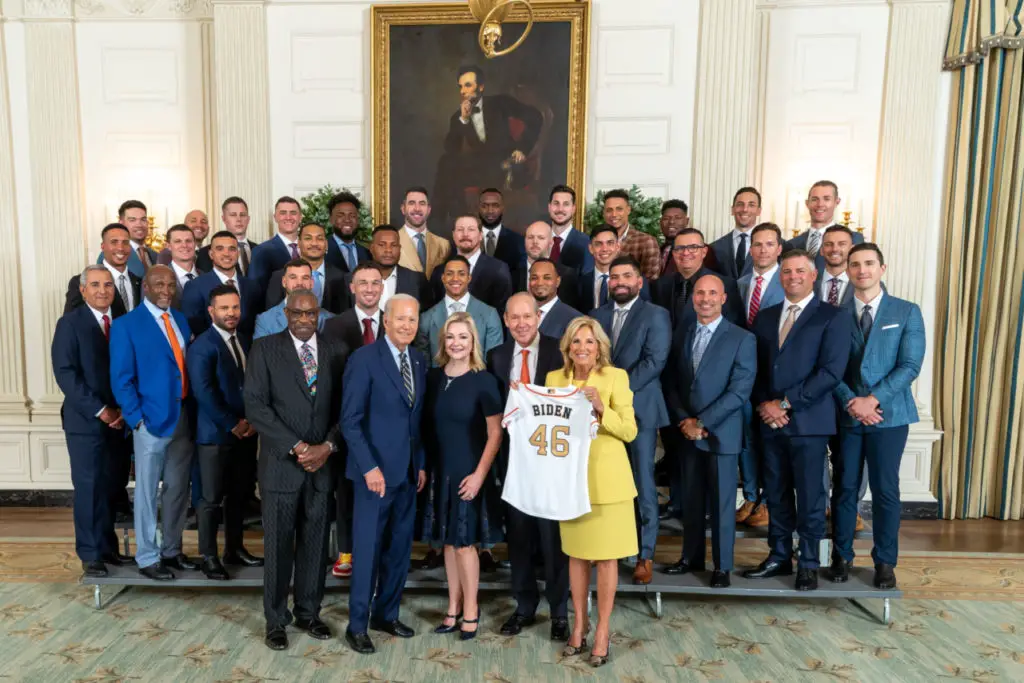 Houston Latino leaders join Astros at White House
Astros share their trip to White House with loyal fans
As the 2022 World Series champion Astros settled in for a reception at the White House, young Joaquin "Kiki" Walle started canvassing the room. Wearing a blue City Connect jersey, the nine-year-old son of Texas State Representative Armando Walle began to court his heroes Monday morning.
Visiting the President at the White House is one the perks of winning a championship in American professional and college sports. Dusty Baker and most of the members of the 2022 World Series champions attended the visit. Astros owner Jim Crane also brought his family among the Astros' contingent of more than 100 on the trip.
Several of Houston's Latino political leaders also attended, including State Senator Carol Alvarado, Walle, State Rep Christina Morales, Harris County Commissioners Adrian Garcia and Leslie Briones, and councilman Robert Gallegos. Many of them represent the predominantly Latino East End where the Astros' Minute Maid Park sits. 
Familial Astros bond
"It was a doubleheader for me as the two things I'm passionate about, baseball and politics, came together at the White House," Alvarado said. "It was quite the honor for a girl from Houston's East End to witness this occasion. 
"My parents took me to the Astrodome where we cheered our Astros, especially Jose Cheo Cruz. Baseball is a big part of our Latino culture. It exemplifies our  desire to achieve the American dream, work hard and reach our fullest potential."
MORE FROM OUR ESQUINA:
Astros legend Jose Cruz turns 76 years old
Cristian Javier leads Astros World Series no-hitter
Astros ace Framber Valdez no-hits Guardians
Alvarado is a regular presence at Minute Maid Park. She also travels to West Palm Beach, Fla., for spring training often. Alvarado attends almost every postseason game, including many road World Series games since they won the 2017 World Series.
The elder Walle, who grew up in a single-parent home in the modest Aldine area of Houston, brought his wife Debbie and their two boys – Armando Jr. and Kiki – to the White House.
Special Astros bond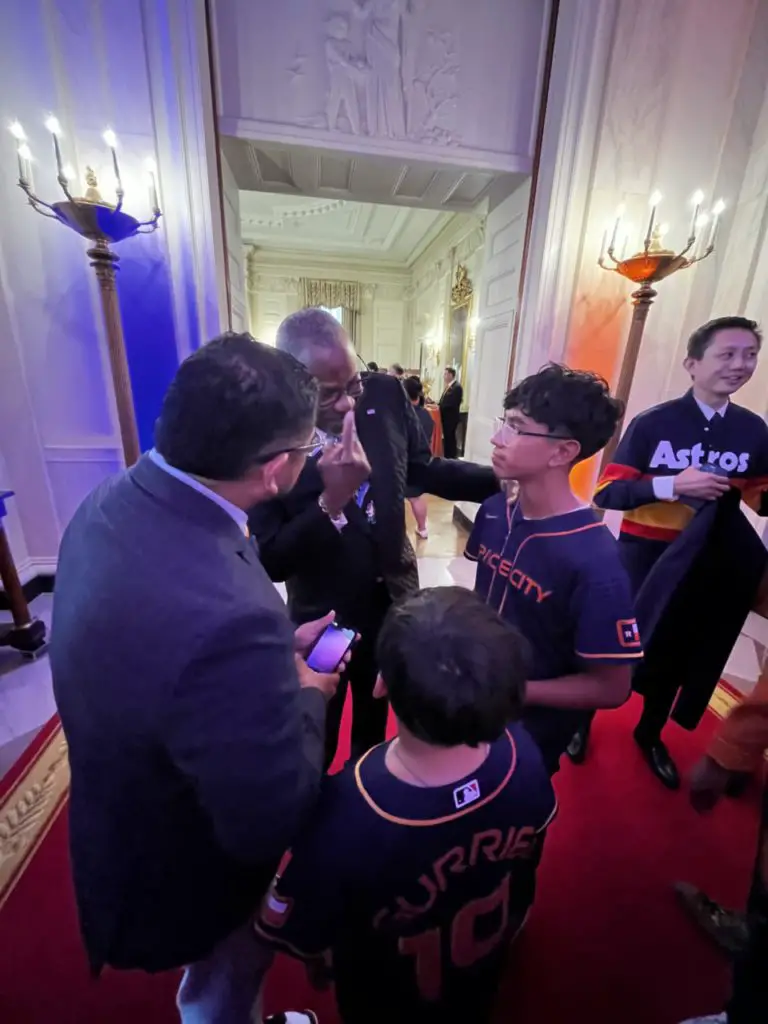 Walle developed his love of the Astros from his late maternal grandfather Armando Zamarripa, a welder who helped raise him in Aldine. Walle watched countless Astros games on the television with his grandfather, who died in 2021.
"The last convo I had with my late abuelo was about the Astros' score as he was dying from cancer," Walle said. "That's why the Astros' visit was important to me and my family personally."
Crane, Baker and President Biden spoke during a brief ceremony. Crane presented the President with an Astros jersey with No. 46 and Biden on the back. Biden, a former Senator from Delaware, is a longtime Phillies fan. 
"The whole country was rooting for Dusty Baker. I can promise you that," President Biden said. 
Biden, 80, also joked about the 74-year-old Baker's age. 
"People counted you out, saying you're past your prime," Biden told Baker. "Hell, I know something about that."
The President praised the Astros for their work off the field in the community, including their efforts supporting the families of the victims of the Uvalde school shooting. He mentioned World Series MVP Jeremy Peña and the combined no-hitter against the Phillies in Game 4.
Chas Chop at White House
Once the ceremony was over, the Astros and their traveling party were treated to a reception at the White House. They signed countless autographs for the special guests. At one point, Alvarado approached the table where Chas McCormick was sitting and led a loud chorus of the "Chas Chop" chant.
Baker showed off the attentiveness that has made him a beloved figure when young Kiki Walle approached his table. Baker was sitting with Justin Verlander and first base coach Omar Lopez. Kiki asked Verlander when he found out he had been traded to the Astros.
"I got seven autographs," Kiki said. "My favorite was when I got Dusty Baker's signature on my Space City Jersey."
Whether they were nine-year-old boys or seasoned politicians, the Astros fans were all giddy to meet their beloved players.
"You never know when you'll get back to another World Series," Armando Walle Sr. said. "Just being in close proximity to the President, coming from the neighborhood that we come from, it's something we'll cherish our whole lives."
Get the Our Esquina Email Newsletter
By submitting your email, you are agreeing to receive additional communications and exclusive content from Our Esquina. You can unsubscribe at any time.