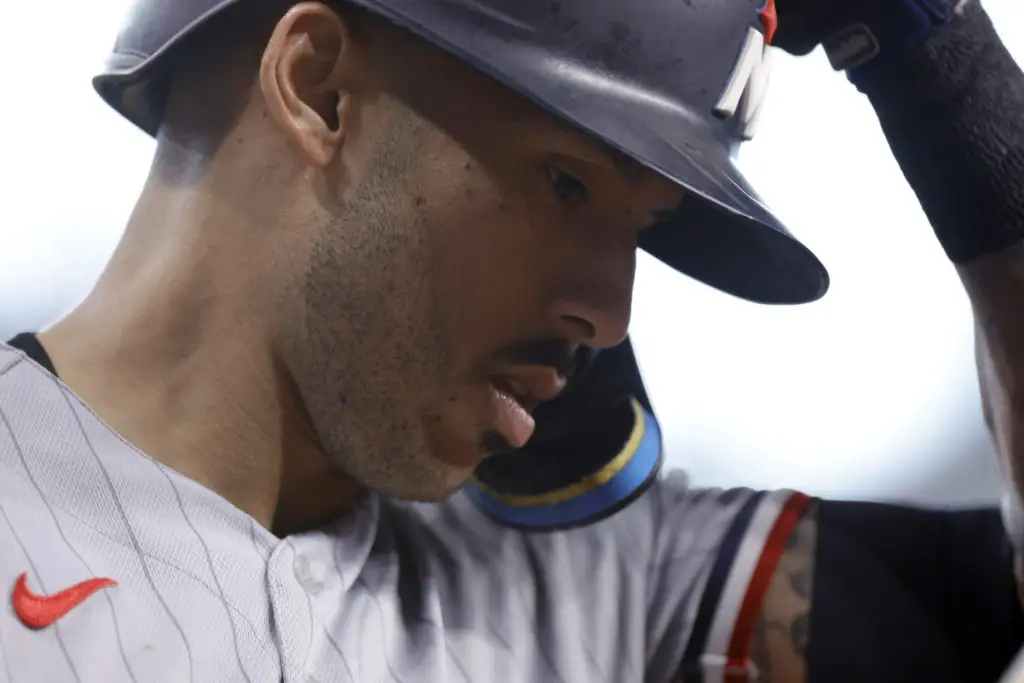 Carlos Correa makes himself at home downing Astros
Correa helps Pablo Lopez and Twins even the Division Series
HOUSTON – Carlos Correa settled back into the Bayou City on Thursday  and was greeted as though he never left. At dinner that night, fans wished the Minnesota Twins' shortstop good luck. Then at breakfast on Friday on the eve of the American League Division Series, more folks wished  the former Astros All-Star good fortune.
Astros fans know about Correa's postseason greatness. They appreciate the championship and playoff memories he gave Houston fans during his seven seasons here. Yet, he smiled and mischievously wondered if Astros fans truly wanted to wish him luck.
By the fifth inning Sunday night, Correa didn't have many Astros fans cheering for him at Minute Maid Park. He was pounding his chest and yelling "Let's go," in the direction of the visitors' dugout after driving in two more runs to help the Twins pull away for a 6-2 victory in Game 2.
With three RBIs overall in Game 2, he provided more than enough offense to help hard-throwing righthander Pablo Lopez even the best-of-five series at one game apiece.
Carlos Correa understands boos
"They're rooting for their team, right?" Correa said about the boos at Minute Maid Park. "I'm not on their team anymore. After everything I did for the organization, that's in the past. 
"Now I've moved forward. They've moved forward as well. And I understand it. They want their team to win, and they want me to strike out every time. It's totally normal."
Correa became one of the most clutch players in postseason history while with the Astros from 2015 through the 2021 World Series. The first overall pick in the 2012 draft helped spur the greatest run in franchise history during his 2015 American League Rookie of the Year campaign.
MORE FROM OUR ESQUINA
Carlos Correa feels Houston love in return, for now
Carlos Correa honors young Uvalde survivor
Astros saddened by Carlos Correa departure
The 2015 Astros surged after Correa was promoted to the majors in May of that year. The Puerto Rican star helped the Astros reach the postseason for the first time in a decade in 2015. They missed the playoffs in 2016, but they won the franchise's first World Series a year later. The Astros have reached six consecutive American League Championship Series and four World Series since 2017.
Correa was a major part of five of those ALCS teams and three of those AL champions. The 2015 Astros beat the Yankees in the AL Wild Card game and then lost to the eventual World Series champion Kansas City Royals in the Division Series.
Carlos Correa sees similarities
Correa has said often that the 2023 Twins remind him of the 2015 Astros. Despite an underwhelming regular season by his standards, Correa has starred with his glove and bat this postseason.
Lopez credits Correa for bringing experience and knowledge to the Twins. The Venezuelan righthander says he is amazed and surprised when Correa sees things nobody else can see on the field.
"When (Correa is) on defense, he just makes unbelievable plays," Lopez said of Correa after throwing seven scoreless innings in Game 2. "When he's on offense, he wants the big moments to make something happen. He can really hype up a team.
"A lot of guys in our clubhouse maybe don't have the most playoff experience or … big moments' experience. But he's such an incredible source of that kind of information. And he keeps you accountable. He keeps you honest, and he keeps you on the attack."
The Twins jumped on All-Star lefty Framber Valdez right away. Jorge Polanco drew a one-out walk in the first inning. An out later, Correa hit an RBI double to center to give the Twins a 1-0 lead. Kyle Farmer added a two-run home run in the second inning to give the Twins a 3-0 lead. 
Then in the fifth with the bases loaded and one out, Correa strolled to the plate against Valdez. In need of a double play, Astros manager Dusty Baker let the ground-ball specialist face Correa.
Double play gamble
"He's one of the best double play guys in the league," Baker said of Valdez. "Correa's hit into 30 double plays. Anybody else that I brought in there in that situation wasn't as good a double play guy as Framber because we've seen Framber — he threw up a couple tonight. He threw up a lot of ground balls tonight.
"So that was a decision I made because I thought he was the best guy to get out of his own trouble."
Correa knew his old teammate would try to induce a double play with a sinker. He was ready for it. He pounced with a soft liner to center for a two-run single. Correa moved into a tie with David Justice for third all-time in postseason RBIs with 63. He drove in 59 of those runs over 79 playoff games with the Astros.
With Jeremy Peña ready to ascend, the Astros let Correa go via free agency before the 2022 season. Correa joined the Twins during spring training camp in 2022. He watched with envy last year as Peña helped the Astros win the 2022 World Series.
While Correa watched at home, his replacement and protege was the ALCS and World Series MVP. So he concedes that there's an extra incentive against his former team.
"Yeah, I would be lying if I said no," he said. "It's cool when you do it against your former team. But at the same time, the ultimate goal is for us to win the series. … I'm focused on bringing a championship to Minnesota, and that's what everybody in our clubhouse is working towards.
"We've got to still win two more games in this series. It's going to be a good one. We've got a great team on the other side. I know what happens when they lose a game. I've been on the other side, and I know the speech and the meetings and all the stuff that happens. They'll be ready to go in the next game, so we will be."
Get the Our Esquina Email Newsletter
By submitting your email, you are agreeing to receive additional communications and exclusive content from Our Esquina. You can unsubscribe at any time.