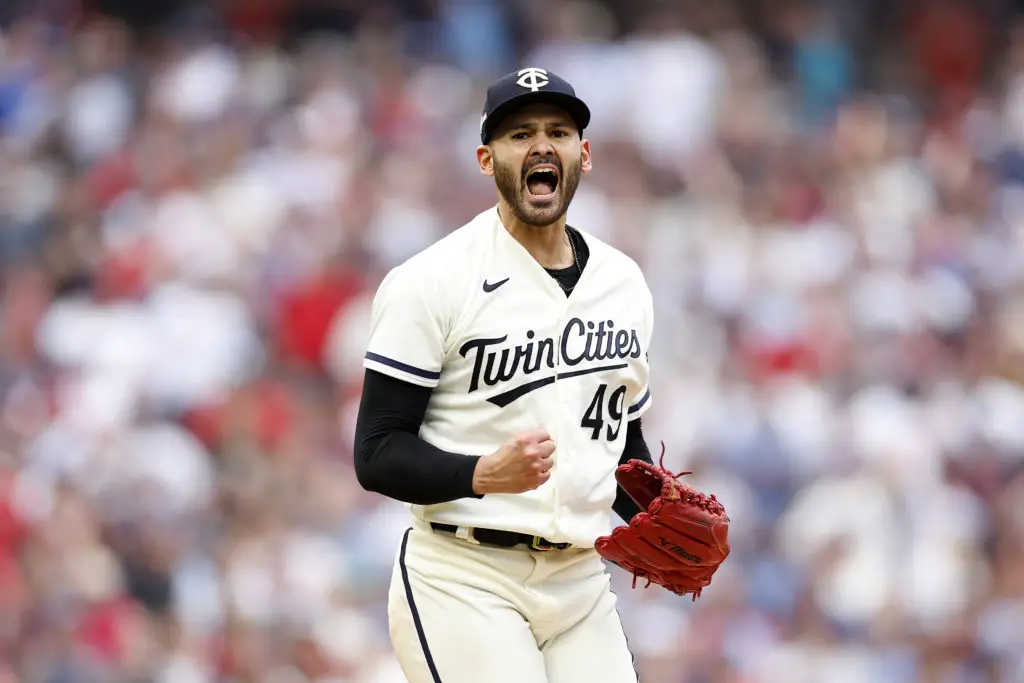 Pablo Lopez channels Johan Santana, beats Blue Jays
Pablo Lopez pays tribute to childhood hero Johan Santana
Like most Venezuelan children who aspired to play baseball, Pablo Lopez admired Johan Santana growing up. He still has vivid memories of watching the two-time Cy Young Award winner starring for the Minnesota Twins two decades ago.
Santana was the first player Lopez thought of in January when the Miami Marlins sent him and two prospects to Minnesota in exchange for batting champion Luis Arraez. The native of Cabimas, Venezuela, was honored for the opportunity to wear the same uniform as one of Venezuela's greatest major league pitchers.
As fellow Venezuelan Arraez captivated the baseball world with another All-Star berth and batting title in Miami this season, Lopez helped guide the Twins to AL Central title. Then Lopez strolled into his closet Tuesday morning to pull out a replica No. 57 Santana Twins jersey to wear before his start in Game 1 of the American League Wild Card Series.
More importantly, Pablo Lopez lived up to Santana's old standards. He helped the Twins beat the Toronto Blue Jays 3-1, snapping the franchise's 18-game postseason losing streak.
"And the Santana jersey thing, some people believe in fate," Santana told the media. "Some people believe that the things we do today drive what we do tomorrow. But sometimes things line up too perfectly to pass up on those opportunities.
"I was just happy that I was able to, for the most part, secure my plan, do my part, and do the best I could to, like, put the team in the best position to win."
Snapping losing streak
The Twins had lost 18 consecutive postseason games since Santana threw seven scoreless innings to beat the Yankees 2-0 in Game 1 of the 2004 Division Series. The postseason losing streak had been a major talking point in recent years in Minnesota. Lopez, 27, put an end to it.
The righthander paid the ultimate tribute to the lefthander from the mountains of Tovar, Venezuela. Lopez held the Blue Jays to one run on five hits and two walks with three strikeouts over 5 ⅔ innings.
Rookie Royce Lewis put the Twins ahead for good with a two-run home run in the first inning. He added a solo shot in the third before an appreciative crowd at Target Field. The Twins' social media department shared a picture of Lopez walking into the stadium in the Santana jersey. Santana noticed the tribute and praised Lopez afterward.
MORE FROM OUR ESQUINA
Carlos Correa, George Springer fight to return to Houston
Carlos Correa honors young Uvalde survivor
Alejandro Kirk is a rare star catcher from Mexico
"Great job," Santana wrote on the platform X in a quote tweet of the Twins' post with Lopez's picture. Then in his native Spanish, Santana wrote, "That jersey fits you, big leaguer."
Santana famously became a Twins great after Minnesota acquired him from the Astros in the 1999 Rule 5 draft. He labored through the 2000 and 2001 seasons while pitching mainly out of the bullpen. He posted a 2-3 record and 6.49 ERA in 2000. Then he went 1-0 with a 4.74 ERA in 2001. 
No extra pressure for Pablo Lopez
Santana settled into the rotation midway through the 2003 season. He became the first Venezuelan to win a Cy Young Award in 2004, finishing 20-6 with a 2.61 ERA. He won his second Cy Young two years later. The four-time All-Star and Felix Hernandez are the only Venezuelans to win the Cy Young.
Pablo Lopez, who wore his No. 49 jersey during the game, didn't let the weight of an 18-game postseason losing streak rest on his powerful shoulders. It wasn't his losing streak, after all. He barely joined the organization in January.
"I guess in a way I don't believe in (that losing streak pressure)," he said. "Because that happened so long ago when I was really starting to understand baseball and admiring Johan Santana, the player he was, the role model on and off the field he still is.
"So I guess moments like that kind of feel like they write themselves up. And it was an unfortunate streak going. And I'm sorry so many people had to go through it, suffer through it."
The postseason losing streak is over. The Twins will now try to close out the best-of-three Wild Card to earn a shot at the Astros in the Division Series. 
"This game meant a lot to us for many, many reasons," Lopez said. "And we just wanted to put an end to something that was very important to our beloved fans. Like, the fans have been so great to us. They support us. They root for us no matter the situation.
"It just felt right giving this to them. The way I see it now, we have a new streak going. We're 1-0, and that's the one we want to focus on now."
Get the Our Esquina Email Newsletter
By submitting your email, you are agreeing to receive additional communications and exclusive content from Our Esquina. You can unsubscribe at any time.