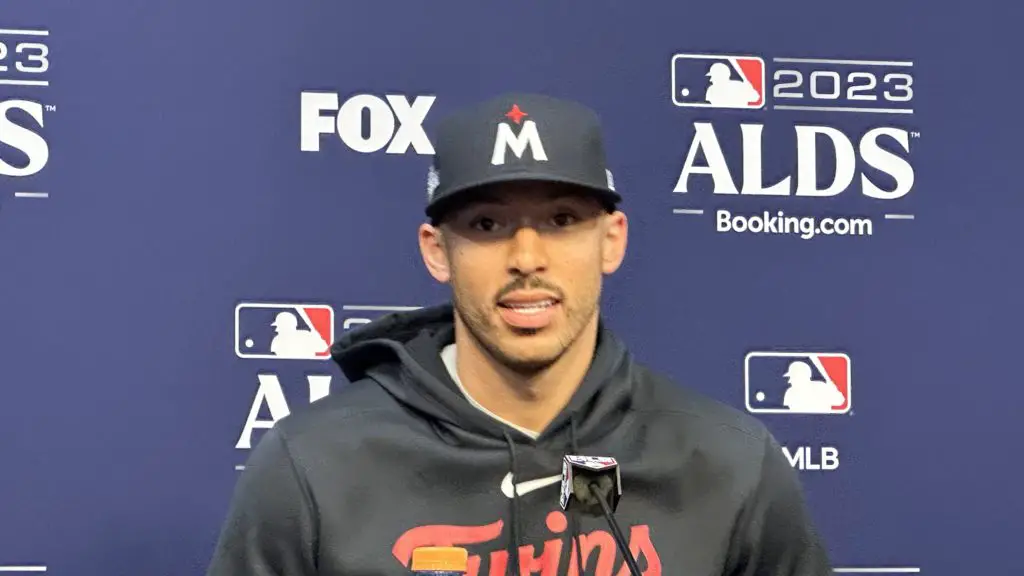 Carlos Correa feels Houston love in return, for now
Former Astros star Carlos Correa has fond memories heading into Division Series
HOUSTON – Twins shortstop Carlos Correa returns to a place he used to call home Thursday evening. Although he hopes to beat his former Astros teammates to reach the American League Championship Series, he is still beloved in the Bayou City.
The No. 1 overall pick in the 2012 draft left the Astros before the 2022 season. But he has felt the Astros fans' love during each trip back to Houston over the last two seasons.
"Every time I come here in the off-season, the fans, they treat me like one of their own still," he said. "I went to eat (Thursday) night, and all the Astros fans are wishing me good luck. I'm like, 'Are you sure you want to wish me good luck?'
"Then I went to eat breakfast this morning, and everyone's wishing me good luck. Obviously the fans still appreciate everything I did for this city. They love me and my family, which always feels great. Yeah, I'm appreciative of the good luck charms they're sending my way."
Carlos Correa built strong postseason resume
The former Astros shortstop played in 81 great and pivotal postseason games for Houston. In Game 2 of the 2017 American League Championship Series, Correa smacked an RBI walk-off double to score José Altuve from first. Also, in Game 2 of the 2019 ALCS, he smashed a walk-off home run to right to tie the series against the Yankees.
"Obviously great memories here," Correa said. "Right now I'm trying to build new memories with my team, the Minnesota Twins."
MORE FROM OUR ESQUINA
Carlos Correa honors young Uvalde survivor
Astros All-Star Carlos Correa Shares Gifts
Carlos Beltran belongs in the Hall of Fame
The Twins put an end to a 18-game postseason losing streak Tuesday evening in Game 1 of the Wild Card Series against the Blue Jays. Then they won Game 2 to win their first postseason series since 2002. The 2021 Platinum Glove winner made a big contribution in Game 2 of the Wild Card offensively and defensively.
Propelling the Twins
Correa got the Twins started with an RBI single to give the Twins an early 1-0 lead. Later in the game, he made an unbelievable defensive play to throw out Bo Bichette at home plate. Now, the 2015 Rookie of the Year will look to dethrone his former teammates and the Astros in the best-of-three Division Series.
Correa was introduced to the spotlight and started his first postseason game at Yankee Stadium in 2015. He leaned on the veteran presence of Altuve and Marwin Gonzalez for advice and their leadership.
Their presence and leadership rubbed on Correa and made him a vocal leader in the Twin Cities clubhouse.
"Yeah, we knew early on he was that type of player that he likes to be a leader," Altuve said of Correa. "He was a great leader for our team when he was here. And I'm pretty sure he is the leader in the other side now with the Twins.
"Like I said, we've just got to be careful with him. We know he likes to play in big games and come out clutch, but we've got to find a way to stop him."
Twins rookie Royce Lewis says he has looked up to Correa since he was around nine years old. 
"For the young guys, he's like an older brother to all of us," Lewis said of Correa. "He really takes care of us. And he loves us. He does everything for this team. He gives his whole body, mind, and effort to this team."
Comparisons to 2015 Astros
Carlos Correa has said often that this Twins team reminds him of the 2015 Astros. That group snapped the franchise's 10-year postseason drought. The 2015 Astros were young, talented, and special. The core of that team help the Astros win their first title in 2017, beginning a run of six consecutive ALCS berths.
As of Thursday, Oct. 5, the Astros are the favorites to win the AL pennant with a +180. The Twins are the least favorite of the four AL teams still remaining, with a +370.
Carlos Correa will now lead a young team with guys like Lewis, Edouard Julien and Matt Wallner. He hopes to prove this team is capable of winning more in October.
"In '15 nobody gave us a chance. And we got to the playoffs," he said of the Astros. "I feel like the young players are going to be here for a long time. I've got five more years at least. Bux and Royce, all those guys are going to be here for a while. So we can build something really special."
If Correa and the Twins want to build something special, they can start by dethroning the defending world champions in a best-of-five Division series, starting Saturday at Minute Maid Park.
Get the Our Esquina Email Newsletter
By submitting your email, you are agreeing to receive additional communications and exclusive content from Our Esquina. You can unsubscribe at any time.