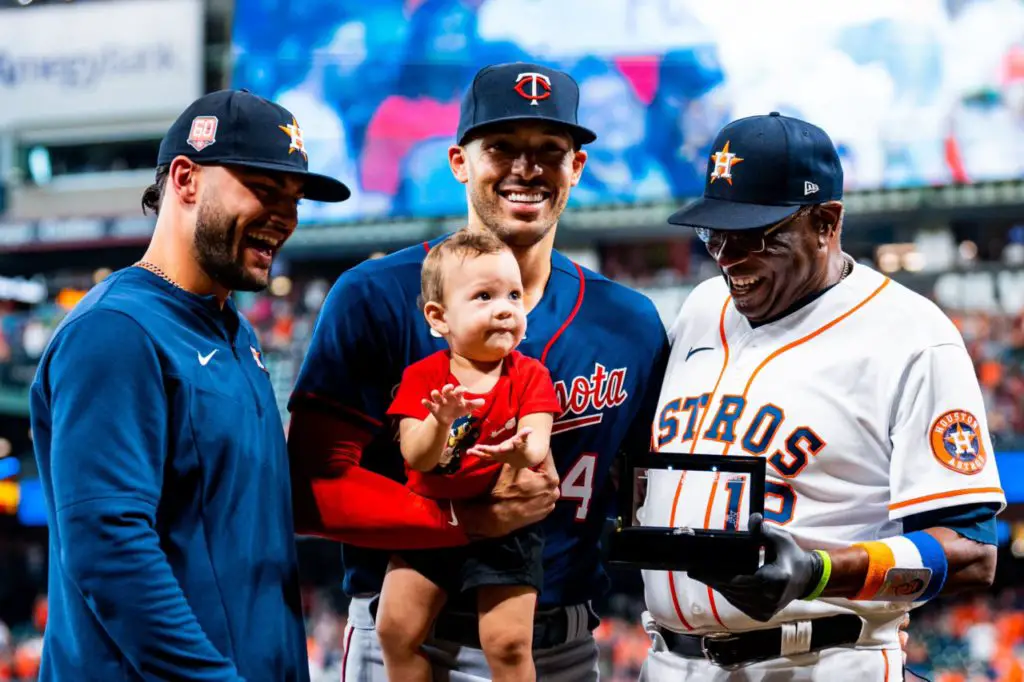 Carlos Correa honors young Uvalde survivor
Carlos Correa makes most of first visit back to Minute Maid Park with Twins
HOUSTON – Twins shortstop Carlos Correa returned to Minute Maid Park for more than just a homecoming Tuesday. The 2015 American League Rookie of the Year brought his entire family to his first game against his former Astros teammate.
Correa also played host of sorts to a special visitor before his Twins faced the Astros. He met with 10-year-old Mayah Zamora, a survivor of the mass shooting in Uvalde, Texas.
Zamora underwent multiple surgeries and spent 66 days in the hospital after she was shot in the Uvalde massacre that killed 19 students and two teachers last May 24. Joined by her parents, Mayah wore an orange Astros jersey to throw out the ceremonial first pitch.
Zamora lived a few blocks away from where the 18-year-old shooter Salvador Ramos lived. After finding out that she didn't want to return to her home, Correa's Foundation committed to leading the effort to buy her a new home. Jim "Mattress Mac" McIngvale committed to furnishing the new home.
Hero of the month
With Correa back in town for the first time since signing with the Twins this spring, Zamora was selected to throw out the first pitch as the Correa Family Foundation's "Hero of the Month."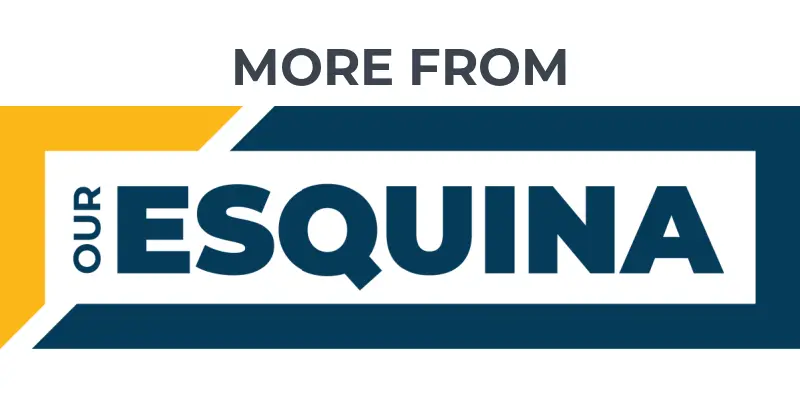 Houston Soccer scene mourns Jamey Rootes
Willson Contreras inspires MLB's top elite prospects
Alberto Puello makes Dominican Republic history
"It's great to finally meet her," Correa said of Zamora. "I can't wait for the house to be done. I'm going to pay a visit and spend some time with the family over there."
Mayah was joined by her parents and brother on the field during batting practice. Correa's parents Carlos Sr. and Sandybel Oppenheimer also were on the field with his youngest sister.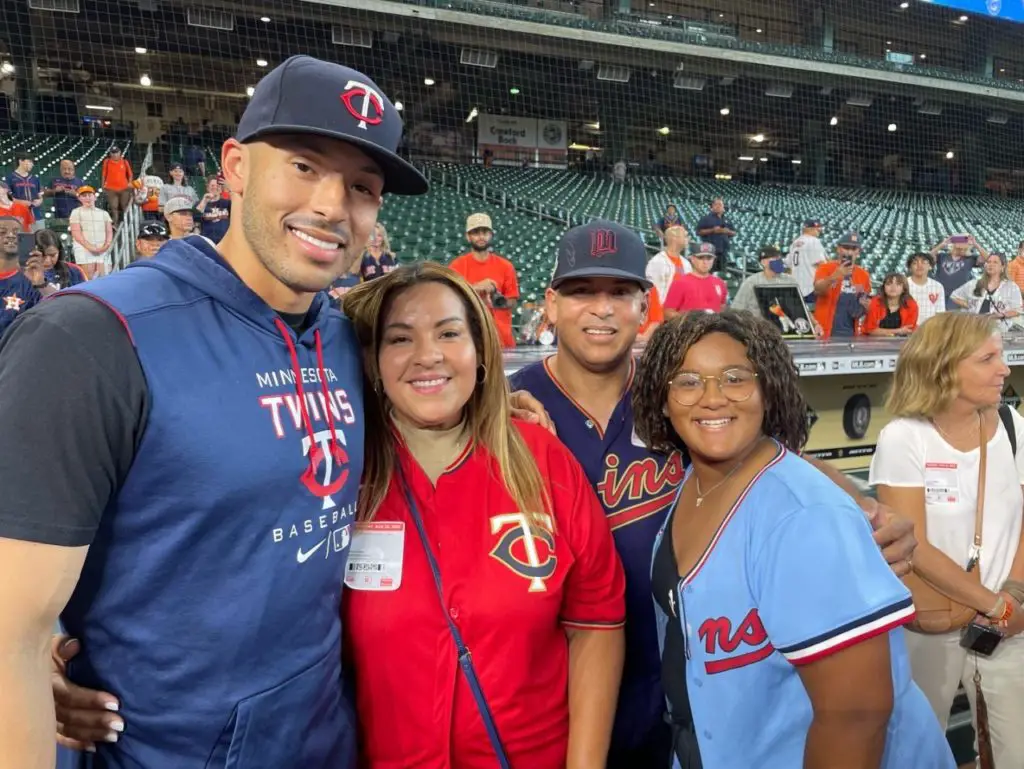 Correa's wife Daniella Rodriguez and their baby boy Kylo Daniel also visited with the Zamoras, who politely declined interview requests. Carlos Correa Sr. beamed with pride at his son's charitable contributions. 
"With all that Robert Clemente was able to do for all the people in the world, well this is one of those days that one feels proud as a parent with all that he can accomplish to help other people," Carlos Correa Sr. said.
Correa Sr. said he often told his son about Clemente's legacy when he was raising him in Puerto Rico. Clemente died on New Year's Eve 1972 in a plane crash off the coast of San Juan, P.R., on an ill-fated relief mission to help earthquake victims in Nicaragua.
Carlos Correa embraces Clemente legacy
Correa has embraced Clemente's legacy of giving. He vows to continue helping his native Puerto Rico and Houston, the city he represented for the first seven years of his career. 
"It's what we always wanted to do, use the platform to just help other people," Correa said. "And we're going to continue to do that throughout my entire career."
Correa made history in 2012 when he became the first native of Puerto Rico drafted first overall in the MLB June amateur draft. He reached the majors in 2015. Correa helped the Astros reach the playoffs in 2015 for the first time in a decade.
Two years later, Correa helped the Astros win the first World Series title in franchise history. He famously proposed to his girlfriend Daniella Rodriguez at Dodger Stadium while the Astros celebrated their title.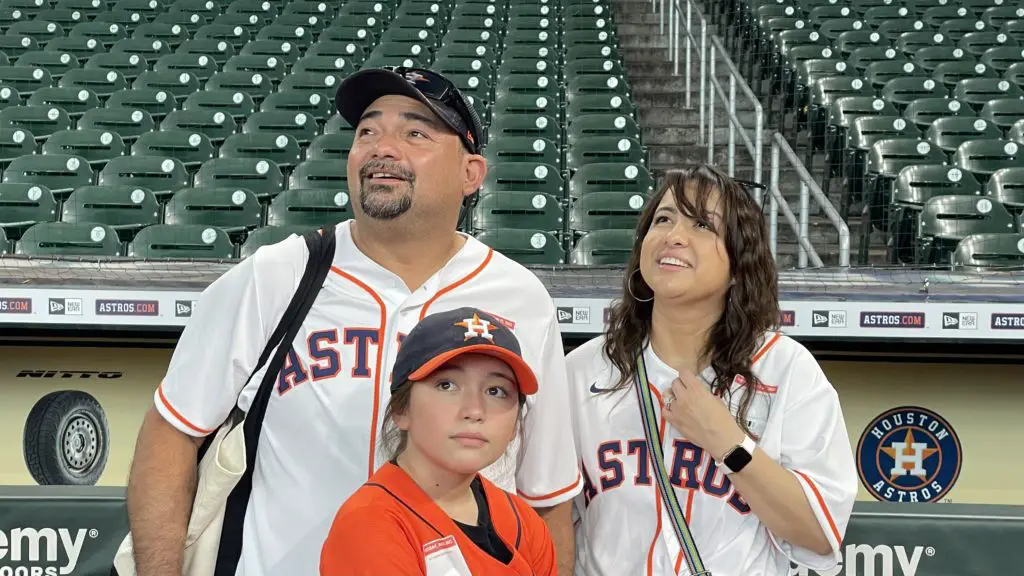 He joined the Astros organization as a 17-year-old boy. He left as a 27-year-old husband and father. Along the way, he led the Astros to three World Series appearances.
Astros manager Dusty Baker invited Correa's best friend Lance McCullers Jr. to home plate to present Correa with his 2021 AL championship ring.
Correa received the ring and then rushed to get his baby Kylo Daniel from Daniella to take a picture with Baker and McCullers. The crowd gave him a nice ovation during a pregame video presentation, during the ring ceremony and then when he went to the plate for his first at-bat in the first inning.
Justin Verlander stepped 10 feet behind the mound, and catcher Martin Maldonado walked to the grass in front of the plate so that the crowd of 32,639 could give Correa another loud ovation. 
"It's great," Correa said. "The emotions are great. Great memories just here in this ballpark."
Get the Our Esquina Email Newsletter
By submitting your email, you are agreeing to receive additional communications and exclusive content from Our Esquina. You can unsubscribe at any time.