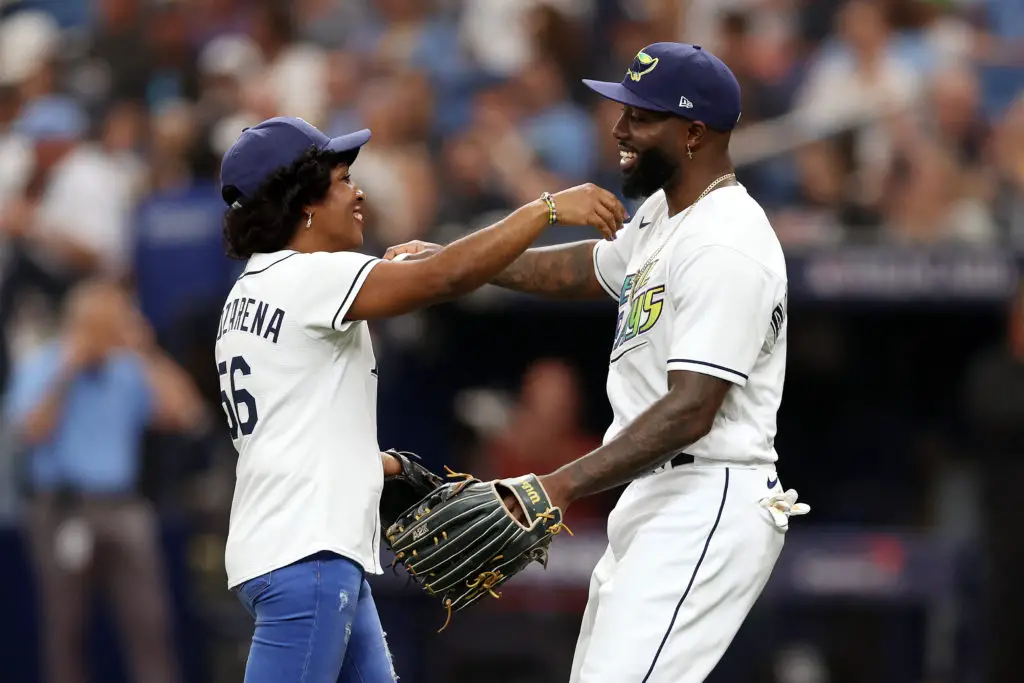 Not all lost for Rays star Randy Arozarena this postseason
Randy Arozarena buoyed by mother's first visit to U.S.
Long after Randy Arozarena gets over the disappointment of the Tampa Bay Rays' 2023 AL Wild Card series, he'll cherish making one of the greatest memories of his big league career this week. The Cuban star will remember finally having his mother at Tropicana Field, living out a longtime dream.
When Arozarena goes through his pregame routine, many cheers of his name echo through the stadium. Fans cry out his name during batting practice and while he signs autographs. However, only one voice mattered. It is a voice he has mostly heard over the phone.
It was a voice he longed to hear on the diamond. Although hugs on the field are reserved for celebrations that lead to a team victory, Arozarena had his own special celebration before Tampa Bay's first Wild Card game. The Cuban Mexican was delivering hugs and kisses to his mother, Sandra Gonzalez, who was seeing him play Major League Baseball in the United State in person for the first time. 
Grateful Randy Arozarena
Gonzalez was honored by the Tampa Bay Rays. She threw the ceremonial first pitch on Tuesday before Game 1 against the Texas Rangers. Arozarena's mother toed the rubber and threw a strike to her son, who was her catcher. After the pitch both Arozarena and his mother held each other with jubilance, as they both rejoiced in their company. 
The 5-foot-11 slugger admits that this moment is one he will cherish forever, considering how difficult it was to get his mother to the United States. 
Arozarena defected from his native Cuba on a raft in 2015. He landed in Mexico and began his baseball career in the Mexican League before signing with the St. Louis Cardinals in 2017.
MORE FROM OUR ESQUINA
2021, the Year of the Cuban in Sports
Rookie of the Year Randy Arozarena has Cuba on mind
Rangers All-Star Adolis Garcia has Cuba protests on mind
Almost immediately, he began trying to get his mother to Mexico. They reunited in Mexico soon after he defected, but it was more difficult to secure a visa for her to visit him in the U.S.
"It has been about six or seven years …since I took her out of Cuba into México," he said. "It had been about a five-year process to try to get a tourist visa. And  it wasn't until last week that we were able to get that done so she was able to make it here for this."
Special surprise
The Rays and Arozarena knew about Gonzalez's arrival. Hence, the planned pregame commemoration. However, some of the 2021 AL Rookie of the Year's relatives were caught by utter surprise. 
With the pressure of postseason baseball and performing in front of his mother, Arozarena gave her many opportunities to cheer. Arozarena, 28, notched a single and a double in the Rays 4-0 loss to the Rangers in Game 1. He followed his two-hit performance with a single in their elimination game. 
"It was a very special day for me," Arozarena told Tampa Bay beat writers. "It was the first time she was able to see me play professional baseball in an MLB stadium. Personally I think I had a pretty good game, and I was very happy she was able to see that."
The 2020 ALCS MVP – who is one of five rookies to ever win the award – finished the postseason with a .375 batting average and an .875 OPS. 
Arozarena's energy on the field hasn't diminished since he first stepped into the diamond. His high intensity style of play was monumental throughout the season. 
Difficult trek out of Cuba
The Rays' left fielder had a career high in home runs (23). He was picked to his first All-Star game. Randy Arozarena was front and center leading the Rays to 13 straight wins to start the season and the top wild-card position.
MLB has seen an enormous influx of Latino baseball players who have contributed mightily to their teams. All of those players face difficult adjustments in a new country. Many Latinos struggle as they adjust to a new country and learn a new language. Cuban ball players generally face greater hurdles, though. The majority of them cannot return to their island.
Most Cuban major leaguers had to escape their communist island to accomplish their big league dreams. Their journey is a tough one. They face  many uncertainties. They leave loved ones back home without a realistic timeline of seeing them again.
That is why the moment between Arozarena and his mother was much more special. 
"I don't think any of us can really appreciate what Randy has gone through," Rays manager Kevin Cash said. "Look, we've got four Cuban-born players playing here on a big stage. And they're all playing massive roles for their teams. I bet it was special for all of them. She had a good arm, yeah."
Get the Our Esquina Email Newsletter
By submitting your email, you are agreeing to receive additional communications and exclusive content from Our Esquina. You can unsubscribe at any time.