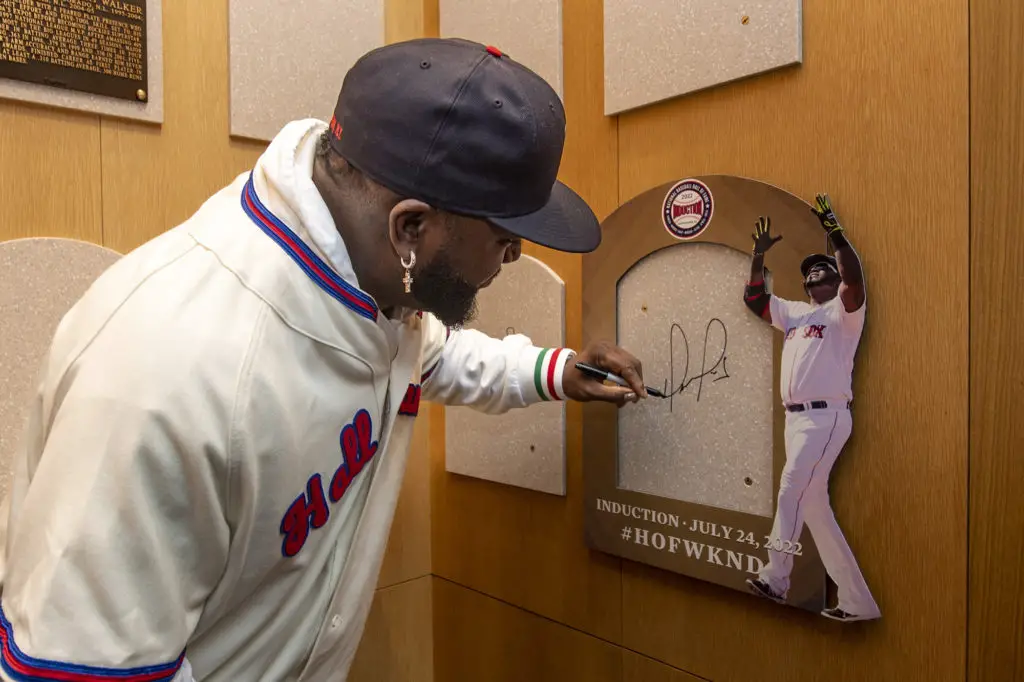 David Ortiz honors family ahead of Hall induction
David Ortiz honors family and teammates ahead of his Baseball Hall of Fame induction.
COOPERSTOWN, N.Y. – David Ortiz couldn't find the words when asked what his mother Angela Rosa Arias would tell him on the eve of his induction into the National Baseball Hall of Fame. He wiped tears away before a large media presence at the Clark Sports Center before mentioning how close he was to her.
The induction ceremony is as much a family event as it is about honoring of a legendary player. On a stroll around the village, you see mothers and fathers passing on baseball memories to their children with hopes of keeping America's pastime alive.
This is no different for "Big Papi", the fourth Dominican member of the Baseball Hall of Fame.
"You know, tomorrow is going to be a special day because, in reality, it's a family day," he said. "What can I tell you? I would say that everyone would like to have their families around in times like these. Thank God, I will have mine there."
Pedro Martínez's Advice for "Big Papi"
Members of his family include the likes of Ortiz's "compadre," his big brother figure, Hall of Famer Pedro Martínez. 
On Friday night, Martínez and Vladimir Guerrero gave Martinez's former Boston Red Sox teammate advice.
Martinez "was basically giving me a speech, telling me what to do tomorrow and how I am going to handle my business," he said. "The most important thing was he doesn't want me to lose my focus, you know? He wants me to be me. Don't forget about where I come from and just have fun. That's what it's all about."
For the 3-time World Series champion, his induction is as much a celebration of his teammates as it is of him. From Manny Ramírez to Dustin Pedroia, these are people Ortiz played nearly 2,500 – regular season and Postseason – games alongside of. They were just as much family to him as his own flesh and blood.
Nothing Without his Teammates
Many times, Ortiz is lauded for his many accomplishments like helping to end an 86-year World Series drought in Boston. He is also remembered for his post-Boston Marathon bombing speech in 2013, the same year he won his third ring and World Series MVP trophy.
To the Santo Domingo, Dominican Republic, native, all of it means nothing if not for his Red Sox brethren.
"Without my teammates, I don't think that I would have accomplished any of it," he said. "So, my teammates all mean a lot to me and they know that."
Sign up for Our Esquina's weekly newsletter
As a player, the 7-time Silver Slugger pointed to the sky with both hands while crossing home plate after a home run. He did this to honor his late mother.
When David Ortiz's plaque is installed in the Hall of Fame gallery, it will serve as a reflection of the influence she had on his life. 
Get the Our Esquina Email Newsletter
By submitting your email, you are agreeing to receive additional communications and exclusive content from Our Esquina. You can unsubscribe at any time.