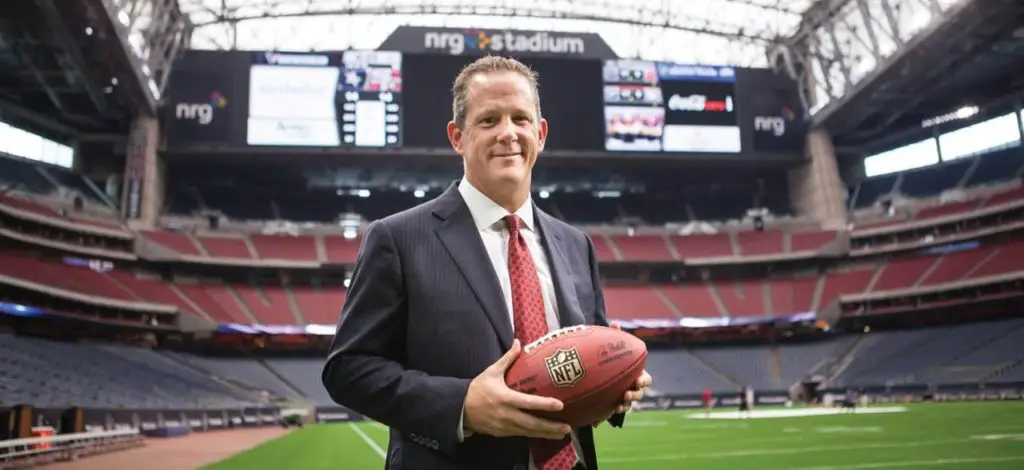 Houston Soccer scene mourns Jamey Rootes
Former Texans president made Houston a World Cup city
Most Houstonians identified Jamey Rootes with the Houston Texans, and rightfully so. He was, after all, the NFL team's president of business operations for 20 years. But the former Clemson University center midfielder was also arguably the Bayou City's greatest soccer advocate.
Rootes, who died by suicide Sunday at 56 years old, set the foundation that helped Houston land a bid to host games during the 2026 World Cup.
With the same leadership he showed as a center midfielder, Rootes led the Houston soccer community for 20 years. He was dreaming and plotting Houston's successful World Cup bid before Major League Soccer even placed the Dynamo here in 2006.
Houston's large soccer community and much of America's soccer mourns Rootes' passing. He was mourned throughout the country, from the offices of Major League Soccer, Houston's 2026 World Cup bid group to individual public relations executives who met him over the years working events at NRG Stadium for Soccer United Marketing.
"Jamey is well known for his amazing contributions to American football," said former Dynamo president Chris Canneti, the president of Houston's 2026 World Cup bid. "But what most people don't know is that he was a pioneer of soccer here in Houston.
"He loved the game and had the vision to bring big matches to Reliant Stadium in the early 2000's. These matches were so successful that it started the positive narrative about Houston as a soccer city. That narrative has led to so many positive outcomes around the game here. It is very safe to say that we would not be the soccer city we are today without Jamey."
Mourning Jamey Rootes
Countless tears were shed Tuesday after Rootes' wife Melissa Wildgen Rootes announced his death. Some noted his attention to detail while taking the time to pronounce their names currently. Others who worked with him with the Texans praised Rootes for his willingness to mentor them.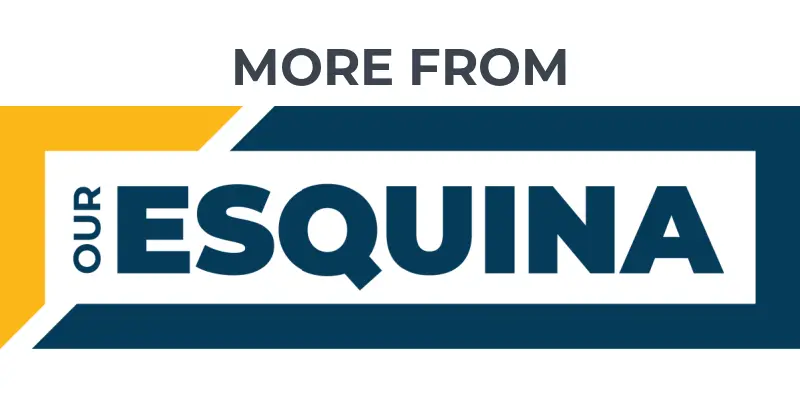 Willson Contreras inspires MLB's top elite prospects
Alberto Puello makes Dominican Republic history
Top Latino prospects for MLB managerial jobs
Jamey Rootes spent 20 years as the Texans' president of business operations from 2001 until he resigned last year. 
"We are heartbroken to learn that former Houston Texans President Jamey Rootes has passed away," Texans owners Janice, Cal and Hannah McNair said in a statement. "For two decades, Jamey led our business operations with an unwavering commitment to Houston and the Houston Texans.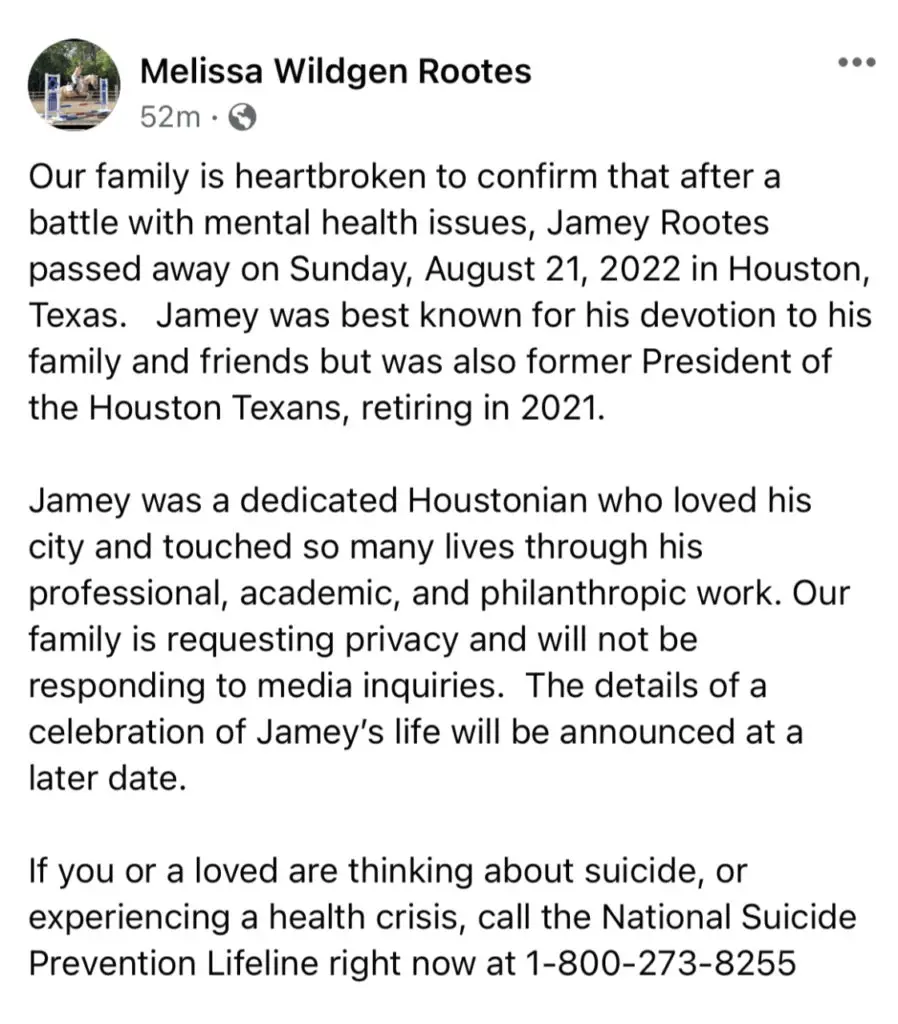 "We are grateful for his steadfast leadership and immeasurable contributions to our team. Our thoughts and heartfelt condolences are with Jamey's wife, Melissa, and their two children during this extremely difficult time."
Rootes' widow Melissa announced his death on her Facebook page. She encouraged people to call the National Suicide Prevention Lifeline number of 1-800-273-8255 if they or loved ones are contemplating suicide.
While at the Texans, Jamey Rootes also led Lone Star Sports and Entertainment, which brought major international soccer matches to Reliant (NRG) Stadium. 
Starting if off with Mexico-United States
He brought the United States and Mexican national teams for a match on May 8, 2003, drawing a raucous crowd of 69,582 to Reliant Stadium.
"When we started with the Mexico-U.S. in 2003, we didn't talk about the World Cup," Rootes told me in 2010. "But I tell you, that was in the back of everybody's minds that if we could show Houston as a major soccer city and Reliant as one of the greatest stadiums in the world, that if a World Cup ever came back we'd be positioning ourselves in the process to take part in that.
Because of Rootes, some of the greatest teams and names in international soccer have played in Houston since 2003. The list is long. It includes Barcelona FC, Manchester United, Club America, Manchester City, Chivas de Guadalajara, all of the top national teams in the region and many top South American and African national teams.
In 2010, Rootes and the Houston Dynamo delivered the most successful All-Star game in Major League Soccer with Javier "Chicharito" Hernandez and Manchester United as the opponents. 
Soccer was one of Rootes' greatest passions. He was a center midfielder at Clemson in the mid 1980s. Then, he spent two years as an assistant coach at NCAA powerhouse Indiana. He also worked for the 1994 World Cup committee.
Soccer roots
Before joining the Texans, he was president and general manager of MLS' Columbus Crew. He resigned from the Texans in February 2021. Rootes was named CEO of Houston Dynamo FC four months later, but he resigned 18 days later.
Because of Rootes, the Texans' stadium was a lock as a venue for key Gold Cup matches. The Gold Cup is the CONCACAF region's top men's tournament. 
"Each event you do earns your right for future events," Rootes told me in 2010. "Consistently we've done them with big crowds, great experiences for the teams when they come in, great experiences for the fans (and) the promoters who are involved with the game. 
"We look at each aspect of that and try to exceed expectations consistently. When you do that you become a trusted venue, a trusted partner. That's why the MLS All-Star Game came here. We set a new high-water mark for an MLS All-Star Game. It's going to be hard to top that in the future."
With that said, Rootes kept trying to top that MLS All-Star Game with more international matches. He and his group often found bigger names and teams in the world of soccer to pack NRG Stadium.
That track record helped Houston land the biggest fish of them all a few months ago. We can thank Jamey Rootes for FIFA granting Houston those 2026 World Cup matches.
"His impact on soccer in Houston and the entire Houston sports community was undeniable," the Dynamo FC said in a statement. "And his passion will endure in the minds of generations of football fans every time we look back on the memorable experiences he helped create and all the great things he did for Houston.
"We join his family and loved ones in mourning him and hope that our love provides them some small measure of comfort."
Get the Our Esquina Email Newsletter
By submitting your email, you are agreeing to receive additional communications and exclusive content from Our Esquina. You can unsubscribe at any time.