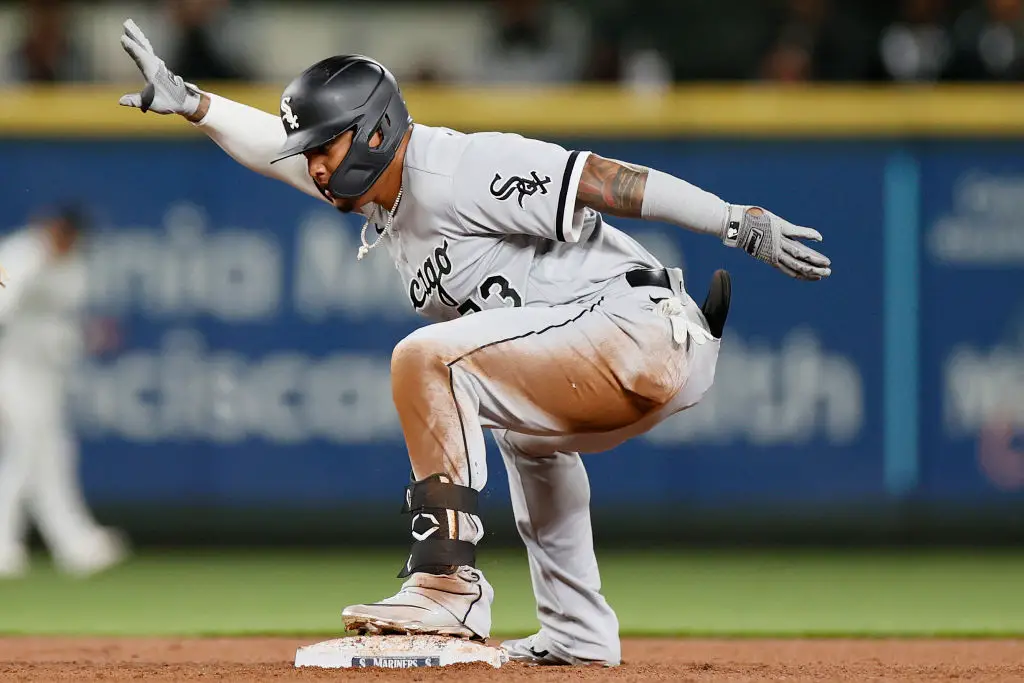 White Sox Yermin Mercedes Takes Blessing
Yermin Mercedes makes up for lost time with White Sox
Yermin Mercedes' season began with a ritual familiar to many Latin American immigrants. The first American League Player of the Week this year called his father in the Dominican Republic. He capped the call in familiar fashion, receiving a blessing. 
Yermin Mercedes Sr. speaks to his son before each game. The chat is usually via phone, although the elder Mercedes plans to be in Chicago on Thursday for the White Sox's home opener. From Santo Domingo, the elder Mercedes encouraged his son in the same fashion he has since the White Sox rookie signed with the Washington Nationals a decade ago. 
"Before each game we talk and I give him the blessing," the elder Yermin Mercedes Sr. said in a Zoom call this weekend with White Sox reporters. "And I wish him luck and tell him to work hard."
In the name of the Father, the Son and the Holy Ghost.
It's the same blessing Puerto Rican legend Roberto Clemente mentioned when he uttered the first Spanish words live via satellite in American television history after winning the 1971 World Series. 
On that night in 1971, Clemente responded to Pirates broadcaster Bob Prince's question in English by saying he first wanted to say a few words in Spanish for his parents. He declared it the greatest day of his life. Then he said, "For my children, I offer my blessing. And for my parents, I ask for their blessing from Puerto Rico."
Yermin Mercedes receives blessing
The stage wasn't nearly as big Friday night at Angel Stadium of Anaheim. But the blessing is for small and big events, for everyday life in the Dominican and throughout Latin America.
That's not to say Friday wasn't big for Mercedes. It was huge, considering the 5-foot-11, 245-pound catcher-designated hitter's circuitous route to the majors. He signed with the Nationals as an amateur free agent in 2011 at 18.
Mercedes played the next three seasons in the Dominican Summer League. Then he was let go. He split 2014 with three teams in two independent leagues, playing in forgotten outposts in Pecos, Texas, Douglas, Ariz., and White Sands, N.M.
He got another chance with a big league affiliate in 2015 in the Orioles' farm system. Then he crawled toward the majors slowly. He never got more than 12 games above Class AA with the Orioles. The White Sox picked him in the Rule 5 Draft after the 2017 season. He crawled some more before making his big league debut as a pinch-hitter with the White Sox last Aug. 2.
Daily chats
"Day by day, day by day," the elder Mercedes says of their talks. "As a father I was untiring in always motivating him. With my experience I think he has a lot of tools that he has yet to develop. We believe in God, and as we say, all in God's time. 
"I know that if they give him a chance, as they gave him this year, he'll explode, God willing. There were very difficult moments in his career. We never quit. We always pushed him so he wouldn't lose hope to achieve his goal."
Yermin Mercedes made up for the lost time in his first major-league start Friday against the Angels. He had a performance that would have made the late Cuban White Sox star Minnie Miñoso proud.
Plátano Power
While his family watched in Santo Domingo, they feasted on Mangú, the Dominican delicacy made of plantains. If you ever wonder why Dominicans mention Plátano Power, it's because of their famous Mangú. 
Then they were treated to a historic performance by the younger Mercedes. He got one hit. Then another. And another. He got another in the next at-bat, and then one more.
Five-for-five. Mercedes became the first player in modern history to go 5-for-5 in his first career start. He and Cecil Travis (1933) are the only players to collect five hits in their first starts.
Mercedes added three more hits in his first three at-bats the next night to become the first player since 1900 to start the season with eight consecutive hits. 
He crushed his first big league home run Saturday and finished the week with a .643 average (9-for-14), two doubles, a homer and six RBIs in three games with a 1.000 slugging percentage.
"I never imagined that," Mercedes said on a Zoom conference Saturday night. "It's great for me to get eight hits in a row."
Back in the Dominican, the elder Mercedes and the rest of the family rejoiced. They had a raucous celebration each time he got a hit.
"With each at-bat, it was like the building was going to fall," the elder Mercedes said. "At-bat after at-bat we had a lot of joy, tears, very excited."
What a blessing.
Photo by Steph Chambers/Getty Images
Get the Our Esquina Email Newsletter
By submitting your email, you are agreeing to receive additional communications and exclusive content from Our Esquina. You can unsubscribe at any time.