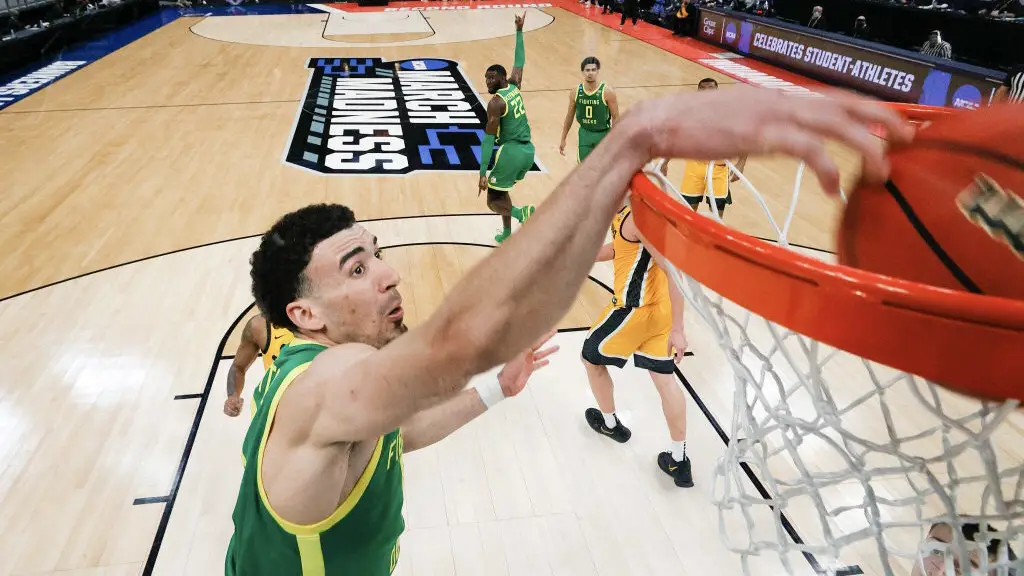 Oregon's Chris Duarte Brings Plátano Power to March Madness
Oregon All-American Chris Duarte is the latest native of the Dominican Republic to star in the NCAA Tournament.
Plátano Power is renowned, showcased to the world via superstar baseball players from the Dominican Republic. They are household names, icons, legends, transcendent figures. Oregon shooting guard Chris Duarte grew up hearing about all of them as a kid in Puerto Plata.
Plátano Power has been everywhere in the major leagues for decades, since Felipe Alou became the first Dominican to leave the island straight to professional baseball. It carried all the way from Juan Marichal, Pedro Martinez, Vladimir Guerrero and now Juan Soto.
It was a thing long before Fernando Rodney brought out a plantain during the 2013 World Baseball Classic. Peloteros aren't the only ones putting a spotlight on the Dominican flag on the biggest sports stage. There's legit Plátano Power in the NCAA Men's Basketball Tournament.
Learn about Oregon's Duarte if you don't know him already.
Chris Duarte is special.
The 6-foot-6, 190-pound All-American guard has led the Ducks to the Sweet 16. He has been one of the best players in the NCAA tournament. Duarte is truly special.
With a performance that would have made Felipe Lopez proud, Duarte scored a team-high 23 points with a career-high tying seven assists to help Oregon dominate second-seeded Iowa in the second round of the NCAA Tournament. 
NetScouts Basketball recently named him the International Player of the Year. The junior college transfer is averaging 17 points with a .533 shooting percentage during his senior year. 
Chris Duarte has complete game
Duarte was also the Associated Press' Pac 12 Player of the Year while being named to five different All-America squads. 
He's more than just a shooter, as he showed while dishing seven assists against Iowa.
"Well, I'm just trusting my teammates, and they're trusting me on making good plays for them." he said after beating Iowa. "You know, being out there, I know they're going to get on me and they're going to help, so I just find my teammates wide open. 
"They did a good job by shooting the ball well."
The same can be said for Duarte, who will almost certainly be the next Dominican in the National Basketball Association.
According to basketball.realgm.com there have been only nine Dominicans in the NBA, including players born in the United States with at least one parent from the Dominican Republic. 
Of that group, only two are still in the NBA. Karl-Anthony Towns, whose father is African American and mother is from the Dominican Republic, is with the Minnesota Timberwolves. He has represented the Dominican in international competitions. 
NBA likely in Chris Duarte's future
Al Horford of the Oklahoma City Thunder is from Duarte's hometown of Puerto Plata.
Towns was the first overall pick in the 2015 NBA draft, and Horford was taken third overall in the 2007 draft by the Atlanta Hawks. 
Duarte will try to push Oregon past fellow Pac 12 foe USC on Sunday to earn a spot in the Elite 8. He has another chance to join the likes of former UCONN big man Charlie Villanueva, Towns of Kentucky and Lopez of St. John's to leave special memories in college basketball.
Plátano Power is real, and Duarte has reminded us that it's not limited to baseball.
Photo by Sarah Stier/Getty Images
Get the Our Esquina Email Newsletter
By submitting your email, you are agreeing to receive additional communications and exclusive content from Our Esquina. You can unsubscribe at any time.