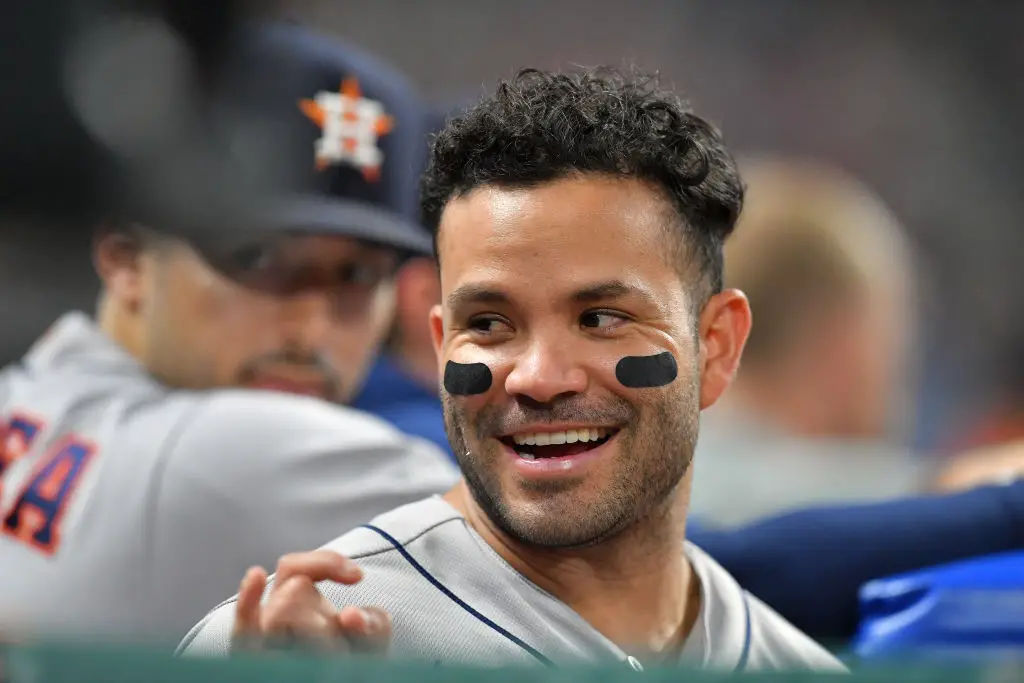 Jose Altuve leads Astros quartet to All-Star Game
Jose Altuve ties Craig Biggio for most All-Star berths in team history
For better or worse, Jose Altuve has become the face of Astros baseball. On the positive side, his teammates rally around him. Where the 2017 American League MVP goes, the Astros follow.
It's his clubhouse now, just as the clubhouse belonged to Hall of Famers Jeff Bagwell and Craig Biggio in the '90s and early 2000s. On the negative side, the Little Giant is the one opposing fan bases have targeted most with their venom since the cheating scandal broke.
Altuve has worn the scorn without ever pointing fingers. He never made excuses as he stumbled through the most difficult season of his career last year in the aftermath of the cheating scandal. Now, he's an All-Star for the seventh time in his career, tying Biggio for the most All-Star berths in franchise history. 
"He's a generational talent," Carlos Correa, who earned his second All-Star berth, said of Altuve. "He's the face of this franchise."
Altuve, Correa, outfielder Michael Brantley and reliever Ryan Pressly were named to the American League All-Star team. The Boston Red Sox, who had five players selected, were the only team with more All-Stars than the Astros. 
Jose Altuve's dreams
"I feel like as a kid (dreaming) about being in the big leagues, going to the All-Star Games," Altuve said. "But now I'm … actually coming here and making those dreams come true.  I feel happy. I'm really happy."
Altuve earned his first All-Star berth in 2012 when the Astros were still in the National League. He was picked to his second Midsummer Classic and first with the American League in 2014, beginning a streak of five straight All-Star selections.
Altuve wasn't picked for the 2019 Midsummer Classic, and there wasn't an All-Star Game last year during the pandemic-shortened, 60-game season. This year's game was moved to Denver's Coors Field after MLB moved the game from Atlanta.
The last two years could not have been easy for Altuve. He's been serenaded with "(expletive) Altuve chants at Yankee Stadium and other stadiums. Never mind that Correa and other Astros teammates have been adamant that Altuve didn't participate in the sign-stealing scandal.
Whatever the case, Jose Altuve has not whined publicly or pointed fingers. He's been a team leader.
Jose Altuve the Little Giant, big brother
"He's a special player that we all look up to," Correa said of Altuve. "It's an unbelievable story. I'm very proud of him and I'm glad I get to call him my brother."
Japanese slugger Shohei Ohtani made history by becoming the first All-Star picked as a position player and pitcher. Vladimir Guerrero Jr.'s Toronto Blue Jays, and Fernando Tatis Jr.'s San Diego Padres also had four players selected for the All-Star Game.
First baseman Yuli Gurriel was snubbed, but Correa is holding out hope that the Cuban veteran can eventually replace somebody when the All-Star Game is held on July 13 at Coors Field.
"Yuli deserves to be an All-Star," Correa said.
International flavor to Midsummer Classic
Twenty two of the players on the All-Star rosters were born outside of the contiguous United States, representing nine countries and territories.
Outside of the United States, the Dominican Republic leads the way with seven All-Stars. Altuve is one of five Venezuelans. Three natives of Japan and two Cubans were named to the All-Star Game. Aruba, Australia, Canada, Curaçao and Puerto Rico each have one.
The Canadian is actually the Blue Jays' Vladimir Guerrero Jr., who was born in Montreal while his Hall of Fame namesake played for the Expos. Guerrero was raised in his father's Dominican Republic. 
Guerrero put on a show at the 2019 All-Star Game's Home Run Derby in Cleveland, finishing second. But he wasn't picked to play in that game. This is his first All-Star nod. At 22, he's also the youngest player on the All-Star rosters this year. 
Correa's lone Boricua
In a surprising development, Correa was the only Puerto Rican picked for the All-Star Game. The 2015 AL Rookie of the Year returns to the Midsummer Classic for the first time since 2017.
He'll carry the Puerto Rican banner after watching Francisco Lindor and Javy Baez go to the previous two All-Star Games without him. 
"I want to thank the people who voted for me through the whole process," Correa said. "Houston, Puerto Rico, everybody who voted for me, thank you so much. It really means everything. … To me, it means a lot to be able to represent Puerto Rico."
Photo by Jason Miller/Getty Images
Get the Our Esquina Email Newsletter
By submitting your email, you are agreeing to receive additional communications and exclusive content from Our Esquina. You can unsubscribe at any time.