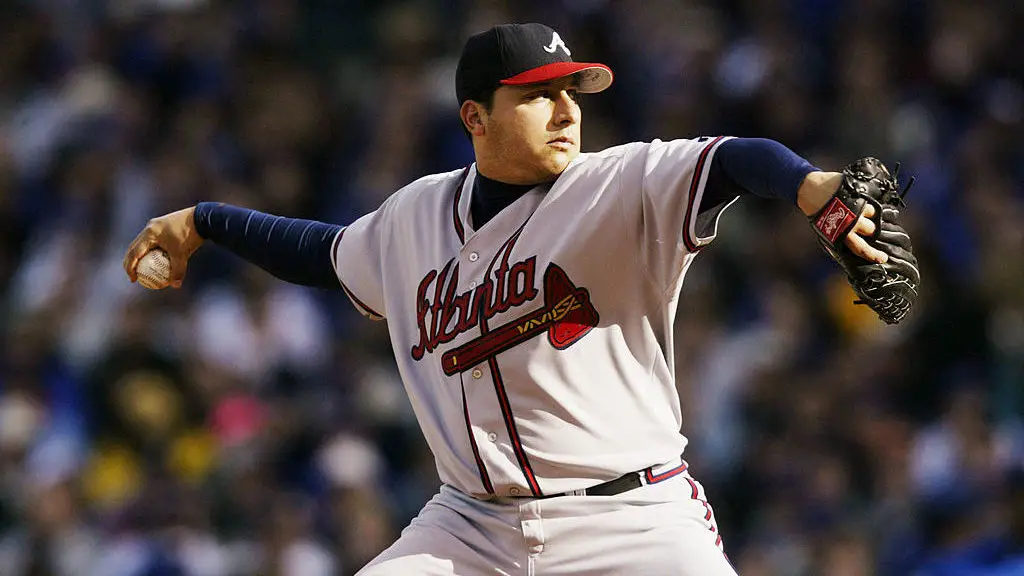 Former All-Star Russ Ortiz disagrees with moving All-Star Game
Former Braves All-Star wishes Rob Manfred had discussed bill with Georgia officials
I am part of the MLB family, and I am very disappointed in commissioner Rob Manfred's decision to move the 2021 All-Star Game and Draft out of Atlanta. There are a couple of main reasons why this fired me up when I read the announcement by the commissioner.
I must mention I do not live in Georgia and I do not have the full pulse of the people of Georgia. I spent two years playing for the Braves there.  My family and I absolutely loved it. The Atlanta  community and fans were great to us. 
When it comes to the Election Integrity Act, I cannot speak from personal experience exactly how it will affect the people of Georgia so I'm not going to try and do that. There are many who oppose it and many who are in favor of it.
I will say from all the time I've spent trying to understand the bill I do not see how this bill is racist or suppresses voters. This may surprise some people, and some I'm sure it won't. 
The first reason I am disappointed in Rob Manfred's decision is I don't believe Manfred was responsible or used wisdom to make his decision. It is very disappointing to know that the MLB commissioner did not seek out a meeting with the Georgia officials who wrote the bill and the governor who signed it.
Due diligence needed before moving All-Star Game
It's disappointing to know he did not do his due diligence to discuss specifically what issues MLB has with this bill and why it's causing him to potentially move the All-Star Game out of Atlanta. And at this time I have not seen another statement voicing the specific problems MLB has with the Election Integrity Act. 
I would think all of us would expect more from the commissioner when making a major decision like this. I realize he said he spoke with former and current players, the Players Association and others. That's all well and good but those folks are not policy makers in the state of Georgia. 
I would think it is his responsibility to go to the source and hash out whatever needs to be hashed out. Then he could make an informed decision from there. The second reason is that Manfred has taken away an event from Atlanta, its surrounding areas and the Atlanta Braves organization, its staff and baseball fans when they had nothing to do with the bill.
Essentially he is penalizing those groups for something they did not have a hand in passing. Here is a statement from the Atlanta Braves showing their disappointment in the decision as well.
Many people have spoken out to oppose this bill. I will say that after reading many statements, listening to many statements and having discussions with people, I just don't see what they see. 
Figuring it out
This new voting bill may feel like a big obstacle for some. I can speak about overcoming obstacles. If any of you listened to the Digging Deep podcast on the Our Esquina podcast network, you know that I grew up without a dad involved. My mom had to support two kids and needed the help from her parents to raise us. 
My brother and I didn't  grow up with much. I have now heard many people talk about how the poor, minority and uneducated communities, – their words, not mine – are the ones who will be affected the most by this new bill. 
To me that is offensive to hear. It's offensive because essentially what people are  saying is that poor minorities are too dumb to figure out how to vote with proper identification and how to know where their polling place is or how to request an absentee or mail-in ballot. 
I cannot tell you how many times recently I've heard or read these statements when they talk about opposing this bill. I can tell you firsthand that when you don't have much you have to figure things out. 
My mom figured it out. My grandparents figured it out, and my brother and I figured it out along with many of our other friends and family. I am a believer in people. I am confident that people can figure this out and do the necessary things to cast their vote. It is disappointing to know there are many people who feel people in the aforementioned communities they are trying to protect don't feel confident they can figure it  out. 
Manfred appears to have caved
I think Rob Manfred caved to pressure he was feeling by some. I believe he was fearful of the potential backlash MLB would face and potential money lost by those who oppose the  bill. 
I believe Manfred's decision came at a time when much misinformation was out there. So I believe he made a rash decision. 
I am disappointed because now this decision by Manfred may be a focal point at least through the first half of the season. Fans may put more focus on this controversy instead of the play on the field. The All-Star Game and Draft were taken away from Atlanta without the opportunity to educate, set a great example of when an issue arises how you deal with it by talking with the people you have issues with and then making an informed wise decision after.
Instead a different way of handling it was made. In the end I'm not sure anyone comes out shining.
Feature photo by Matt Stockman/Getty Images
Get the Our Esquina Email Newsletter
By submitting your email, you are agreeing to receive additional communications and exclusive content from Our Esquina. You can unsubscribe at any time.