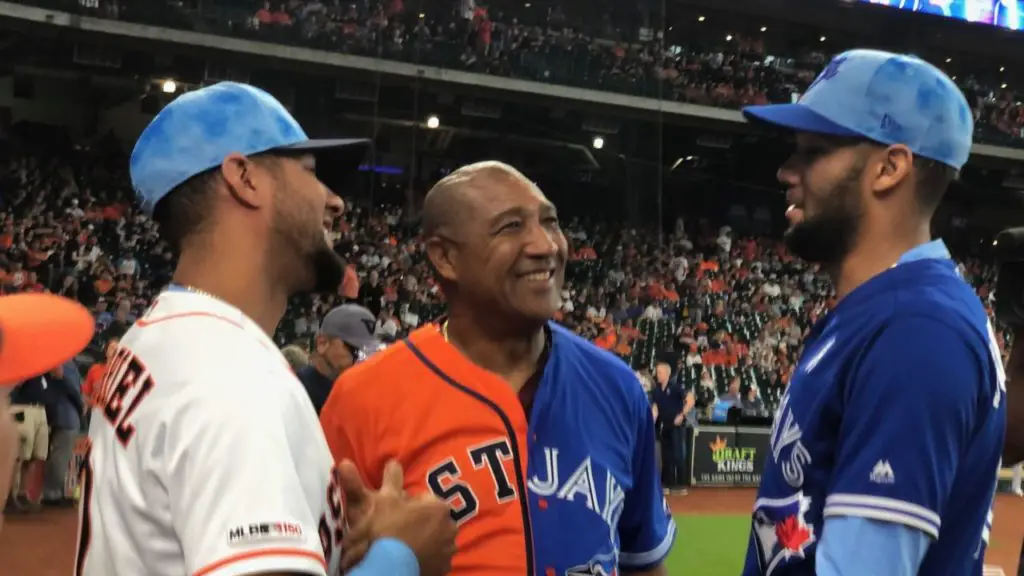 Astros' Yuli Gurriel embraces weight of Gurriel surname
Yuli Gurriel dreams of visiting Cuba again
Yuli Gurriel was only 2 years old when he began traveling with his father to baseball stadiums throughout Cuba. Baseball has been part of the Astros first baseman's life for as long as he can remember. 
If the Gurriels had a coat of arms, it would be in blue, white and red with bats instead of swords and a baseball instead of a star.  Baseball is central to being a Gurriel, especially in Cuba, where Lourdes Sr. remains the gold standard five years after his sons Yuli and Lourdes Jr. defected. 
Yuli and Lourdes Jr. of the Blue Jays know and embrace the standard their father set. Long before the Padres' Fernando Tatis Jr. and the Blue Jays' Vladimir Guerrero Jr. followed their famous fathers to baseball prominence, Yuli Gurriel gave Cuba renewed hope when he made his debut at 17 with Gallos de Sancti Spiritus of the Cuban National Series. 
Yuli Gurriel made his debut in the Cuban National Series in 2001. Twenty years later, Yuli and Lourdes continue to embrace the privilege of building the family's baseball legacy. They appreciate and welcome the opportunity to live up to what it means to wear "Gurriel" on the back of a baseball jersey, whether in Cuba or the U.S. 
Yuli Gurriel honored to carry dad's legacy
"For me it's an honor, because truly my dad for a long time was one of the players who was on the (Cuban) national team the most," the Astros first baseman said. "It's something that's very big in Cuba. I think that he, as an athlete for the national team in Cuba, was one of the main ones. 
"As long as he was there, I think that makes him something special. That's why I feel very happy, very proud to have his last name. Trying to follow his footsteps was one of the best things that have happened in my life."
The elder Gurriel won his first gold medal with the Cuban national team at the 1979 Intercontinental Cup. Lourdes Sr. added a gold medal at the 1992 Barcelona Olympics, where he hit .400. He won six more gold medals at the Baseball World Cup, and more than a dozen gold medals at other international tournaments from 1979 through 1995. 
Yuli, who was born in 1984, grew up watching his father star in international tournaments. 
"We didn't miss any game," Yuli says. "In Cuba, baseball is the national sport. It's passion. Everybody is aware of baseball."
The entire Gurriel family moved to the United States after Yuli and Lourdes Jr. defected. All three of the Gurriel sons live in different parts of the U.S., though.
They all celebrated Father's Day together two years ago when Lourdes' Blue Jays were in Houston to face Yuli's Astros. 
Gurriels have tight bond
"The biggest gift for me is to be together, to be with family," Yuli said. "That's what we've all tried to do and what he's instilled in us. To see him … try to follow us, my brother and I.
"He's well aware of us every day (and then) after a game is over helping us in everything that he can in baseball. To see him healthy, that's the biggest thing. There is nothing greater than having my dad with me and healthy."
Yuli hopes and plans to have his father in Houston this Sunday, but he knows it might be difficult.
"That's what we're trying to accomplish," he says. "We know there are three sons, and all three of us are at different places. You can't live in all three. But well, I wish he could be here with me. We'll see."
Gurriel signed a five-year, $47.5 million contract with the Astros soon after he defected. He signed a $6.5 million extension last September for 2021 with an $8 million option for 2022.
His father was one of Cuba's most loyal superstars, and Yuli was one of the last true Cuban superstars to defect. He waited so long, some wondered what he had left when he left as a 32-year-old veteran.
He has lived up to his contract. He even earned a World Series title in what essentially was his first full season in the majors in 2017. He had to defect to find the title that had eluded him in the Cuban National Series.
Finding title in the majors
Yuli reached the playoffs in 14 of his 15 seasons in the Cuban National Series without ever winning a title. He played for his father during the one season he actually reached the championship series, so it was rather poetic for them to find a title among the many things they couldn't get in Cuba during his career.
"That was an unforgettable experience," Gurriel says of the Astros' 2017 World Series title. "I think he was happier than I was, and I was very happy. Truly, it was incredible. …
"So to come here to the best baseball in the world and practically in my first full year and to be able to win after so many players with so much quality who have been stars and Hall of Famers and some hadn't been able to win it, to me that was something that was super good. Truly I feel blessed for that." 
Longing for home
Although Fidel Castro died in November 2016, the relationship between the U.S. and Cuba remains cold. Ultimately, though, Gurriel would like to at least visit his beloved island again.
The Gurriels understood the risks and the sacrifices they were making. They left the place where their surname is synonymous with baseball and, in many ways, loyalty to Cuba. That all changed in February 2016.
Yuli dreams of returning to Cuba one day. He longs to see the friends and relatives he and his wife left behind. 
"That's my great hope," he said. "I've gone a long time without seeing many of my relatives, many of my friends. Now I've gone five years without being able to return to my country. 
"Because of a penalty I have in Cuba, I have three more years. It's a bit sad, but I think nothing is impossible. I think in three years perhaps I can return and I'll be very happy to see my family and my friends."
On Father's Day and every day, though, Yuli and Lourdes Jr. know their father is only a call or a short flight or drive away. Baseball will surely be part of the discussion, just as it has been since Yuli was two years old traveling with his father throughout the Cuban National Series.
Get the Our Esquina Email Newsletter
By submitting your email, you are agreeing to receive additional communications and exclusive content from Our Esquina. You can unsubscribe at any time.