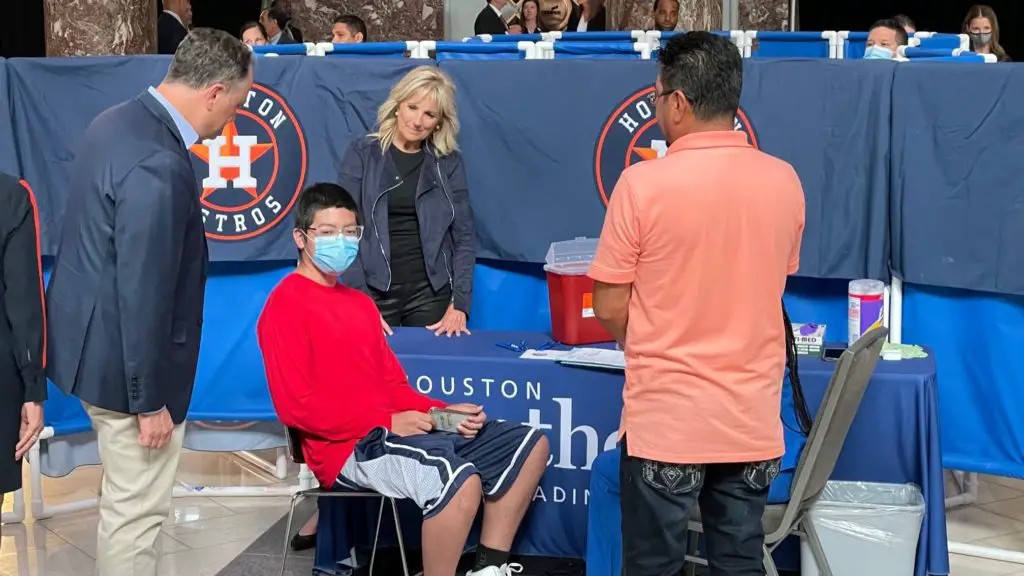 First Lady Jill Biden surprises young Astros fan at COVID vaccine site
Jill Biden urges Texans to get COVID vaccine
Jose Cobos grew nervous when First Lady Jill Biden approached him as he prepared to take his second COVID vaccine shot. He smiled politely as his proud grandfather Javier Perez stood nearby at the Astros' free vaccination site at Minute Maid Park.
When the First Lady asked Cobos why he was there, the Southwest Schools freshman didn't lie Tuesday night.
"For my health," he said, "and for the Astros tickets."
Dr. Biden and Second Gentleman Douglas Emhoff visited Minute Maid Park a few minutes before the Astros played the Orioles. They visited the Astros' free COVID vaccine clinic, where the club offered two free tickets to every person willing to receive the vaccine.
Harris County Judge Lina Hidalgo and congresswomen Sheila Jackson Lee and Sylvia Garcia helped Mayor Sylvester Turner greet Biden and Emhoff at Hobby Airport before they went to Minute Maid Park.
Cobos honored to meet Jill Biden
"It was an honor," Cobos, 15, said. "I wasn't expecting to see (Biden) here. I was nervous."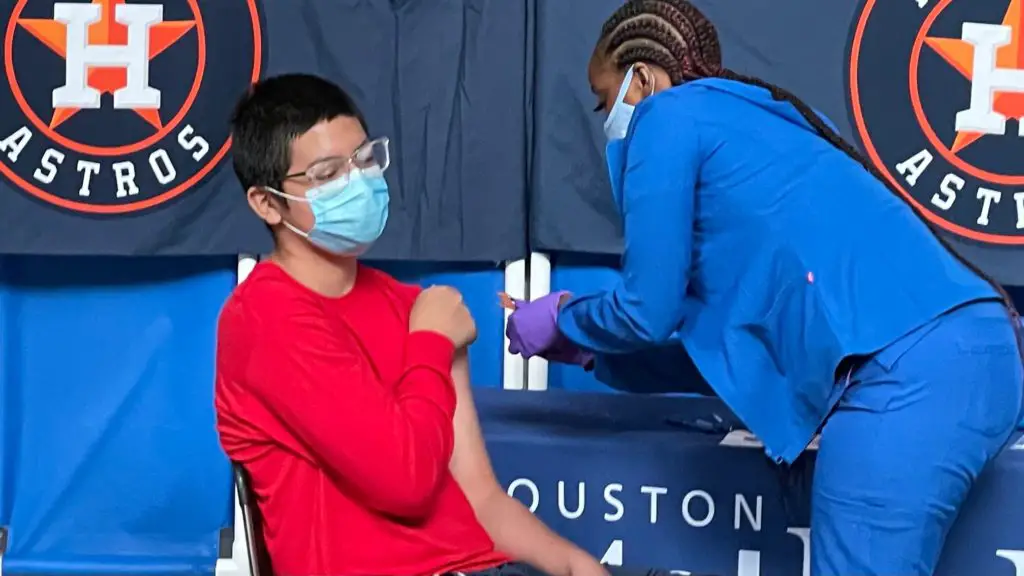 Cobos was at the clinic with his grandfather, an immigrant from Reynosa, Tamaulipas, Mexico. 
Dr. Biden approached Cobos and introduced herself. She then asked him his name and asked if he was OK.
Perez, a diehard Astros fan, stood a few feet away listening as his grandson addressed Biden and Emhoff.
"I'm so proud," Perez said. "Just imagine. This was a great joy, a great joy."
The Astros have held three vaccination clinics offering free tickets. Each one has drawn at least 500 people. 
"It's safe. It's effective. It's free," Biden said. "So please, if you're listening, this is Doug Emhoff. I'm Jill Biden, and we want to encourage everybody here in Texas to go and get the vaccine."
Cowboys legend Emmitt Smith greets Jill Biden in Dallas
Before arriving in Houston, Biden and Emhoff visited with Dallas Cowboys great Emmitt Smith at the Emmett J. Conrad high school in Dallas.
"If you take care of yourself this way you take care of others," Smith told teenager Chase Walters at that vaccine site. 
At Biden's urging, Smith stood by Walters as he nervously prepared to get his shot. 
"Don't look," Biden told Walters as he prepared to get his shot. Then Smith said, "Look at me."
Smith then addressed people at the observation area at Conrad high.
"In the sports sense we're in the fourth quarter, and the game isn't finished," the football Hall of Famer said.
"We're going to get a touchdown," Biden added. 
A beer and baseball
From there they headed to the airport for their 45-minute flight to Houston. Jill Biden greeted and briefly thanked people in line at the Union Station portion of Minute Maid Park before visiting with Cobos.
She and Emhoff also visited people at the observation area after their shots. From there, they went to watch the Astros' game against the Baltimore Orioles.
Biden and Emhoff shook hands with fans before taking their seats in the second deck along the first base line. They sat with members of the military and frontline workers. The crowd at Minute Maid Park gave them a positive reception after they were introduced on the jumbotron during the bottom of the second inning.
Jill Biden and Doug Emhoff could be seen drinking beer, which the pool report identified as Crawford Bock beer. 
"The numbers are low here," Biden said of COVID vaccinations. "I think 40 percent of all Texans are vaccinated. The President, the Vice President, Doug and I care about the American people, about their health. So that's why we're here. That's why Doug's here."
Get the Our Esquina Email Newsletter
By submitting your email, you are agreeing to receive additional communications and exclusive content from Our Esquina. You can unsubscribe at any time.