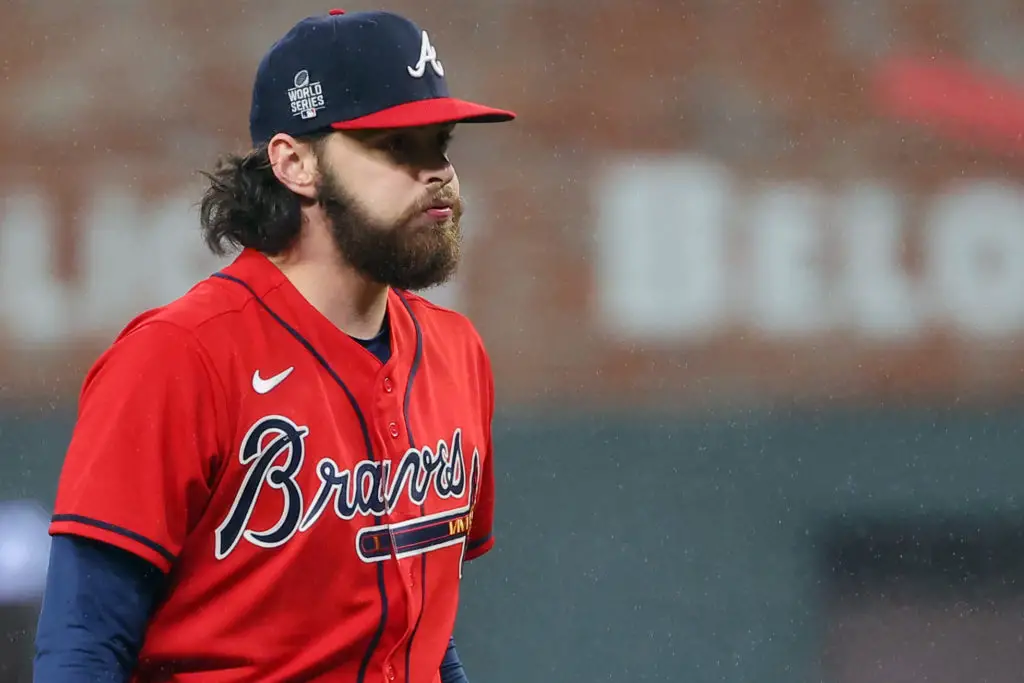 Ian Anderson flirts with no-hitter, settles for win
Braves manager Brian Snitker pulls Ian Anderson after five no-hit innings
ATLANTA – Ian Anderson knew he was done as soon as Braves manager Brian Snitker walked over to shake his hand Friday night. At that point, the hottest offense in the universe was hitless in Game 3 of the World Series.
The Astros' scoring line on the Truist Park scoreboard included three zeroes – 0 runs, 0 hits, 0 errors. Only the Yankees' Don Larsen had taken a no-hitter that far in a World Series game, and he carried it all the way through on Oct. 8, 1956, against the Brooklyn Dodgers.
"That's it," Snitker told Anderson. "Heck of a job."
Then, they shook hands, as Snitker always does with his pitchers after pulling them, whether they performed well or poorly.
More World Series
Confessions of a Yankees fan pulling for the Astros
– Astros Jose Urquidy gets special call before Game 2
– Lovable Dusty Baker guides Astros to World Series
-Andrew Dunn-Bauman amplifies Astros' Latino voices
Anderson always looks for the Snitker's handshake when he's nearing the end. That's the sign your night is done. But this was not just any game. It was Game 3 of the World Series, the first Fall Classic Game in Atlanta since the Braves lost to the Yankees in 1999 at Turner Stadium.
Ian Anderson chased history
It has been 65 years since the Yankees' Larsen threw a perfect game in Game 5 of the 1956 World Series against the Brooklyn Dodgers. Yogi Berra caught that game.
Lots has changed since then. For one, the Dodgers are in Los Angeles, where the Braves beat them in the National League Championship Series to reach this Fall Classic.
In those days, a manager wouldn't have dared to pull a starter with a no-hitter. Heck, Hall of Fame manager Bobby Cox might not have pulled a starter with a no-hitter when he managed the Braves in the 1999 World Series. 
Anderson, after all, had thrown only 76 pitches at that point, 39 for strikes. 
"Yeah, you feel a little bit of 'I have more to give,'" Anderson said, "but it's something that you understand and move forward."
Snitker had no regrets afterward.
"You look up there, and he was making pitches when he had to," Snitker said. "That's what I said earlier today. The kid never stops pitching. He never stops trying to make pitches.
"I don't know. It could have backfired, I guess. I just thought at that point in time, in a game of this magnitude and all, that he had done his job. And we had a bullpen that all the guys we use had two days off, and they were only going to pitch an inning apiece, and that made them available for the next two games after if it went south."
The game never went south on the Braves. They held on for a 2-0 victory to take a 2-1 lead in the best-of-seven World Series.
First Astros hit falls in front of Eddie Rosario
Aledmys Diaz led off the top of the eighth with a pinch hit, bloop single to left field. The ball fell a few feet in front of left fielder Eddie Rosario, who pulled up late as shortstop Dansby Swanson tracked back near him.
"I started charging it hard right away, and I noticed Dansby was charging hard as well, and he had his back to the ball," Rosario said. "Obviously, we're both trying to make a play on the ball. When I knew I had a beat on it, I was trying to say, 'I got it, I got it.'
"Obviously, I knew Dansby couldn't hear me, so at the last minute, knowing we couldn't communicate, I wanted to make sure I avoided any collision between the two of us. So I just kind of eased up on it right there."
Rosario and Snitker might have had more to answer for if Diaz's hit had been the Astros' only one in Game 3. But Alex Bregman added another one in the top of the ninth. That was not nearly enough for the Astros to avoid the defeat.
"He was commanding his pitches," Bregman said of Anderson. "I mean, give him all the credit. He pitched his tail off tonight, and we didn't really get anything going offensively.
"But I have a lot of confidence in this team moving forward, and we've just got to string a few more at-bats together."
Photo by Kevin C. Cox/Getty Images.
Get the Our Esquina Email Newsletter
By submitting your email, you are agreeing to receive additional communications and exclusive content from Our Esquina. You can unsubscribe at any time.