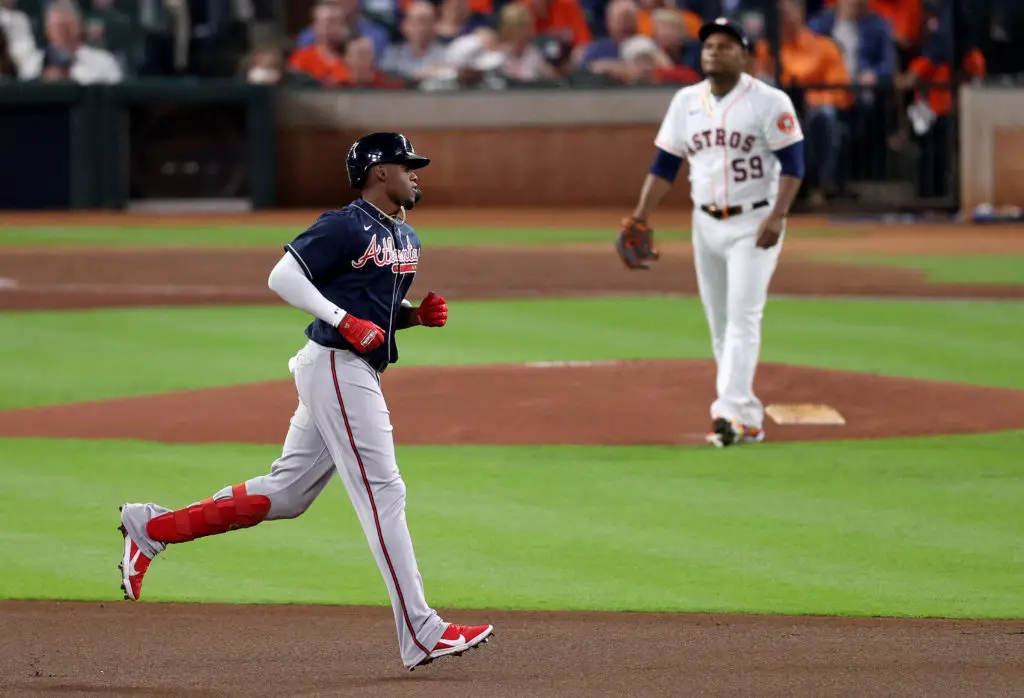 Jorge Soler drills historic leadoff shot for Braves
Cuban slugger Jorge Soler leads off World Series with homer
HOUSTON – Jorge Soler had led off a game only once in his career before this season. That was back on May 2, 2015 when he was still with the Cubs in his second season in the majors. The 6-foot-4, 235-pound Cuban isn't your prototypical leadoff hitter, after all.
Soler's not going to remind anybody of the speedy Rickey Henderson, the Hall of Famer who hit an MLB record 81 leadoff homers in his career. He also won't remind you of Houston Astros icon Craig Biggio, the National League's all-time leader in leadoff home runs.
Yet a few minutes after Biggio threw out the ceremonial first pitch Tuesday night before Game 1 of the World Series, Soler made history of his own. He jumped on Framber Valdez's 2-0 sinker and lined it over Minute Maid Park's left field wall to set the tone in the Atlanta Braves' 6-2 victory.
More World Series
-2021 World Series: Braves, Astros positional breakdown
– Lovable Dusty Baker guides Astros to World Series
-Andrew Dunn-Bauman amplifies Astros' Latino voices
Cuban Stars Make Major Impact in MLB Postseason
Soler became the first player in history to lead off a World Series game with a home run. The previous four leadoff homers in World Series history were hit in the bottom of the first. 
"The energy was amazing and electric," Soler said, "especially after we took a 1-0 lead after that home run."
Jorge Soler trade pays off
The Braves acquired Jorge Soler from the Royals on July 30. He wasn't put in the Braves' leadoff position until September. He hit first in his final 11 games of the season. 
His first career leadoff home run helped the Braves clinch the NL East title on Sept. 30 against the Phillies. Three days later, he returned to the lineup and led off with a blast off Mets ace Noah Syndergaard.
Those were the only two leadoff homers to Soler's credit until Game 1 of the best-of-seven Fall Classic.
"Yeah, Soler attacked me in that situation because I got behind in the count," Valdez said. "And that's what good hitters do, is they take advantage of that kind of situation to attack a pitcher."
Small company
Soler joins Chris Taylor of the 2017 Dodgers, Alcides Escobar of the 2015 Royals, Dustin Pedroia of the 2007 Red Sox and Don Buford of the 1969 Orioles as the only players to hit leadoff homers in the World Series. 
Valdez's problems in Game 1 mimicked his struggles in his first start of the ALCS. Valdez threw a brilliant eight innings in Game 5 of the ALCS to help the Astros gain control of that series.
The Astros' Dominican right hander entered the World Series with plenty of confidence. Soler changed the momentum immediately, though. 
"It's a shocker when you come off a great outing like he just did," Astros manager Dusty Baker said. "Then the first batter hits it out of the ballpark. So it was kind of a negative from the very beginning."
Not for Jorge Soler, of course.
Featured photo by Patrick Smith/Getty Images
Get the Our Esquina Email Newsletter
By submitting your email, you are agreeing to receive additional communications and exclusive content from Our Esquina. You can unsubscribe at any time.