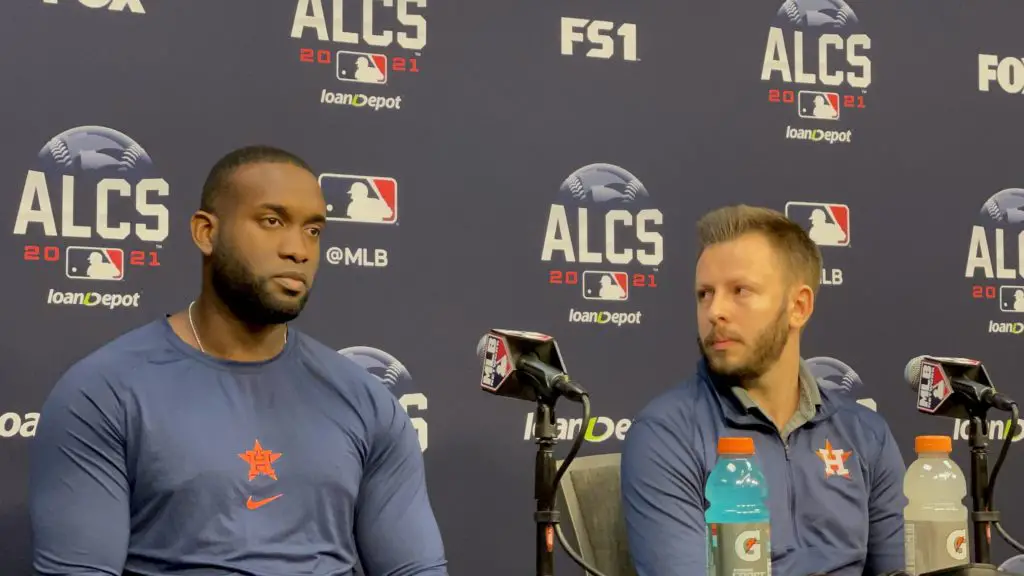 Andrew Dunn-Bauman amplifies Astros' Latino voices
Translator Andrew Dunn-Bauman plays crucial roles for Astros
HOUSTON – Andrew Dunn-Bauman was interning in 2016 when he first gained an appreciation for the skill that has put him in front of the cameras this postseason. The Astros' translator began his mornings by driving the team van that shuttled Latin American prospects to the Tampa Bay Rays' training complex.
At the time, the white guy who now has a Mexican accent and a Mexican-like full beard and mustache didn't understand much Spanish. Most of the Rays' Gulf Coast League players didn't understand English. 
The majority of those players were in their first seasons in the United States. Most didn't know the language, culture, nor the food. It was the type of isolation and apprehension that once drove Hall of Famer Mariano Rivera to tears in Class A. 
"We had absolutely no way of communicating. …  I just saw a big disconnect between the two and thought that would be an opportunity to maybe be able to help out on the operations side," Andrew Dunn-Bauman said. 
Dunn-Bauman didn't just empathize with those prospects. He committed to helping them, to filling a void. He moved to Queretaro, Mexico, after that Rays internship. The Milwaukee native stayed with family friends for five months. He completely immersed himself in the Spanish language and Mexican culture.
Mexican foundation
He built a foundation over those five months in Queretaro. His Spanish has steadily improved over time. If you listen closely, you can tell that his Spanish accent most resembles a Mexican one. It sounds like a Venezuelan dialect at times too.
He can keep up with the rapid fire cadence of Dominican lefthander Framber Valdez, the Cuban dialect of Yuli Gurriel, Yordan Alvarez or Aledmys Diaz, and the sing-song Mexican cadence of Jose Urquidy. 
More ALCS Coverage
'Amazing' Framber Valdez delivers
Houston Astros rookie Jose Siri in playoff flow
Russ Ortiz: 'I always knew Dusty was in my corner'
The players trust him. Some use him as somewhat of a safety blanket even though they understand and speak English well, as Diaz, Urquidy and Gurriel do. 
"My brother here is very important," Jose Siri said as he put an arm around Andrew Dunn-Bauman recently. "He's my brother, my soul. I met him for the first time and I knew he was a good person. I'm very grateful for his help."
The Astros got their money's worth out of Andrew Dunn-Bauman after Game 5 of the ALCS on Wednesday night. He interpreted for Valdez, Alvarez and Gurriel after the 9-1 victory. He also helped Siri before the win.
Dunn-Bauman, the son of retired MLB.com columnist Michael Bauman, actually handles several duties for the Astros. Translating is just one of the former Merrill Lynch financial adviser's tasks.  His official title is coordinator of baseball operations and bilingual media.
Andrew Dunn-Bauman followed father's path
Andrew Dunn-Bauman, 29, developed his love of baseball following his father's stellar career, which began at the Milwaukee Journal-Sentinel and ended as one of MLB.com's top national baseball columnists.
After graduating from the University of Wisconsin-Milwaukee, he was a media relations intern with the Milwaukee Brewers from June 2015 through March 20, 2016. He then became the Rays' affiliate scouting intern during the 2016 Gulf Coast League season.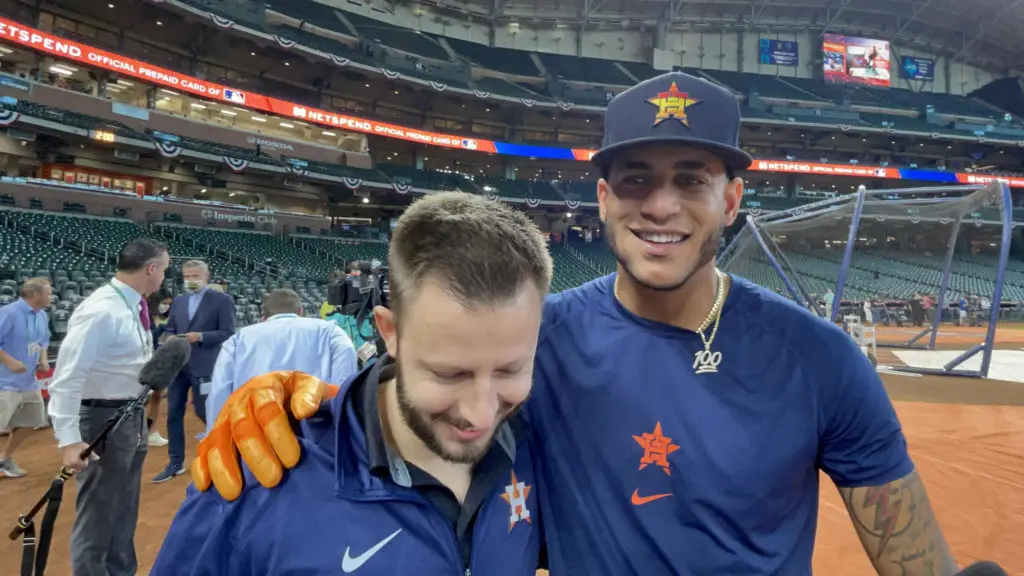 Andrew Dunn-Bauman then spent the offseason between the 2016 and 2017 seasons in Queretaro learning Spanish. 
Only one member of the family that housed him in Mexico spoke English.
"So it was an opportunity for me to just every day be kind of communicating with all the people in the family," he says. "They kind of helped me along to sort of push me to expose myself to more Spanish. Then just being out in the streets and getting to know people just forcing myself to learn was the best way."
Andrew Dunn-Bauman returned to baseball with the Los Angeles Angels organization in player development and video at Salt Lake in 2017. He spent the next season with the Marlins' Class AAA affiliate as the video manager.
From there he went to the University of Washington as a research assistant for three months in 2019 before joining Merrill Lynch. All those jobs prepared him for his role as a key part of the baseball operations staff.
Long day for Andrew Dunn-Bauman
On the days when the Astros' game starts around 7 p.m., he arrives at the ballpark around noon. His first order of business is finding out who is playing for both teams. He secures the opposing lineup and then puts together paperwork with crucial analytics and scouting information for manager Dusty Baker's coaching staff.
Then during the regular season, he is usually focusing on information about the upcoming opponent. 
"I'm focused most of my time on preparing defensive reports, stuff on opposing pitchers for the next opponent we're playing," he said. "Then there's also the translation. I kind of get pulled away from whatever I'm doing at that moment to help out with the player wherever they need translation, whether that would be with a coach or with the media."
Once the first pitch is thrown, the video skills on his resume come in handy. He runs the Astros' replay room. If there's a close play that goes against the Astros, Dunn-Bauman is the guy bench coach Joe Espada calls to ask if they should challenge the umpire's call. 
"A lot of different roles," Dunn-Bauman says, "so it definitely keeps things interesting and exciting to be doing so many different things."
Baker, pitching coach Brent Strom and obviously Espada are fluent in Spanish. Therefore, the Astros don't need Dunn-Bauman to translate during the game. 
Crucial role in Astros' media relations
But his Spanish skills have become a crucial part of the Astros' media relations department. 
"Andrew has been a great partner for the organization," said Anita Sehgal, the Astros' senior vice president of marketing and communication. "He's earned the trust of both the players and the communications team. His work ethic and his willingness to help bridge our players with the media is invaluable." 
Andrew Dunn-Bauman is the voice for some of the Astros' biggest stars.
In that role, he helps the organization's players tell their stories. His impact is much bigger than that, however. He also helps the organization with his crucial work behind the scene, whether putting reports together or reviewing replays on a second's notice.
"I know, having been on the other side of things, how difficult it could be to be out of your comfort zone in a new country," he said. "Just to be able to lend that kind of support and a little bit of a safety blanket for players is huge for me.
"I also do a lot of different roles on the baseball operations side. Just seeing what comes to fruition with some of the work I put in on the advance side has also been very rewarding."
Get the Our Esquina Email Newsletter
By submitting your email, you are agreeing to receive additional communications and exclusive content from Our Esquina. You can unsubscribe at any time.