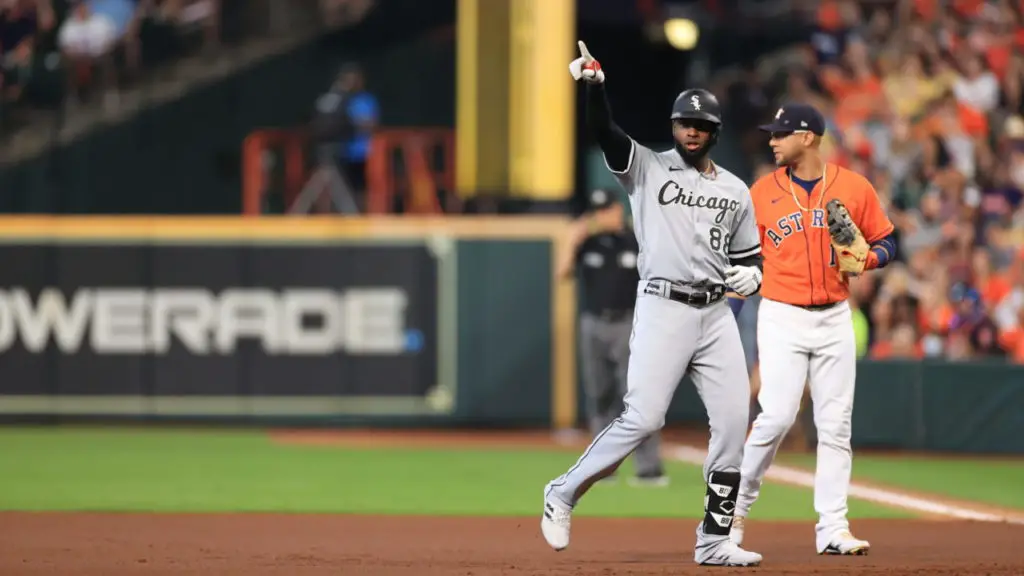 Cuban Stars Make Major Impact in MLB Postseason
Cuban stars bond through shared sacrifices, inability to return home
HOUSTON – As Cuban baseball legend Lourdes Gurriel Sr. watched the Astros celebrate their latest division title, he thought of a popular saying on his island. He smiled with pride as his son Yuli of the Astros celebrated nearby while countrymen Yordan Alvarez and Aledmys Diaz also rejoiced with their loved ones. 
"As the saying goes, 'In Cuba you lift a rock, and a baseball player comes out,'" said Lourdes Gurriel Sr., who is considered one of Cuba's all-time greatest players. "It's true that in Cuba the ballplayer comes out and has so many tools. 
"Well you're seeing it and you're living it in the flesh in the teams in the big leagues. There are so many Cuban players. How they develop and how they succeed, it's truly something that's truly of legends."
Cuban excellence has been on display all year. It has been magnified in the postseason. A few hours after Yordan Alvarez homered and drove in two runs to lift the Astros over the White Sox in Game 1 of the American League Division Series, Randy Arozarena stole home for the most exciting play of the Tampa Bay Rays' victory over the Red Sox in Game 1 of the other Division Series.
The White Sox have been led by Ciego de Avila's Luis Robert, the 2020 AL Rookie of the Year runner-up, and Cienfuegos native Abreu, the 2020 AL MVP. Havana native Yasmani Grandal and Yoan Moncada are Chicago's other two Cuban contributors this postseason.
Cuban all-time MLB postseason leaders
AL batting champion Yuli Gurriel, who was born in Sancti Spiritus, became the all-time leader in postseason hits and RBIs in Game 2 of the Division Series. Alvarez, the 2019 AL Rookie of the Year, became the youngest native of Cuba to homer in a World Series in 2019.
"It's always great pride to have that representation because in one manner or another we are always representing Cuba," said Yuli Gurriel, the older brother of Toronto Blue Jays star Lourdes Jr. "It's where we've come out of, where we signed. And truly it's a dream turned into reality. 
"The whole world knows how difficult it is to come here, to another country, another level, which is the big leagues, which has the best players in the world and to be able to adapt to all this and overcome. Therefore, truly we should give a lot of credit and we're very happy with what we're doing."
The White Sox lead the majors in Cuban players. The Astros are second with three – Yuli Gurriel, Alvarez and Aledmys Diaz. Almost all of the teams in the playoffs have a Cuban. The AL wild card Yankees have closer Aroldis Chapman, who joined Texas Rangers rookie Adolis Garcia as the two Cuban All-Stars this year. The Rays have 2020 postseason sensation Arozarena and Yandy Diaz.
Aledmys Diaz and Yandy Diaz actually played youth baseball together since they were 11 and 10 years old in and in the Serie Nacional with Villa Clara. The Braves have outfielder Jorge Soler. 
A special joy
"It's a joy, because it is the representation of Cuba, of Cuban baseball," Lourdes Gurriel said. "Those young men have done it in Cuba and do it here in the big leagues in the best baseball in the world.
"That's a feat that is difficult. It's difficult, to speak about those things because it's so impressive that there aren't many words to tell you."
All Latin American ballplayers in the majors sacrifice to chase their dreams. They leave their countries and have to learn new languages and cultures. Cubans, however, give up even more. They leave their island knowing they never be able to return. 
An agreement between the countries allowing Cuban players to freely travel back and forth has remained elusive.
Almost all of the current Cuban ballplayers in the big leagues are barred from returning at this point because of the way they defected.
Missing loved ones back in Cuba
Yandy Diaz hasn't seen his mother Elsa Maria Fernandez in almost seven years. Most of the Gurriels' immediate family is in the United States, but they have a grandmother and many other relatives back home.
"The Cuban ballplayers make a lot of sacrifices," Arozarena said. "You have to leave your family back in Cuba. In Yandy's case, he hasn't been able to return to Cuba to see his family. He's one of them. 
"I was able to return to Cuba after years. It's very difficult what the Cuban ballplayer goes through. First he has to escape Cuba. It's all sacrifice, but you have to be a warrior and face life as it comes and enjoy it."
That attitude may be why Arozarena plays baseball with such fearlessness. 
Cuba used to be Latin America's top exporter of talent to the majors. It was surpassed by the Dominican Republic, Venezuela and even Mexico after Twins great Tony Oliva became the last Cuban to leave to the majors with Cuba's blessing in 1961.
There was not much new Cuban talent in the majors again until pitcher Rene Orocha defected in 1991, beginning a wave of defections that increased significantly each of the last two decades. 
Gurriel joins Oliva as Cuba's two AL batting champs
Cubans are among the biggest stars in baseball again, just as they were when Hall of Famer Tony Perez was on the Big Red Machine, and Oliva was winning batting titles with the Twins. 
Oliva, the 1964 AL Rookie of the Year, appeared in eight All-Star Games and won three AL batting titles. The Pinal de Rio native won his last batting title in 1971. Fifty years later, Yuli Gurriel became the second Cuban native to win a batting title. 
"I'm very proud of all the Cubans and Latinos specifically, but especially the Cubans," Oliva said. "I'm Cuban. They come to represent their country. They see the quality of baseball we play. They love what we give baseball. We're dedicated."
It may not be as easy as kicking a rock to uncover the next Cuban big league star, but there's enough talent to give the old saying credence. 
Get the Our Esquina Email Newsletter
By submitting your email, you are agreeing to receive additional communications and exclusive content from Our Esquina. You can unsubscribe at any time.