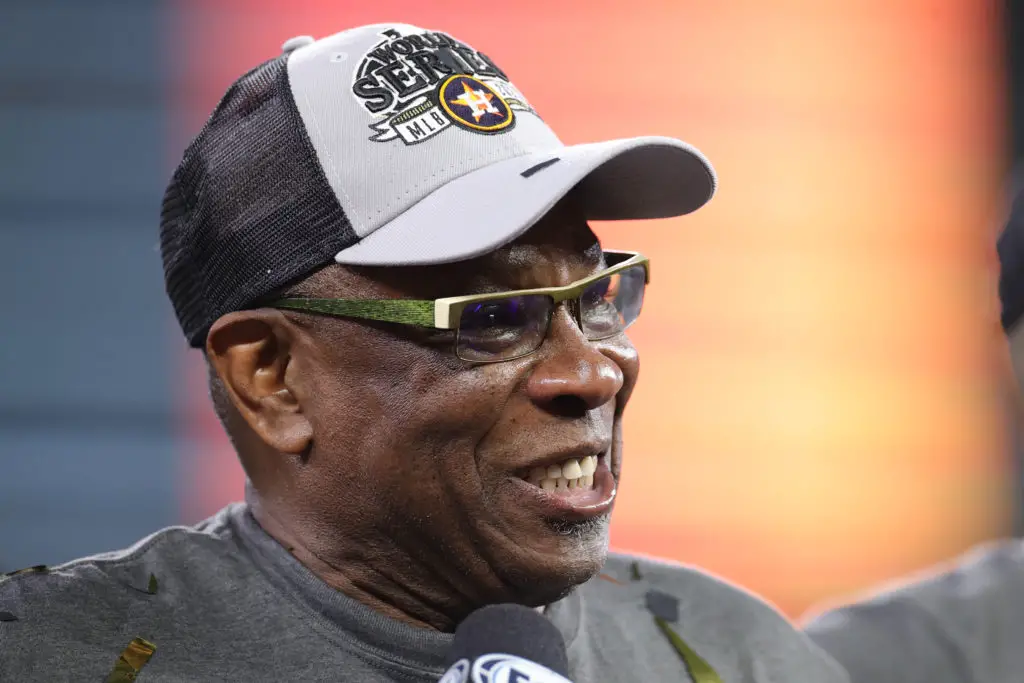 Lovable Dusty Baker guides Astros to World Series
Dusty Baker gets step closer to title missing on managerial resume
HOUSTON – Dusty Baker clinched both fists and shook with joy. The coolest man in baseball was heading back to the World Series. The Astros' manager is one step closer to securing the only thing missing from one of the best managerial resumes of this generation.
At 72, Baker has seemingly done it all on a Major League Baseball diamond and off. He's played with Hank Aaron and managed Barry Bonds, played for Tommy Lasorda and Tony La Russa too. 
But it has been 40 years since he earned his only World Series ring as a player with Fernando Valenzuela's 1981 Dodgers. It has been 19 years since his San Francisco Giants won the National League pennant and then blew a three games to two lead in the 2002 World Series.
Now he has another chance. The Astros defeated the Boston Red Sox 5-0 on Friday night at Minute Maid Park to win the American League Championship Series, four games to two. Baker has been humbled and praised, fired and ridiculed over his managerial career.
He has always found a way to persevere, becoming the only manager in history to lead five franchises to division titles. Fate, a cheating scandal and Jim Crane put him in charge of these Astros in late January 2020.
He provided cover and a steady hand for a team in desperate need of one after MLB suspended general manager Jeff Luhnow and manager A.J. Hinch in the aftermath of the cheating scandal.
More on Dusty Baker:
Houston Astros' Dusty Baker: 'Gotta have it'
Russ Ortiz: 'I always knew Dusty Baker cared'
More than Pozole Power for Dusty Baker, Jose Urquidy
"I had some things over my head too, and so we had a lot in common," Baker said. "When you can identify with the people that you're with no matter what age they are, you know, it's easier to get along and identify the struggles that they're going through.
"Like I said, I feel very fortunate to have this group of guys and to be in this position to possibly win the World Series."
Dusty Baker joins short list
Baker became the ninth manager in MLB history to win pennants in both leagues. He was unemployed when Crane fired Luhnow and Hinch. But he has been the perfect shepherd for what is arguably the most reviled team in baseball.
Baker guided the Astros within a victory of the World Series last year. At 15-8 in the postseason with the Astros, he has the best postseason winning percentage in franchise history at .652.
The Philadelphia Phillies interviewed him in the winter before the Astros' job came open. They picked Joe Girardi instead. 
"Dad, maybe that job wasn't yours, and this is a better job," Baker remembers his son Darren telling him in late January 2020.
Darren may have been right. The Astros have reached the World Series for the third time in five years and first under Baker. Hinch guided them to the first three of five ALCS appearances in a row and the 2017 World Series title.
"I hate that A.J. Hinch lost his job in the manner that he did," Baker said, "but I inherited a good team, much like Sparky Anderson inherited the Big Red Machine. But you gotta put in the time. You got to put in the effort. You have to get to know each individual player and what motivates them, or sometimes you just leave them alone. It's a lot of work to get to this point."
Beloved figure
Even the Astros' harshest critics in and out of baseball say how much they love Dusty Baker. Everybody, it seems, loves Dusty.
"I have to give him a lot of thanks as well," ALCS MVP Yordan Alvarez said. "Just because I haven't spent a ton of time with him coming into this year because I wasn't with the team.
"But just in the time I've been with him, he understands how it is to be a ballplayer. He understands what guys go through every day."
Baker understands because he cares enough to understand. It's not just about the baseball part, though. Sure, he knows what it feels like to compete on the biggest stage. 
Dusty Baker is constantly motivating
He also knows how to motivate his players, how to get the best out of them. The coronavirus pandemic has made it nearly impossible for Baker to get to know his players' spouses, children and parents the way he had at previous stops in San Francisco, Chicago, Cincinnati and Washington.
But he has found a way to connect. One day he's bringing a Mexican pitcher pozole or tacos from a favorite spot in Oakland. Another day he's bringing in soul food from a dive in Houston. 
Baker finds out what his players like and makes them feel at home as best as he can. 
"Dusty is a great guy," Crane said. "He's a smart guy. He works hard. He knows baseball. I sat and talked to him for two hours, and I thought he was my best friend. 
"I made my decision right there on the spot. We're really happy to have him. He came in and steadied the ship, and you've seen the results. Hopefully we'll get a little more."
Featured image by Carmen Mandato/Getty Images.
Get the Our Esquina Email Newsletter
By submitting your email, you are agreeing to receive additional communications and exclusive content from Our Esquina. You can unsubscribe at any time.